Top Travel Traps in China and How to Avoid Them

Almost equally awe-inspiring as its history and cultures, potential tourist scams and traps always take international travelers by surprise, not in a good way for sure. Without a local head, travelers, especially the first-timers, are easy targets for frauds and traps. This, however, is never the reason to hold back your trip or make it less enjoyable. Here we are sharing some common tourist traps and insider tips about how to keep yourself away.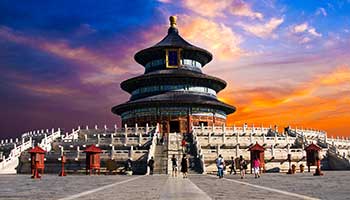 Historic landmarks draw more and more international travelers
Common travel scams and traps
Money safety
Potential hazards lie around at some currency exchange shops and ATM machines. Some exchange shops tout for unbelievably great exchange rate but give you fake banknotes. The only safe way to avoid this is to exchange at the bank or withdraw money directly from a legit ATM machine.
As an increasing crime across Asia, some ATM machines have been sabotaged or tampered with shady methods to draw your cards or, even worse, steal your PIN. Always use the machine during daytime and stay away from those looking suspicious.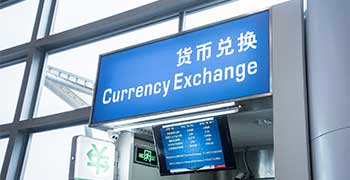 Always look for exchange desks with the green sign and clear exchange rate board.
Credit card information leakage has been continuously reported. However, this situation is more seen in other Asian countries rather than in China. In China, you might need to pinch your password while making payment, which ensures that the transfer is safe under your surveillance.
On the other hand, however, international transfer fees are something to beware.
Although not that common or high-risky for foreigners, the trap of "a roll of banknotes found on the street" can still be dangerous. The scam artist will come along the second you pick up the roll and he/she might ask to share, requiring your own money to split up the new-found fortune.
Make-up attractions and knock-off purchases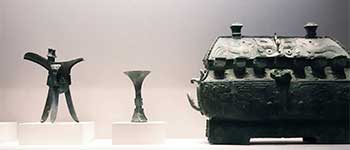 Antique dealing is under strict custom regulations and you may check the local rules before purchasing.
One fundamental understanding between legit attractions and the fake ones is the latter will always try to sell you something. Some shops sign up contract with big tour operators and exploit tourists under the camouflage of attraction or museum. What you find at these places has little to do with cultures, history or experiences whatsoever. This happens more often with the fixed group tours, of which the tour guides are driven by commission.
Jewelry, silk, pearls, Chinese paintings or antiques can be nice presents to bring home. And you may also find some international brands at extremely low prices. Hold your horse. You need to keep an eye on this great deals or else you will come home with something worthless.
Approaching strangers or somebody in need of help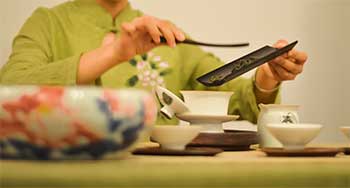 A beautiful tea ceremony can turn into a sinful scam.
Absolutely no news for the tea ceremony scams or pretty lady frauds. You will be invited to a tea ceremony, a meal or even a drink with a stranger (normally an attractive young lady speaking good English) and end up paying a bill of up to USD1000 for only a drink. A new trend is an invitation to a hands-on experience such as a "free-of-charge"calligraphy class.
It is awful to think that being helpful might also cause you problems when you are ready to offer a hand to somebody in need of help. They might ask you to take care of their stuff for a short while when they attend to something else (for example, toilet). Or begging, for a more common scenario. Just keep in mind that one that needs help should always contact the local police or other Chinese, not you, a foreigner.
"Real bargain" tours or services
The word "FREE" is truly appealing however be mentally prepared of what you are walking into. Some tour agents sell their day trips, bus tours or other services at low prices, or even free of charge. It can look pretty until you are tossed into a shop or asked for extra service fees. Profit comes from selling souvenirs or other stuff that you don't need. Compulsory shopping or detours compromise or even ruin your traveling experiences, which is the least thing that you want from a holiday.
How to avoid them: keep a clear mind and sharp eyes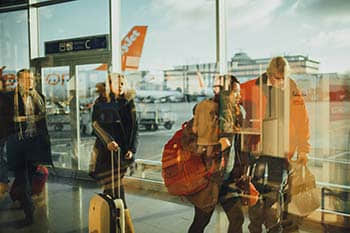 Travel safely and wisely, making this China holiday a journey of a lifetime.
When something is too good to be true, then it's not. This is the rule of thumbs. There are some steps that keep you safe from all the scams and traps.
Read about posts on common scams and traps. Hazards come in different approaches yet one thing they share is that they are fishing with something seemingly pretty. Unfortunate experiences that are posted on travel websites or forums can be valuable lessons you draw from others' mistakes.
Always look for legit signs. For independent travelers, signs and plates that are issued by Chinese government indicate the right places to go, no matter for shopping for antiques, choosing a travel agent, buying train or airplane tickets or exchanging money. Most of them are in English so you won't miss them.
Choose your tour operator wisely. Compared to traveling independently and handling all details on your own, a private tour service not only saves you time and trouble, but can also be an excellent precaution to avoid frauds.
CET focuses on nothing but authentic experiences and will never take you to shops or make-up attractions just to extort commission out of your pocket. Our local tour guides share their experiences and insider tips on how to explore China on your own without stepping into any trap. Also, our 24x7 customer care will be with you all the time and when you need help, we are always one call away.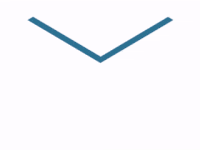 Have a question? Or can't wait to immerse yourself in the engaging journey of Chinese culture? Send us a message! Our top China specialist is ready to assist and connect with you without delay!