Huayan Temple is located in the southwest of Datong Ancient City. It was built in 1038 CE and was named after the Buddhist Sutra Avatamsaka, or Huayan in Chinese. It is also the ancestral royal temple of Liao Country (a northern state by ethnic minorities), and it enjoys a high reputation. It was destroyed in wars, but Liao Country restored it in 1140 CE. It is made up of well-preserved temple clusters built in the Liaojin period. In 1961, it was listed in the first batch of national key cultural relics under protection. In 2014, it was approved as an AAAA-level (5A means the top level in China) scenic spot.
Quick Facts
Chinese name: 华严寺 huá yán sì
Suggested time: 2 hours
Ticket: RMB 65 per person
Open hours: 8:30-18:00 (for summer); 8:30-17:30 (for winter)
Best time to visit: all year around
Address: Qingyuan Street, Datong, Shanxi Province
How to get there:
1. Take bus No.15, No.2 or No.30 from Datong Railway Station and get off at Qingyuan Street Station. Then walk for another about 500 meters to reach the Temple; take Bus No.4 and get off at Qingyuan Street Station.
2. Take bus No.30 or No.28 at Datong Coach Terminal and get off at Qingyuan Street Station. Then walk for another 500 meters to reach the Temple.
Highlights of Huayan Temple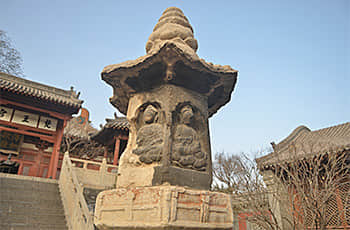 The Main Shrine Hall
The hall faces east, with five lines and nine rooms at each line. The single building area is 1559 square meters. It stands on a platform with a height of 4 meters. There are stone levels on the front of the platform, and rails are set around the platform. The three memorial archways of Qing Dynasty style and hexagonal bell drum pavilions of Ming Dynasty are built on the platform. On the central Buddhist altar in the temple, there are Five Dhyani Buddhas. Three are sitting in the middle. They were engraved in Beijing and transferred to Datong in 1428 CE. The Buddha statue has a relatively flat facial dimension and beads and treasures are inlaid on the hairpin. Twenty Devalokas stand on both sides, each of them is different in facial expression. Four stone monuments are embedded in the exterior temple wall outside the temple, which is engraved with the handwriting of the famous Southern philosopher Zhu Xi.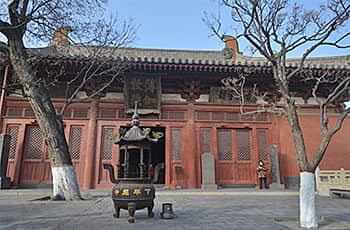 Buddhist Sutra Hall
The hall is dedicated to the storage of sutras. 29 colored sculptures in three sets from the Liao Dynasty are on the altar of the hall. Statues of four heavenly kings are separately sitting on the four corners. Most statues in the temple are standing in a triangle shape, which enables the altar to include more statues. The statues are arranged together with various and proper gaps. The dominant colors are dark green, red and gold. Of all the statues in the Bodhisattva retinue, the one that grins with a Namaste gesture is the most impressive one. The statue is about two meters tall and stands barefoot on the lotus platform. It has a perfect body and wears thin clothing that follows the shape of the body. It stands to one side and tilts its neck. For the face, it has half opened eyes, little red lips and buddha gestures. It smiles serenely. People may find a resemblance between this and the Venus from Minos.
Huayan Pagoda
The Huayan Pagoda was restored according to the records in Liao History Geography. The wooden tower is square in shape, statues of Sakyamuni Buddha, Guanyin Bodhisattva, and Jiaotong Bodhisattva of fragrant sandalwood are enshrined in each layer separately. The Huayan Pagoda is the second largest square wooden pagoda with no use of nails in China to Ying County Wooden Pagoda. It has a height of 43 meters. Its top is a golden plate and its base is a lotus pond. Nearly 500 square meters of Thousand Buddha Hall under the tower exhausted 100 tons of pure copper. There are also high-rise relics. People believe that it is a good combination of classical and practical aesthetic pursuit.