Guangzhou Chimelong Safari World is a national-level 5A tourist scenic spot in Changlong Tourism Resort, located in Panyu, Guangzhou. The safari features large-scale wildlife stocking and self-driving viewing. It integrates fauna and flora protection, research, tourism and science education. This national-level safari park follows international standards and keeps a population of a variety of wild life, especially large wild animals.
Quick Facts
Chinese name: 长隆野生动物园 Chǎng Lóng Yě Shēng Dòng Wù Yuán
Constructed: 1997
Suggested time: 1 or 2 days
Ticket: Safari Park only: RMB 295 per adult; RMB 210 for children and seniors; RMB235 for students
Address: No. 593, Xiangjiang Avenue, Panyu District, Guangzhou
Open hours: 9:30 - 18:00
Best time to visit: All year round
How to get there:
1.Take Bus No. 304 or 562 and get off at Changlong Safari Park Station
2.Take Guangzhou Metro Line 7 (and transfer to Line 2) or Line 3 at Tianhe Coach Terminal Metro Line 3 and get off from Exit D or Exit E of Hanxi Chimelong Station. Free shuttle bus will take tourists to all parks and hotels
Highlights of the Park
Known as "China's most internationalized wildlife safari", Chimelong is one of the largest wildlife theme parks in the world. The safari features large-scale wildlife stocking and self-driving viewing. It integrates fauna and flora protection, research, tourism and science education. It has a large area of subtropical rain forest in South China. It is currently home to 50 koalas, 10 giant pandas, orangutan from Malaysian, Asian elephants from Thailand, Honduran anteaters, etc., all of which are corresponding national treasures. The park management initiated the self-driving animal watching model in this country.
Panda eating bamboo
A big adventure into the fairyland in Panda Paradise
Panda Paradise is the theme park from the TV Show "Where is Dad? Season 2: Panda Triplet Fairy Tale Adventure". The theme park, when combined with the cultural creativity, offers more meaningful content to children. There are exotic teapot trains, high-tech 4D cinemas and a variety of recreation facilities. The best part can be a tour in Panda Hall. There are the springs, the bamboo, the singing birds, and of course, the cute pandas. The national treasures are rolling happily, hanging around on branches, sleeping and even making a face in front of tourists. It's so cute.
720 degree aerial view and birds flying
Of the 2.7 km journey, the lowest point is only 1 meter above the ground! One can have a wonderful time watching giraffes from the cable car, overlooking antelopes strolling on the ground and the zebras running on the grassland, flying with swans and parrots in the air, and admiring lovely giant pandas and koalas. Your children will have an extraordinary experience of walking with the beasts and flying with the birds.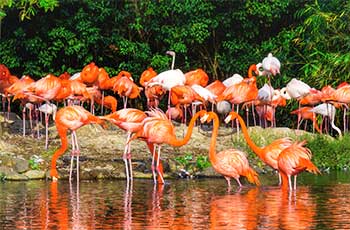 Gorgeous flamingos from the Amazon
Gorgeous flamingos from the Amazon
Close to the entrance to the South Gate, there is a misty rain forest center. It is home to hundreds of flamingos. The fiery color turns the green island into a burning one. There is an infinite vitality here.
Animal School – Science and Technology and Edutainment
The College of Animals is committed to designing activities that combine diverse forms and multiple levels of content. It helps children to learn and protect the nature and animals therein. Currently, courses about elephants, tigers, animal doctors and an aerial classroom are offered. The children will all have close contact with lovely animals. They can gain animal knowledge first hand.