The stone city was built during the Qing Dynasty (1854). It is hidden deep in the mountains 9 km west of PuTao town in YangShuo county and covers an area of 10 km². It is one of the most well-preserved ancient towns in Guangxi at present.
Local villagers say that the Qing government built this stone city for storing army provisions. And there was a military troop staying in this city to take care of these military supplies for a long time. Because these military supplies were very important to the war, the government at that time did not let the outside world know that there was such a place called the Stone City.
Quick Facts
Chinese name: 古石城 Gǔ Shí Chéng
Built in 1854
Duration: 3 hours
Entrance fee: free
Opening hours: Day time
Best time to visit: Summer, Autumn, Sunny days
How to get there:Take a shuttle bus from Guilin or Yangshuo to PuTao Town. Then take a tuk-tuk or local taxi for 9 km to the Ancient Stone City.
Highlights of Ancient Stone City
Stone wall and four gates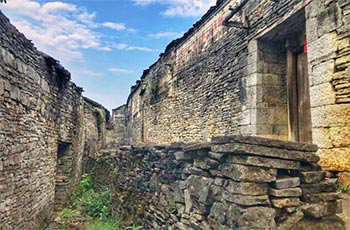 The stone wall
There are four ancient gates located at the east, south, west and north of the Stone City area. If you have enough time, walk around the 4 gates and take some photos of those ancient walls. And try to imagine the isolated life of those soldiers who were living here.
Countryside view and stone architectural style
There are two villages with a total of 50 family houses and fields with rice and kumquats within the wall. The whole area is surrounded by karst mountains. You can feel the quiet and peaceful life here which is far away from the big city.
The reason why stone became the main building material here is because of the unique geological and climatic conditions in this area. Building a house with stone was not only cheap in cost, saving wood, but also preventing fires and being comfortable and durable at that time.
Tips:
1. It is not easy to get back from the Ancient Stone City, we suggest travelers tell the taxi driver a meeting time at the place you drop off. Or find a local guide in Guilin or Yangshuo.
2. There is no restaurant , to bring some snacks with you would be a good choice.
3. If it is a rainy day or bad weather, we don't suggest you visit there because of the slippery stone stairs and muddy countryside roads.