Chuanshan scenic spot is located on the east bank of the Lijiang River and the tour can last about one hour. When entering the scenic area, the first sight is a pagoda standing upright on the top of an isolated hill. There is yet another beautiful scene when you catch sight of the reflection of the hill and pagoda in the water. It has become extraordinarily popular by setting a Guinness world record for "the world's smallest isolated hill holding up a pagoda with maximum floors in the world ". "Clear Shadow of the Pagoda Hill " is one of the favorite scenic spots of numerous photographers.
Quick Facts
Chinese name: 穿山公园 Chuān Shān Gōng Yuán
Duration: 1-2 hours
Entrance Fee: RMB 60
Opening hours: 8:30-17:30
Best time to visit: All year round
How to get there: Bus No. 6, No. 214 and No.58 (free) will take you to the park gate
Highlights at Chuanshan Park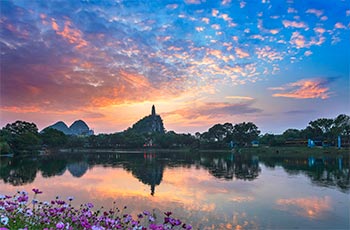 Sunset at Pagoda Hill
Sunset at Pagoda Hill
The Pagoda on top of Pagoda Hill was built during the Ming Dynasty. It is a seven-story hexagonal solid "longevity pagoda". The little East River runs through Chuanshan Hill and Pagoda Hill from north to south. The hill throws a shadow on the water, making the scenery very attractive. When the weather is fine, many photographers will gather at the top of the mountain to shoot pictures.
Chuanshan Cave
Chuanshan Cave is a Karst cave inside Chuanshan Hill. It contains numerous peculiar stalactites and stalagmites. With the amazing use of lights, the natural cave is decorated to look like the mythical Norse world of Asgard. The cave is 5,023 feet in length. The rock formations are of various shapes, such as petals, fluff, buds and pine needles. A Guinness World Record has been created in this cave, claimed as 'one stalactite pole conjoining the most cave shields'.