Going down from Guilin along the Lijiang River to enter Guanyan Vlillage, the first scenic spot in Yangshuo country is Yangti Village. As there is a sheep-hoof-shaped hill behind the village, it was originally named Sheep-Hoof Village. Later, the name was considered not official enough, so it was changed into Yangti (harmonic to the sound of Sheep-Hoof in Chinese), which means weeping willows by a riverbank. The Yangti Village scenic spot starts from Yangti-Guanyan village in the north and extends to the Xingping scenic area, covering 18km of Lijiang River, the golden viewing section of the river.
The major way to enjoy the Yangti Village scenic area is to take a bamboo raft from Yangti Village to Xingping, where you can feast your eyes on the famous Nine Horses Painting Hill, Yellow Cloth Reflection, Wave Stone Scenery and the scenery printed on the paper money of RMB 20.
Quick Facts
Chinese name: 杨堤 Yáng Dī
Duration: 1 - 3 hours
Entrance Fee: RMB 16
Opening hours: Full day
Best time to visit : June to September
Address: Lijiang Scenic Area, Yangti Township, Yangshuo County, Guilin
How to get there:
1. Guilin South Railway Station/Bus Station takes the shuttle bus to Yangdi Wharf.
2. Shuttle bus from Yangshuo to Yangdi or Xingping Pier at Yangshuo Bus Station
Highlights of Yangti Village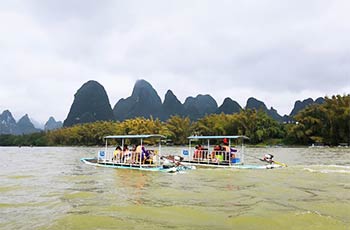 Bamboo Rart Tour
Bamboo Raft Tour
It's about 50km from Guilin to Yangti Village. You can buy a ticket from Guilin bus terminal for the scheduled bus from Guilin directly there. The bus is scheduled five times a day and the departure times are as follows: 7:20am; 8:20am; 10:30am and 11:30 am. RMB 19/person. 1:30 pm (Additional bus). RMB 25/person.
During the period 10:30-12:00 am when Lijiang is in traffic control, rafts are not allowed to operate on the river. The operating time schedule is 07:00-10:30 am and 12:00-17:00pm. Usually bamboo rafting takes 2 hours from Yangti Village to Xingping. It depends on the water flow.
The trip ends when the rafts dock at Chaobanshan Wharf in Xingping. You can take the electro mobile to Xingping bus station with the raft ticket or you can walk 20 minutes to get there.
Hiking Tour
Yangti Village is considered by many tourists as a starting point for a hiking tour to Xingping, which is reputed as the most classic route for visiting Lijiang River on foot. You will have to take a ferry twice during the entire route. The first time is to take the ferry in Yangti Village to get to the starting point of the walking tour; then walk to the Nine Horses Painting Hill and take the ferry a second time before starting the rest of the walking tour to Xingping. The whole journey is about 4 to 5 hours, or longer if you walk slowly.