Bordering Jingjiang Prince City to the north and Rongshan Lake to the south, Zhengyang Pedestrian Street is the most important pedestrian street in Guilin. Surrounded by numerous famous scenic spots, the street draws a large number of tourists. In the evening, it turns into a bustling business district, together with Yiren Road and Shangshui Street around where you can find various stores, restaurants and recreational places.
Quick Facts
Chinese name: 正阳步行街 Zheng Yang Bu Xing Jie
Duration: 1 - 2 hours
Entrance Fee: Free
Opening hours: Full day
Best time to visit : All year around
Address: Zhengyang Pedestrian Street, Xiufeng District, Guilin
How to get there: Take bus 2, 9, 10, 18, 24, 28, 30, 57, 206 to Shizi Avenue (Jiefang East Road) Station
Highlights of Zhengyang Pedestrian Street
Try local delicacies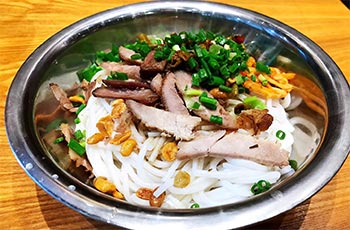 Guilin Rice Noodles
Guilin Rice Noodles
As the most famous snack in Guilin, the main ingredient of a Guilin rice noodles dish is rice noodles (pure white, soft, smooth and refreshing), along with unique brine dishes (usually beef and pork), pickled Chinese cabbage (acid dried turnip, beans and pickles), peanut or soybean and chopped green onion. It tastes delicious and refreshing.
Glutinous Rice
In a small alley of Yiren Road, a store owned by an old lady serves glutinous rice. Large in ration, her glutinous rice is very popular among local people so there is always a long line of people waiting to buy it every day.
Luosifen Noodles
Luosifen Noodles is more chewy than rice noodles, and the soup is the highlight of the dish. It is made of rice noodle, dried turnip shreds, vegetables and bean curd sticks. It tastes spicy and delicious.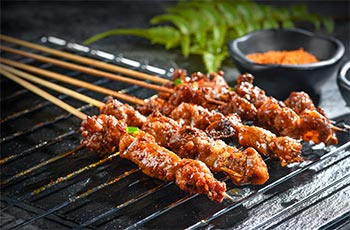 Barbecue
Barbecue
There are several barbecue houses on Yiren Road. The one near the Bell Tower named "Youzhawang (King of Deep Fried Food)" is the most frequently visited. If you love spicy food, this is the place to eat.
Brewing Food
"Brewing" is a typical cooking method in Guilin, which is to add various seasonings into the meat stuffing, and then stuff them into different kinds of vegetable shells to steam or stew. The brewed food includes delicious vivipara brewing, bean curd brewing, mushroom brewing, bitter gourd brewing, eggplant brewing, chili brewing, wax gourd brewing, taro brewing, oily bean curd brewing and so on.
Sightseeing
Zhengyang Pedestrian Street is close to Binjiang Road. You can take a walk along Binjiang Road after you finish in the pedestrian street, and stroll alongside Lijiang River to enjoy the view of Elephant Trunk Hill and Sun Moon Pagoda. You can also pay a visit to East West Street and Jingjiang Prince City.