Dian Lake is also known as Kunming Lake, Kunming Pond, Dianna Ze (Marsh) and Dian Hai (Lake). Rivers such as the Panlong River flow into the southwest of Kunming. The lake is 1886 m above sea level and covers an area of 330 m2. Dianchi marks the largest freshwater lake in Yunnan Province and the sixth largest freshwater lake in China. It is a national-level tourist resort in China. The vast Dianchi offers beautiful sights. Most tourists put Dianchi on the list of their itinerary.
Quick Facts
Chinese name: 滇池 Diān Chí
Estimated visit duration: 2-3 hours
Tickets: free
Address: No. 1318, Dianchi Road, Xishan District, Kunming, Yunnan Provice, China
Opening hours: all day
Best time to visit: November to January
How to get there: take the No. 24, 44 or 73 bus and get off at Haigeng Park station
Highlights of Dian Lake
Dinchi Cable Car
The entrance of the cable car service for Dianchi is located in Taihuashan Mansion, Xishan National Scenic Spot Area, and the cable ends in the south gate of Yunnan Ethnic Groups Village. The tour in the cable really offers an amazing corridor of views. The 250 kilometers of veiled Dianchi is just below the car. Travelling in the clouds is just a peculiar experience.
Haigeng Park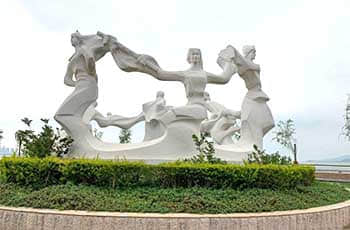 The statues of Haigeng Park
Haigeng Park is located northeast of Dianchi. Its earth bank extends long into Dianchi. Numerous harbors are built on the river and the willows are grown along the earth bank. South to Haigeng Park, there are fine white sands. The depths of the lake are an advantage as people swim off the shore of this natural bathing place. To swim in the lake or just stand and frolic here in summer is really pleasant. Recently, Yunnan Ethnic Groups Village was set up here, in which people will be exposed to the enthusiasm, folk customs and cultures of Yi, Dai, Bai and other ethnic minority groups.
Baiyukou
Baiyukou, at the southwest of Dianchi has a crystal clear water source, and is a top health resort in Kunming. There are facilities such as 'Empty Valley Garden', 'Leilou Villa', 'Yinsheng Bridge', 'Red Cloud Wharf', 'Moon Expectation Pavilion' and 'Warm Spring' set in the resort. The environment is tranquil. When looking over the Dianchi while leaning against a rail of one of the terraces, the sail boats and the seagulls look really striking on the waves of Dianchi.
The sakura blossom in the spring will add a glorious pink to the already charming local scene.