Located on the border between Yunnan and Sichuan Province, and with an altitude of 2,685 meters, an average depth of 40 meters, and a maximum depth of 105.3 meters, Lugu Lake is the third deepest freshwater lake in China, the lake of highest altitude in Yunnan, and is dubbed as the "Pearl of the Plateau". The Mosuo people living on one side of the lake abide by the walking marriage system of "marry no woman and marry no man", thus Lugu Lake is called an "Oriental Matriarchal Society".
Surrounded by 17 beaches and 14 bays, there are 5 islands, 3 peninsulas and 1 sea-wall islet scattered across Lugu Lake. Heiwawu Island, Liwubi Island and Lige Island are of the greatest scenic value and are considered the "Lugu Three Islands".
Travel Tips:
1. The local people live on Lugu Lake, therefore you are not allowed to swim in the lake.
2. No preying on the wild geese in Lugu Lake. No collecting various animal and plant specimens in Lugu Lake.
Quick Facts
Chinese name: 泸沽湖 Lú Gū Hú
Duration: 2-3 days
Entrance fee: Starting from Yunnan: RMB 100.00; Starting from Sichuan: RMB 80.00
Opening hours: 08: 00~18: 00
Best time to visit: March to May; September to November. Spring and Autumn are the best seasons to visit Lugu Lake. Try to avoid the rainy season in Lugu Lake, including June, July and August. If you choose to visit Lugu Lake in winter, please keep yourself warm. Be prepared that most of the lodging places by the lake are cold and without a heating system.
Address: Between Yanyuan county, Liangshan Yi Autonomous Prefecture in Sichuan Province and Ninglang Yi Autonomous County, Lijiang in Yunnan Province.
How to get there: Lugu Lake is on the border of Yunnan and Sichuan Province. Currently the only way to Lugu Lake is by bus. It is convenient to change buses from Sichuan or Yunan to Lugu Lake. If starting from Sichuan, you could change bus at Xichang. If starting from Yunnan, you could change bus at Lijiang. The journey is about six to seven hours. Once you arrive at Lugu Lake scenic area, you will find all the scenic spots are not far away from the village. Therefore, you can walk, ride a bike, or charter a car to travel. All inns offer information about bus renting.
The Highlights of Lugu Lake
Traveling around the lake is the best way to feel the charm of Lugu Lake. The ring road around Lugu Lake is about 76 kilometers. You can rent a bike, or electric bicycle, or charter a car to travel. You only need to pay costs for one day if you choose to charter a car, and therefore the journey is comparatively relaxing, while it takes 2 to 3 days if you choose to ride a bike or an electric bicycle. So if time is limited, you can just visit half of the ring road.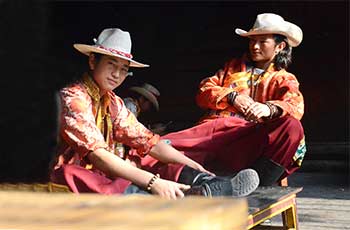 the Mosuo people
There are a lot of villages along the lake. The prosperous ones are Daluoshui Village and Lige Village, which can provide accommodation. Located in the southwest of Lugu Lake, Daluoshui is the earliest developed village near Lugu Lake where the buses go from Lijiang park. There is also the Folklore Museum of the Mosuo people, where you can learn about their culture and folk customs.
It is around 8 kilometers between Daluoshui Village and Lige Village. Situated in the northwest of the lake bank, Lige Island and Lige Village are the most popular tourism distributing areas in recent years. There is a viewing deck on the hillside of northern Lige Village and it is the best spot to look out over Lige Island and capture some pictures.
On the northern bank of Lugu Lake, is Nisai Village. There is a cable car which can take you up to the Mountain of Goddess Gemu, and the Goddess Gemu Cave in the mountain is considered to be highly efficacious for praying for a son. Xiaoluoshui Village nearby is right on the border of Yunnan and Sichuan province. Dazui Village on the other hand has fewer visitors and is comparatively quiet.
Further to the east, you will enter Sichuan province. There are a lot of scenic spots worthy of visiting on the southeastern bank of Lugu Lake, including Caohai Lake, Walking Marriage Bridge, Goddess Bay, and Former Residence of Princess.
Recommended 3-day Tour:
Day1: Viewing Deck of Lining Risky Curved Road (15 minutes) → Lugu Lake Viewing Deck (15 minutes) → Daluoshui Wharf (10 minutes) → Luoke Island (Xiwa'e Island/Central Island) (2 hours) → Liige Island (2 hours)
Day2: Lige Island (30 minutes) → Nisai Village (Lise Village) (30 minutes) → Xiaoluoshui (1 hour) → Luyuan Cliff (30 minutes) → Lover's Beach (30 minutes) → The Last Chieftain Princess Mansion (40 minutes) → Caohai Lake (2 hours) → Zhao's Bay (Goddness Bay) (2 hours)
Day3: Lige Island (10 minutes) → Nisai Village (Lise Village) (the starting point of telphers) → Goddess Gemu Mountain (half day)