As the first Disneyland Theme Resort in mainland China, Shanghai Disneyland formally opened on June 16, 2016 in Chuansha New Town, Pudong New Area, Shanghai City. Disneyland brings pleasure and happiness to people of all ages. Visitors can realize their dreams with the novelty, fantasy and adventure everywhere in the Resort.
There are seven Theme Parks in the Resort: Mickey Avenue, Gardens of Imagination, Adventure Isle, Treasure Cove, Tomorrow Land, Dream World and Toy Story Land. There are two theme hotels: Shanghai Disneyland Hotel and Toy Story Hotel. There is one subway station: Disney Station; And, of course, there are many entertainment projects first launched globally.
Quick Facts
Chinese name: 上海迪士尼乐园 Shàng Hǎi Dí Sī Ní Lè Yuán
Duration: Full day
Opening hours 8:00-22:00
Best time to visit: All year round
Subway lines: Take Line 11 and get off at the Disney Station.
Ten Must-See Activities in Shanghai Disneyland Resort
Dumbo the Flying Elephant, Jet Packs, Fantasia Carousel, Honey Pot Spin, Roaring Rapids, Pirates of the Caribbean, Seven Dwarfs Mine Train, TRON Lightcycle Power Run, Soaring Over the Horizon, and Peter Pan's Flight.
Download the Official APP

Disney has an official APP to find your location, enquire about the map, the anticipated waiting times, and the time arrangement of shows, and to search for the catering and restroom facilities.
Fast Pass
Fast Pass is the best way to reduce queuing time! It can help you to save a lot of time. The projects with Fast Pass officially published by Disney are as follows:
TRON Lightcycle Power Run – Tomorrow Land Theme Park
Buzz Lightyear Planet Rescue – Tomorrow Land Theme Park
Seven Dwarfs Mine Train – Dream World Theme Park
The Many Adventures of Winnie the Pooh – Dream World Theme Park
Peter Pan's Flight – Dream World Theme Park
Roaring Rapids – Adventure Isle Theme Park
Soaring Over the Horizon – Adventure Isle Theme Park
You can get a Fast Pass by scanning the QR code on the entrance ticket at the Tourist Service Center. But the Fast Pass of a project can only be got at its corresponding Theme Park. For example, you can only get the Fast Pass of TRON Lightcycle Power Run at the Tourist Service Center of Tomorrow Land. A Fast Pass indicates the time when you can get another one. You can only get another Fast Pass after 2 hours. In general, the Fast Passes of all the projects may be handed out at nearly 1 p.m. So if you enter the Resort at 9 a.m. (you'd better to get a Fast Pass first), you can get the first Fast Pass at once, the second one at 11 a.m. and the third one at 1 p.m.
About Queuing Time
Due to the large number of visitors, the queuing time is at least 1.5 hours on average, with that of popular projects reaching 3-4 hours and that of some small projects reaching over 1 hour. So you'd better prepare for it. You'd better get a Fast Pass as soon as possible.
Float Parade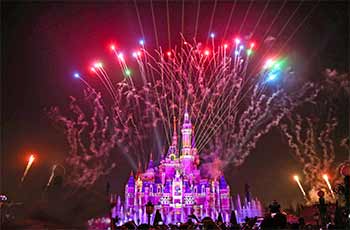 Fireworks show at night
There are two float parades at 13:00 and 16:30 respectively. It is recommended to queue up for some popular projects instead of watching the parade at 13:00. There may be fewer people in the queue at that time, so you could save a lot of time. And at 16:30, you can watch the float parade with lots of classic cartoon characters.
About Shows
There are many shows and the schedules can be enquired about with the official APP. Among them, the Frozen Singing Pageant is the most recommended. Some travelers have even seen it twice. The Disney performers work very hard and very well with a strong dynamic.
About the Fireworks Laser Show at Night (Luminous Phantom Show)
You'd better ask the staff about the show. If there is a Luminous Phantom Show, you really should not miss it.