Built in the 8th year of Guangxu in the Qing Dynasty (1882), the Jade Buddha Temple, together with Longhua Temple and Jing'an Temple, are renowned temples in Shanghai. The founder and first abbot of the Jade Buddha Temple is Master Huigen.
Imitating the architectural style from the Song Dynasty, the Jade Buddha Temple covers an area of 11.6 mu giving it a floor area of 8,856 square meters. Tianwang Hall, Great Buddha's Hall and the Jade Buddha Building lie along the central axis of the temple, with Guanyin Hall, Tongfo Hall, Wofo Hall, Huan'en Hall, Chan Hall and Zhai Hall lying on the east and west sides. There are also halls where you can appreciate cultural relics and buy Buddhist items and statues, and a vegetarian restaurant.
Quick Facts
Chinese name: 玉佛寺 Yù Fó Sì
Duration: 1-2 hours
Entrance fee: RMB 20 and additional RMB 10 for the Jade Buddha Building
Opening hours: 8 : 00-16 : 30
Best time to visit: All year round
Address: Anyuan Road, Putuo District
How to get there:
Bus: Take bus No.19, 206, 316 or 738 and get off at Jiangninglu Yuananlu Station.
Subway: Take line No.13 to Jiangninglu Station and walk another 5 minutes to get there.
Highlights of the Jade Buddha Temple
Major Scenic Spots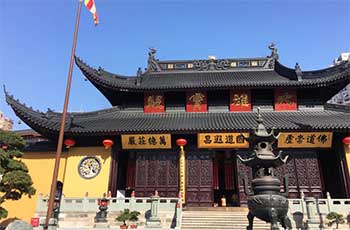 Great Buddha's Hall
1. Great Buddha's Hall
As the main building in Jade Buddha Temple, the Great Buddha's Hall is a two-story palace of the Song Dynasty architectural style, about 30 meters in length and about 25 meters in width. In the middle of the hall stands the statue of Sakyamuni with the statues of Amitabha and Bhaisajyaguru to each side of it; all of the three statues are sitting on lotus seats. In each side of the hall are gods which are responsible for the protection of Buddha dharma. Behind the three great statues of Buddha is a large painted sculpture of Guanyin.
2. Jade Buddha
The Jade Buddha Temple is most famous for its two statues of the Jade Buddha which were brought to the temple by Master Huigen from Myanmar late in the Qing Dynasty. Mater Huigen brought 5 statues in total, and these 2 of them were left in Shanghai on his way back to Putuo Mountain. One of the statues, now kept in the Jade Buddha Building, is a 1.92 meter tall statue of Sakyamuni. Gilded with gold foil and decorated with gems, the statue is the highlight of the collection in the Jade Buddha Temple.
On the ceiling of the Jade Buddha Building there are 500 gold-plated statues of Buddha. The charge is RMB 10 to enter the building for a visit.
Another statue, now kept in Wofo Hall, is a 96 centimeter tall statue of Sakyamuni which was carved according to the look of Sakyamuni when he passed away at 80 years old. The statue featuring Sakyamuni lying on his side with his right hand supporting his head looks very peaceful. On the opposite of the statue there is a new 4 meter tall statue of Buddha made of jade which was donated by a Singaporean Buddhist.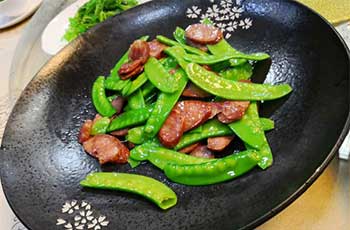 Vegetarian food in the Jade Buddha Temple
Jade Buddha Temple Vegetarian Restaurant
Vegetarian food served in the Jade Buddha Temple Vegetarian Restaurant is in a class of its own. Made of ingredients of high quality, the dishes of the Jade Buddha Temple are elaborately arranged and have names of meat dishes, like vegetarian ham, roast chicken, roast duck and shelled shrimps. Dim sums at Jade Buddha Temple Vegetarian Restaurant are very distinctive too, such as assorted dried fruits and walnuts, rose and peony, apple shortbread, candied dates and so on, which all make people's mouths water, and they are oily but not greasy.