Built in 1999, Jin Mao Tower has 88 floors, totaling 93 when you include the minaret floors and the 3 basement floors, and with more than 130 elevators and 555 guest rooms. Now it has become a landmark of Shanghai. It is a multifunctional skyscraper integrating the Chinese tower style and western architectural technology, including modern office buildings, Five star Hotels, the Convention and Exhibition Center, entertainment and shopping malls and designed by Adrian Smith from the famous SOM design office in Chicago.
Quick Facts
Chinese name: Jīn Mào Dà Shà
Duration: 1-2 hours
Entrance fee: RMB 120
Opening hours: 08:30~21:30
Best time to visit: All year round
Address: No.88, Century Avenue, Pudong New Area, Shanghai
How to get there: Take Metro Line 2 to Lujiazui station and walk about 300 meters; take bus No. 82, No. 85, No. 314, No. 795, No. 798, No. 799, No. 971 and No. 922 or Lujiazui Financial City No. 4 to the Lujiazui subway station and walk a little over 300 meters eastward along the Century Avenue; or take the Urban Tourism Line 2 or Lujiazui Financial City No. 2 to the Jin Mao Tower station.
Highlights of Jin Mao Tower
1. Jin Mao Concert Hall
Jin Mao Concert Hall is located on the first floor of the subsidiary building of Jin Mao Tower and consists of a concert hall and an art corridor. It has a total of 398 seats and is mainly used for the performance of chamber music. The Concert Hall regularly hosts the music salon "MusicAfter6" to integrate all kinds of music. In addition, virtuoso concerts and Jin Mao Music Art Forums are regularly held here to invite famous musicians and concert performers at home and abroad to visit the Jin Mao Concert Hall and communicate with Shanghai audience face to face.
2. Sightseeing Hall on the 88th floor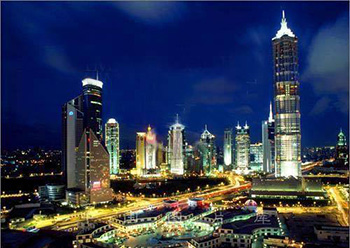 Jin Mao Tower at night
The Sightseeing Hall on the 88th floor in Jin Mao Tower is one of the famous high-altitude observation platforms in Shanghai. The elevator travels at 9 meters/second so that from the ground floor it takes a mere 45 seconds to reach the 340m high Sightseeing Hall on the 88th floor. The transparent glass curtain wall allows you to look out over the cityscape through 360-degrees. It is suggested that you check the weather in advance and go there on a sunny day. In the evening, you can watch a charming sunset; while under the curtain of night, Lujiazui and the Bund are especially beautiful with the lighting embellishment. There are coin telescopes available in the Sightseeing Hall (1 RMB per time).
3. Grand Hyatt Hotel Atrium
After enjoying the outdoor scene, you can also enjoy the unrivalled world-class hotel atrium from above. The diameter is 27m, with 28 rings of corridor handrails glittering under the neon light. The incomparable hotel atrium of Jin Mao Tower is praised as the "Shared space", "Golden rings" and "Space-time tunnel" by architects, scientists and litterateurs.
4. Post Office of Love
The "Love Post Office" of Jin Mao Tower is the highest air love themed post office in China and even in the world. It is designed to reach new heights among world love landmarks with the theme of "Love Over Gold " and it witnesses the love story of Chinese and foreign tourists.