Nanjing Road of Shanghai is not only the world's most famous business street, but also the first established business street since the opening of Shanghai port. Reputed as "the No.1 Chinese Business Street", it is one of the world's leading business streets and is as famous as the Fifth Avenue in New York, the Avenue des Champs-Elysees in Paris, Oxford Street in London and the Ginza in Tokyo.
Highlights of Shanghai Nanjing Road
There are established department stores such as Yong'an Department Store, Hualian Department Store and the Silk Commercial Building, as well as large shopping malls such as Centum City, Brilliance Shimao International Plaza, Shanghai Landmark, Henderson Metropolitan and Hongyi Plaza. So you can buy almost anything there. There are also brand flagship stores including Zara, Apple and M&M's world.
Paradise for GourmetsShanghai local snacks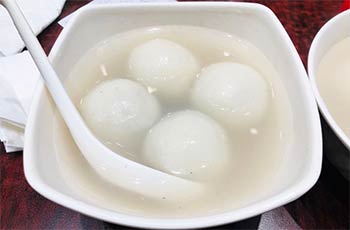 Rice dumpling
There are various fashion restaurants, cafes, and time-honored restaurants and food stores. Here we recommend 5 featured snack bars for you.
1) Chengchang Dumpling Store
Chengchang Dumpling Store belongs to Shanghai Shendacheng Fast Food Co. Ltd., and offers various inexpensive snacks including featured rice dumpling, pastry, shao-mai and zongzi.
2) Zhenlaoda Store
Its most distinctive snacks are smoked fish and meat-stuffed mooncake. The sugar paste which is poured onto the smoked fish is made according to a secret recipe handed down from ancestors. It is crisp outside yet soft inside, while the salty and sweet tasting meat-stuffed mooncakes are made from refined meat stuffing and are baked at the high temperature of 260℃.
Apart from classic mooncakes, it also offers preserved plums, cakes, dried pork slices and sliced dried beef at a competitive price.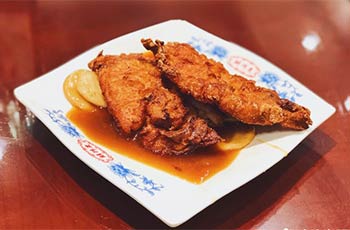 The spareribs with rice cakes of Xian De Lai
3) Da Hu Chun
A fried bun is the most special snack! With crisp skin and fragrant meat, it has a persistent aftertaste and costs a mere RMB 5 for a portion.
4)Xian De Lai
The most famous cuisine in Xian De Lai is the spareribs with rice cakes. Some rice cakes are put under the spareribs so that they absorb the soup flavor. It costs nearly RMB 20 per person.
5) Lao Ke Le Shanghai Cuisine
The previous four are all snacks, but this one specializes in Shanghai cuisines. The male waiters are all middle-aged and wear black tail coats, while the female waiters wear cotton plaid shirts and speak the Shanghai dialect. It costs nearly RMB 150 per person.