Shanghai Xin Tian Di is a car-free shopping, eating and entertainment area that reflects the history and culture of Shanghai. It is a scenic spot where Chinese culture meets with western culture. Xin Tian Di is close to the business street of Huaihai Road. It used to be a residential district where you could find Shanghainese Shikumen and allies. Rebuilt in the late 1990s, Xin Tian Di has gradually become a business district which combines Chinese culture with western culture, blending tradition with fashion by adding new architectural style into the distinctive Shanghainese architectural style. Today, having become a new landmark of Shanghai, Xin Tian Di is not only an essential place to visit in Shanghai for tourists, but also a fashion center for youngsters in Shanghai.
Quick Facts
Chinese name: 上海新天地 shànɡ hǎi xīn tiān dì
Duration: 2-3 hours
Entrance fee: Free
Opening hours: 24 hours
Best time to visit: All year round
How to get there:
Bus: Take Daqiao Line 1 or bus No. 146 and get off at South Huangpo Road Middle Fuxing Road Station; or take bus No. 109, or 932 and get off at South Huangpo Road Middle Huaihai Road Station, and walk 5 minutes to get there.
Subway: Take Line 1 and get off at South Huangpo Road Station, and walk 8 minutes to get there; or take Line 10 and get off at Xin Tian Di Station, and walk 5 minutes to get there.
Highlights of Xin Tian Di
Xin Tian Di is more spacious than the art street, Tian Zi Fang. Strolling around Xin Tian Di on its footpaths paved with grey bricks, and passing by red-and-grey walls, and through grand black doors, it's like walking back in time to Shanghai in the 1920s and 1930s. However, if you step into each building, you'll find it very modern and fashionable and by then you will experience the exact distinctiveness of Xin Tian Di's architectural style. You can also choose to walk along the allies all around. You'll find a lot of professional photographers there as, with less tourists, those alleys make perfect places for taking photos.
You'll also notice many foreigners here who either work here or come here for a visit. On Halloween or Christmas Day, the traditional architecture here will be decorated accordingly, creating an awesome festive atmosphere.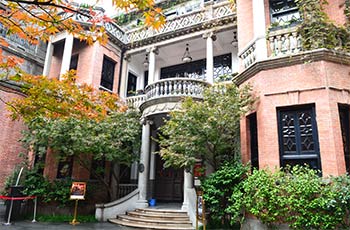 Shikumen architecture
Xin Tian Di: Nanli 南里
Close to Xintiandi Station of metro line 10, Nanli is dominated with modern architecture and complemented by some Shikumen ancient architecture. Nanli is home to numerous distinctive restaurants where you can taste Chinese cuisine at the Taiwanese restaurant Ding Tai Fung, the Japanese cuisine at KOYAMA, the Italian cuisine at Pizza Marzano as well as chocolate drinks at Godiva. In addition to restaurants from all over the world, there is also a Xintiandi shopping mall, a modern architecture with a glass wall where you can find the first flagship store of Verawang in China, many famous Chinese stars' fashion brands, like Ashin's StayReal, JJ Lin's Smudge, Show Luo's Stage, etc., and a food plaza, UME Cinema and a one-stop fitness center.
Xin Tian Di: Beili 北里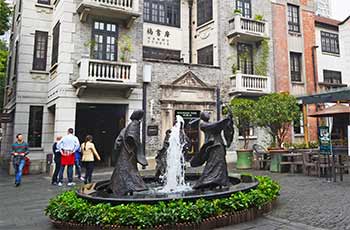 Fountain of Happiness
Beili is next to Huaihai Road Buisiness District. At the entrance of Beili Square lies a Fountain of Happiness, where stand the bronze statues of three gods respectively standing for happiness, luck and longevity. Combined with modern architectural styles, decorations and equipment, Shikumen traditional buildings here turn into premium stores and restaurants. You can find food from different countries, like French, Italian, Japanese, Taiwanese and Hong Kong food, which fully demonstrate the diversity and internationalization of Xin Tian Di. In addition to famous restaurants like New Jesse, South Beauty, and Zen Peninsula, Beili also has many bars, including Star East which is jointly operated by Alan Tam and other Hong Kong stars, jazz bar CJW which reflects old Shanghai style, authentic German Bar Paulaner and so on.