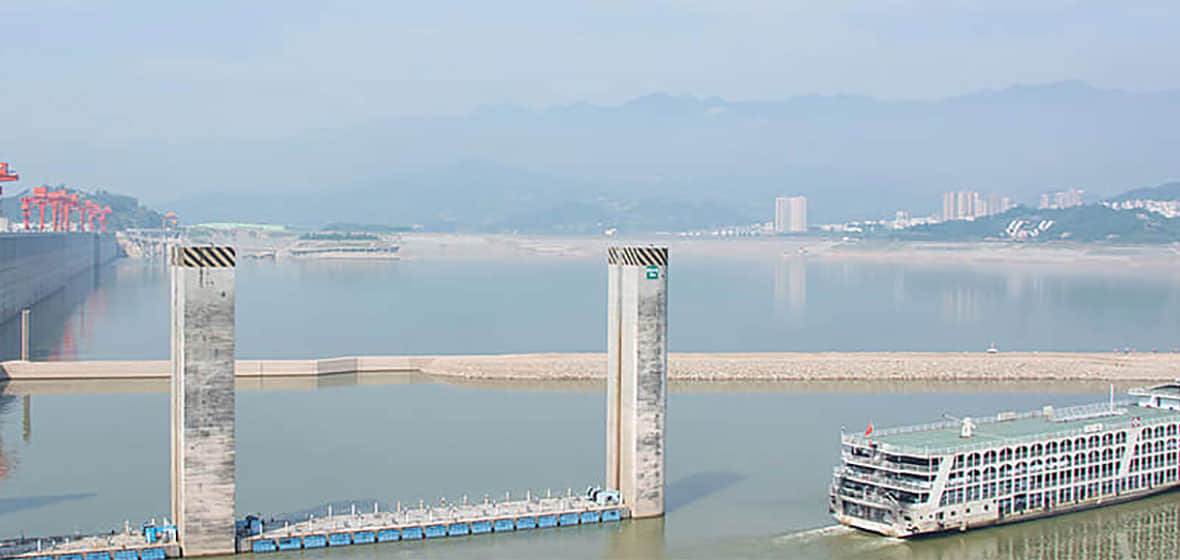 Quick facts about the Three Gorges Dam
It is the world's largest hydropower plant. It has 26 turbine generators which can produce 700,000 kilowatts per hour. In total, it has a capacity of 18.2 million kilowatts per hour.
The dam took 510,000 tons of steel to complete – enough to build sixty Eiffel Towers.
The dam cost $59 billion USD and 15 years to construct. It is the largest project in China's history since the building of the Great Wall.
The Three Gorges Dam is estimated to reduce coal consumption by almost 31 million tons per year, which would result in a decrease of 100 million tons of greenhouse gases, one million tons of sulphur dioxide, 370,000 tons of nitric oxide, and one million tons of dust.
The reservoir can hold 39.3 billion cubic meters of water – that's 1.4 trillion cubic feet!
Where is the Three Gorges Dam located?
In the town of Sandouping, in the Yiling District of th`e Yichang prefecture, in the province of Hubei.
Who designed the Three Gorges Dam?
A team of scientists and engineers led by Mr. Zhou Shouren. A man by the name of Mr. Zheng is the chief engineer of the Three Gorges Group and member of the China Academy of Engineering.
Why was the Three Gorges Dam built?
Reason #1 – Control floods:The reservoir helps control flooding in the Yangtze River basin.
Reason #2 – Transportation: It allows over 10,000-tons of ocean freight to sail quickly and cheaply into the interior of China six months of the year.
Reason #3 – Generate electricity: The dam's 32 main turbines are capable of generating as much electricity as 18 nuclear power stations.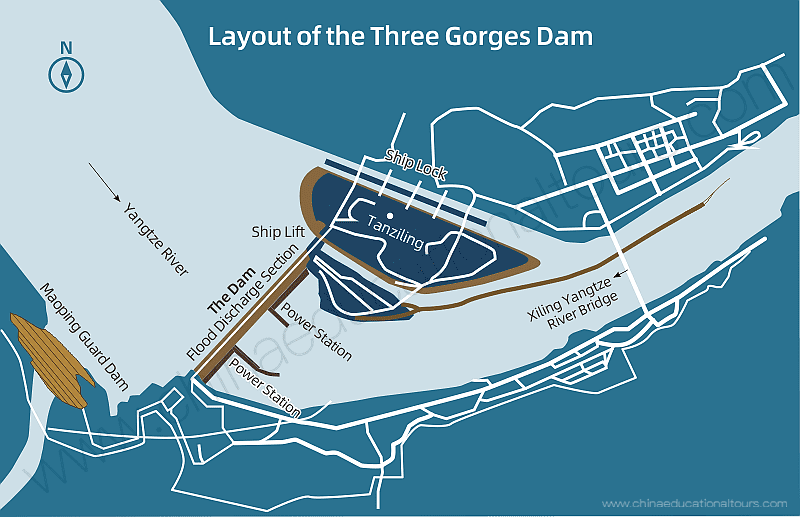 Layout of the Three Gorges Dam
Can I do a one-day tour of the Three Gorges Dam?
Yes, you can do a one-day tour of the Three Georges Dam, but you need get to Yichang first. You can either fly to Yichang (YIH), take the bullet train, regular train, or bus.
We can arrange a private tour for you or you can join the group already going to Xiling Gorge, Gezhou Dam, and Three Georges Dam. The itinerary is as follows:
• 7:50am – Our English-speaking guide and driver will pick you up from your hotel in Yichang and take you to Sanxia Tourist Center to catch the boat (No.9 dock at Yichang Port).
• 8:30am – Embark and set sail.
• 9:00am – Experience passing through the huge lock at Gezhouba Dam. Enjoy the view of Xiling Gorge.
• 12:00pm – Disembark at Sandouping dock. A bus takes us to the Three Gorges Project hotel for lunch (included).
• 12:40pm – Chinese Lunch.
• 1:40pm – Drive to visit The Three Gorges Dam site. View the dam in its entirety from the observation platform.
• 4:00pm – Tour finishes. Return to Yichang arriving around 5:30pm.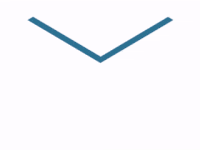 Have a question? Or can't wait to immerse yourself in the engaging journey of Chinese culture? Send us a message! Our top China specialist is ready to assist and connect with you without delay!