Namtso (Sky Lake in Tibetan language) is located in Damxung County, 240km north of Lhasa. It is considered to be one of the three major holy lakes in Tibet. (The other two are Manasarovar and YamdrokTso.) Covering an area of 1,920 square meters, Namtso is the second largest salt water lake after Qinghai Lake. The endless Nyainqêntanglha Mountains are on the southwest bank of Namtso. The snow mountain reflects in the lake, which is so peaceful and tranquil.
Quick Facts
Chinese name: 纳木错湖 Nà Mù Cuò
Duration: 2 to 3 hours
Entrance Fee: May to October: RMB 120, November to April: RMB 60
Opening hours: 06: 00~18: 00
Best time to visit: June to September

Because of the high altitude, it is more comfortable to visit in summer. Especially in August, you can see snow-capped Nyainqêntanglha with bright colors around Namtso lake.

In October or November, you are unable to enter Namtso due to the heavy snow. As it is cold and dry from November to May, it is not suitable to visit the Tibet Plateau.

The weather in Namtso is so changeable that even in summer, you'll experience a sudden temperature drop and hail. As the temperature is even lower at night, you need to wear down jackets. Catching a cold will result in high altitude pulmonary edema within a day and it is life-threatening. Therefore, it is important that you keep yourself warm at night.

Address: Damxung County, Lhasa, Tibet Autonomous Region
How to get there: It is more convenient to rent a car in Lhasa. There are irregular shuttle buses in Lhasa eastern suburb passenger station to Namtso. If you miss it, you can first take a bus to Damxung County where you can then rent a car to Namtso. Walking or riding a horse (or yak) is the main means of transportation in Namtso.
How to visit Namtso
One day Namso tour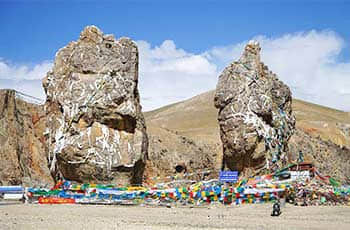 Couple Rocks
The one day tour usually starts in the morning. It takes 3 to 4 hours to arrive in Namtso and then return after 2 to 3 hours of touring. This is the most common way to visit Namtso. If you want to experience something special, you can have a customized tour, which is more flexible, and you can stay overnight at the lakeside.
Getting out of Damxung County and climbing over the 5190-meter-high Nagenla Pass, you can see the blue waters in the far distance. There are two rocks standing side by side by the lake. They are the Guest-Greeting rocks of Namtso, also known as Couple Rocks. Legend has it that they are the door-gods of Namtso. It's said that Namtso is the goddess in charge of the wealth in the northern Tibet grassland. Traders will come down here and pray for a prosperous business before starting their business trip. So they are also known as stones of the God of Wealth.
There is a line of prefabricated houses besides Tashi Peninsula where you can find restaurants and inns, and which is the only place that provides accommodation in Namtso. Unfortunately, the condition is not particularly good. Luckily, you can still enjoy the sunset scenery, take a picture of the galaxy at night, and get up early to see the sunrise in the Tashi Peninsula.
Circle clockwise around the Namtso Lake
In Mongolian, Namtso means Tengri nor, which, according to a legend, is where Cakrasamvara Esoteric Sect yidam practice Buddhism and is a famous holy place of Tibetan Buddhism. When it comes to the Year of the Goat, Buddhas, Bodhisattva and Guardian God will set up a forum in Namtso to hold a Dharma assembly. It's believed that Buddhists coming to worship during this period by circling the lake clockwise while reciting scriptures for one time is better than reciting scriptures for one hundred thousand times in normal times. Therefore every Year of Goat, monks and believers will travel long distances here to circle the lake clockwise. During the Sakadawa Festival on April 15 of the Tibetan calendar, the lake will see the most monks and believers in the year.
Travel Tips
1) Namtso is at a high altitude, and has a low temperature in the morning and evening and strong ultraviolet radiation. Please do not forget to bring warm clothes, sunscreen products and anti-altitude sickness drugs when you come to Namtso. When you get up early to climb the mountain in Tashi Peninsula to see the sunrise, please walk slowly and never run.
2) You will pass the 5,190-meter-long Nagenla Pass on the way to Namtso. The climate on the plateau is changeable and Nagenla Pass is often covered with snow, therefore sometimes the road will be closed. So if you rent a car to Namtso, you have to make sure that the road is passable before departure.
3) There are many wild dogs around Namtso lake. Do not bring snacks when you are walking outside so as not to invite wild dogs.
4) Accommodation in Namtso Lake is not in good condition. There are mainly simple prefabricated houses without air conditioners but with electric blankets. No standard rooms with independent bathrooms are provided. You have to be prepared for sleeping at the lakeside.