Dukezong is the largest and best-preserved Tibetan town in Yunnan Province. It was a key stop along the Ancient Tea-horse Road and the crucial point for Tibet and Yunnan cultural exchanges and commercial trades. Located in Diqing Tibetan Autonomous Prefecture, it has a history of 1300 years. Built on the mountain, the road was paved with natural terrain. So far, there are still deep horseshoe prints on the stone road. For any caravan traveling along the ancient Tea-Horse Road, the ancient city of Dukezong is a key town for them. It is also the first stop after the caravan enters Tibet. This is quite a comfortable journey compared to other parts along the Tea-Horse Road. In 2001, the ancient city of Dukezong was approved as a historical and cultural city in Yunnan Province.
Quick Facts
Chinese Name: 独克宗古城 Dú kè zōng gǔ chéng
Suggested Time: 3-4 hours
Ticket: free
Address: Tuanjie Road, Diqing Tibetan Autonomous Prefecture, Yunnan Province
Best Time to Go: all year round
Open Hours: all day
Transportation: You can walk here from Shangri-La town
Highlights of the town
The architectural layout of the ancient city is like an eight-petaled lotus flower. The center is the Moonlight Square. The quaint Tibetan wooden houses were built surrounding it. The local people live peacefully here. On the west side of the square are Turtle Hill, Diqing Cultural Center, and Diqing Prefecture Red Army's Long March Museum.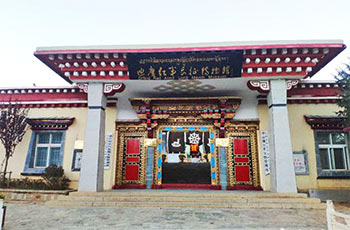 Diqing Prefecture Red Army's Long March Museum
Diqing Prefecture Red Army's Long March Museum
It is free to enter. The entrance to the museum is a central town hall built in the Qing Dynasty. It is also known as the Tibetan Classics Hall. The architectural style is a fusion of Han, Tibet and Naxi. The museum has several halls including a preface hall, the memory of snow mountain meadow, a snow-capped mountain, an interactive landscape of grassland, the red flag gathered farmers, a long march today, a new look of Diqing Plateau, and some other exhibition halls.
Turtle Hill
It is also known as Turtle Mountain Park. On the top of the turtle, there is a huge prayer wheel recorded by Guinness World Record. It needs three people to work together to turn it. Standing on the top of the big turtle, we can clearly see the entire ancient city, including the Moonlight Square at the foot of the Big Turtle Mountain. On the north side of Turtle Mountain Park, the Guozhuang dance starts at 7:00 at the Moonlight Square every night, and the local dance can always attract a large number of tourists to participate in it. That is a good chance for tourists to experience the local culture.