GL-12:

6 Days Guilin Private Tour: become intoxicated with the local life and traditions in Guilin countryside

The life style in the countryside near Guilin still remains as original as in the 80s. There is no industry but agriculture and the handcraft industry. Even the terraced fields in Longsheng have become an attraction drawing many tourists. The Li River cruise will bring you to Yangshuo county where many interesting activities can be done. Whether the activities are outdoors or indoors, you can get closer to the local life. Some adventure activities are also available in Yangshuo if you prefer to have a go at that.
Trip Highlights
Easy hike among the mountain range from one ethnic minority village to another
Cruise along Li River and enjoy the 4-hour leisure moment
Try painting on a fan
Get your hands dirty in the farmland
Explore the countryside by cycling
Suitable For: Travelers for In-depth Exploration
Full itinerary for Guilin Educational Tour
Day 1
Guilin Arrival
Welcome to the picturesque Guilin! Your exclusive tour guide and driver will accompany you for the following days to tour Guilin and the neighborhood. Hotel check-in and you can have a good rest after your flight journey.
Day 2
Guilin – Longsheng by Road: Natural Scenery (breakfast, lunch & dinner)
Morning
Known as "the Palace of Nature Art", Reed Flute Cave is the hidden pearl of the Guilin landscape. People had already been coming to visit it as far back as 1000 years ago during the Tang Dynasty. The cave is full of stalactites, stalagmites, stone columns, stone curtains and stone flowers. Use your imagination to describe what each one looks like.
When we get out of the cave, we will leave for Longsheng County, where the terraced fields are located. It takes around 2 hours to drive from Guilin. On arrival, you will have lunch before the afternoon hike.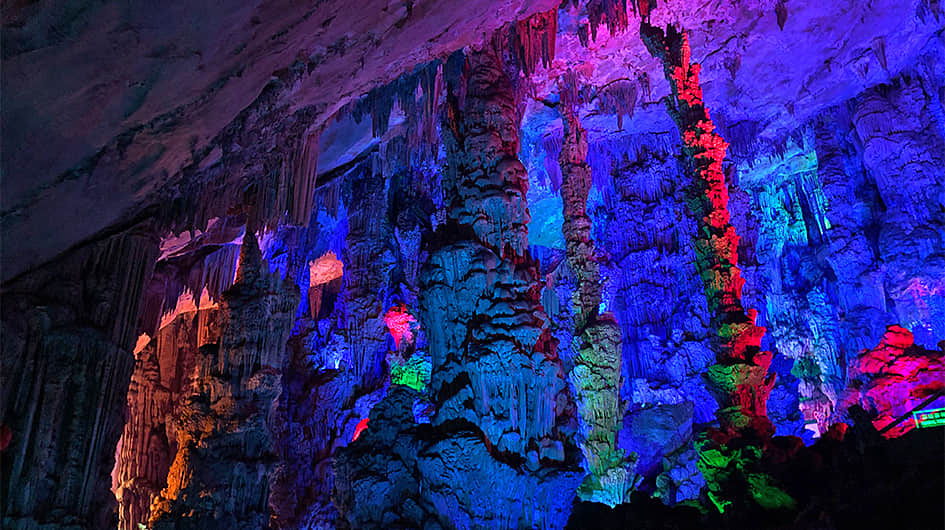 The Stalactites and Stalagmites in the Cave
Afternoon
Your hike starts from Longji Ancient Zhuang Village. It is a village for the tribe of Zhuang people and recently opened to tourists. You can see the large scale of the wooden buildings which are supported by pillars to keep away from humidity in the mountain area. Following the walking path, you may spend around 1.5 hours to get to Ping'an Village. There are undulating rice terraces and a fir tree forest on the way. The condition of the hiking road is good and only a medium level of physical strength is required. You will spend the night in Ping'an Village.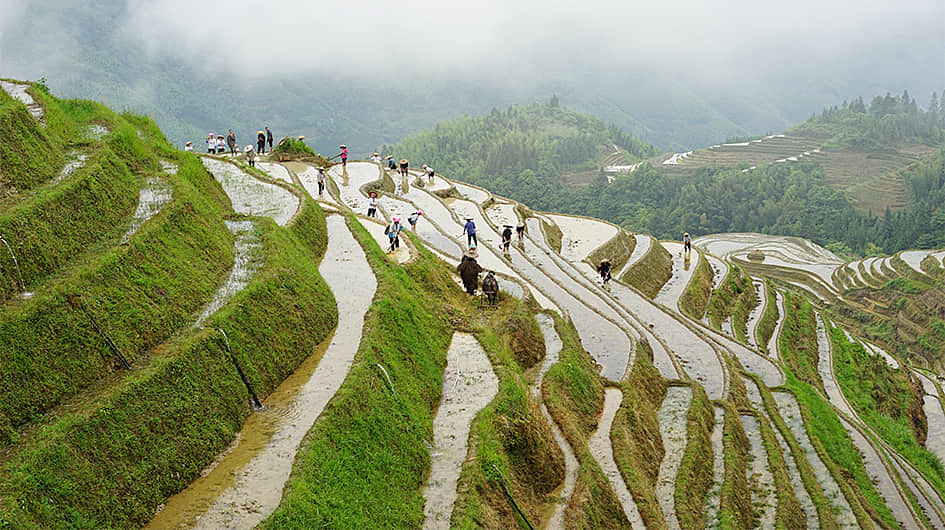 Villagers Busy with Plowing in the Terraced Fields
Day 3
Longsheng – Guilin by Road: Longji Rice Terraced Fields (breakfast, lunch & dinner)
Morning
The birds in the trees will wake you up. Ping'an Village is also a Zhuang tribal home. It attracts many photography enthusiasts and tourists each year to see the beautiful scenery of Longji's magnificent terraced fields. The most famous spots are Seven Stars with the Moon and Nine Dragons and Five Tigers. You will need to hike up to two different viewing points to see these two scenes from different angles. Going down to Ping'an Village for lunch, you will taste the special bamboo rice and organic vegetables in Zhuang style flavor.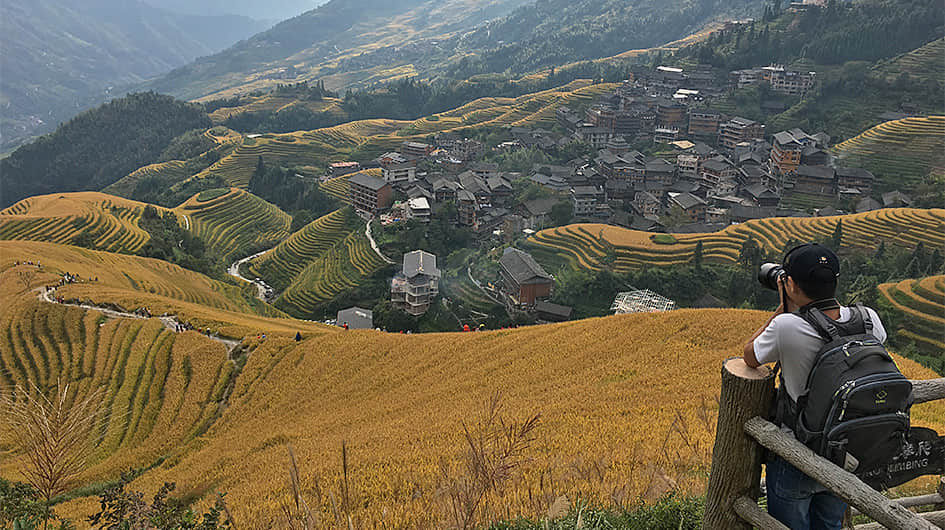 On the Platform of Seven Stars with the Moon in Autumn
Afternoon
After lunch, we will head back to Guilin city. You can either be free on your own for the rest of the day or book a Guilin Food and Night Life Discovery Tour starting at 17:30.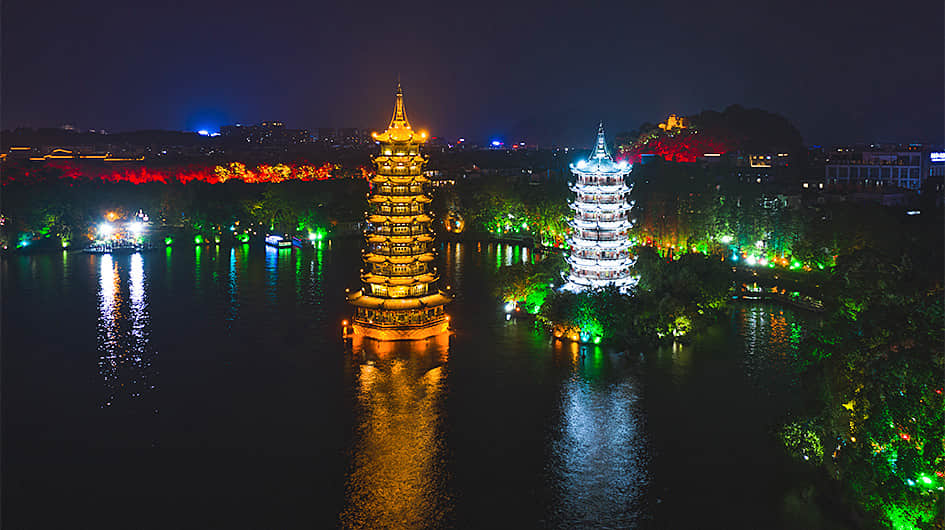 The Sun and Moon Pagodas at Night
Day 4
Guilin – Yangshuo: The Li River Cruise (breakfast, lunch & dinner)
Morning
Many people go to Guilin to admire the Li River. The waterway, with access to all the essential scenery spots, starts from Guilin and ends in Yangshuo, with a total of over 80 kilometers (52 miles). The river is quiet and tranquil with only bamboo rafts, fisherman, water buffalos, and peasants working on rice fields to break the tranquility. The magnificent Karst mountain peaks, limpid river and bamboo trees on the shore will surprise you at every turn of the river. There is a set-menu lunch served on board. You can order extra dishes at your own expense.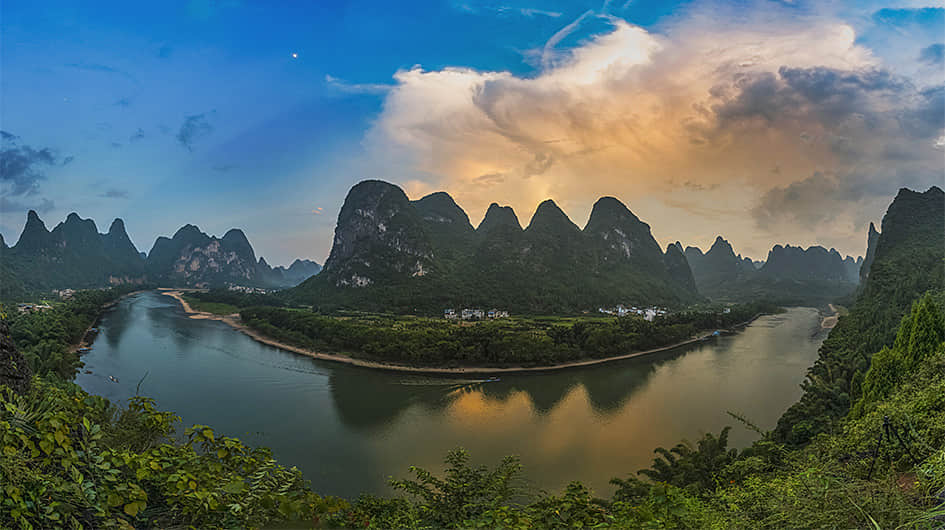 The Beautiful Scenery of Li River
Afternoon
At around 13:00, you will disembark in Yangshuo. Your next stop is Fuli Ancient Town, which has a long history of painting fans. Here there are old stone-paved paths and traditional Chinese style houses. This visit mainly demonstrates the manufacturing process of a Chinese folding fan within 2 hours. Finally, Master Mo will teach you how to complete a fan product by painting on it.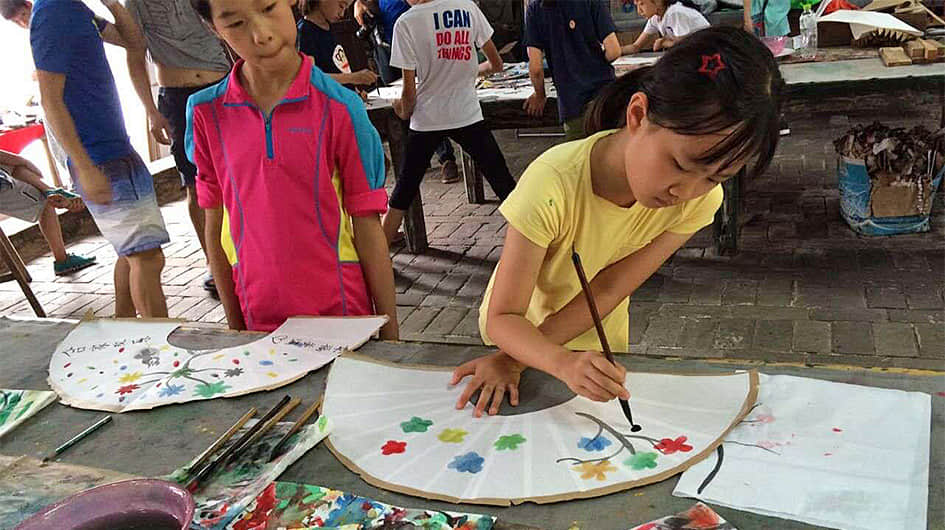 Children Painting on a Fan
Day 5
Yangshuo: Cooking Class and Cycling (breakfast, lunch & dinner)
Morning
You will firstly go to the local wet market and buy some ingredients for cooking. There is always something interesting that you have never seen before. A short walk back to the cooking school and you will follow the teacher's instructions for preparing and cooking your lunch. There are 3 dishes and you can enjoy what you just cooked. The recipes will be given to you so that you can share what you have learnt with your family and friends back at home.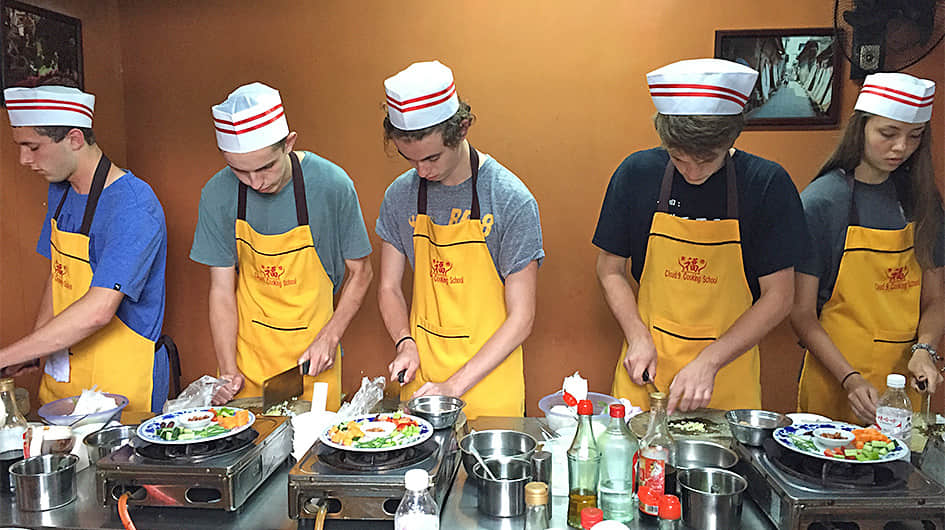 Preparing Cooking Materials
Afternoon
It is time to do some excises after a lunch break. Cycling is a good way to explore the Yangshuo countryside. You will enjoy the country roads, lanes and tracks of the distinctive and beautiful countryside alongside the paddy fields and orchards. This will give you a fascinating insight into rural life in China. A family visit along the way is applicable if you are interested.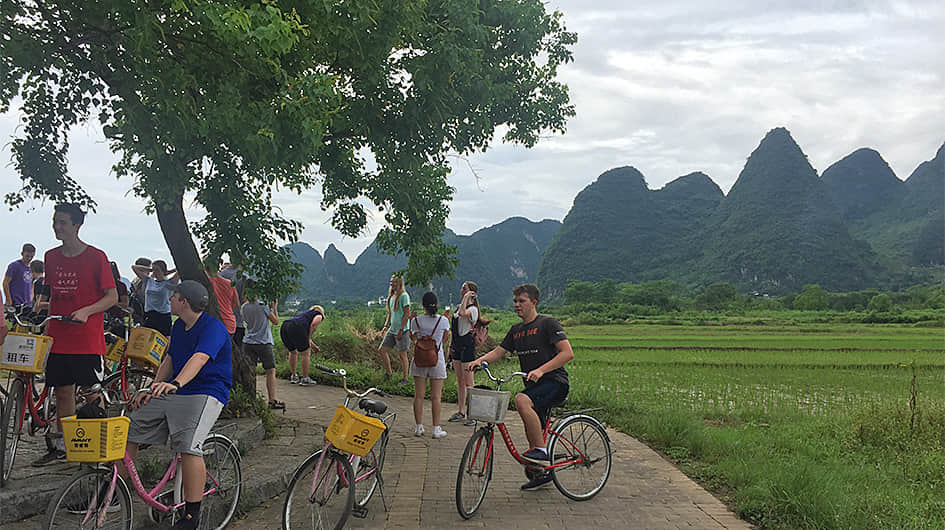 Cycling in the Countryside
Day 6
Yangshuo Departure: Doing Farm Work (breakfast & lunch)
The locals live on agriculture and their handcraft industry. This is a good chance to experience the local life. The farm work varies according to the season of the year and the weather conditions, but essentially falls into two main categories. If the weather is good, your job may include managing the land and caring for crops. If it rains, you may prepare Tofu, make sticky rice cakes or weave baskets. The tour ends here. Hopefully this slow travel through rural China can inspire you in your future busy life or work.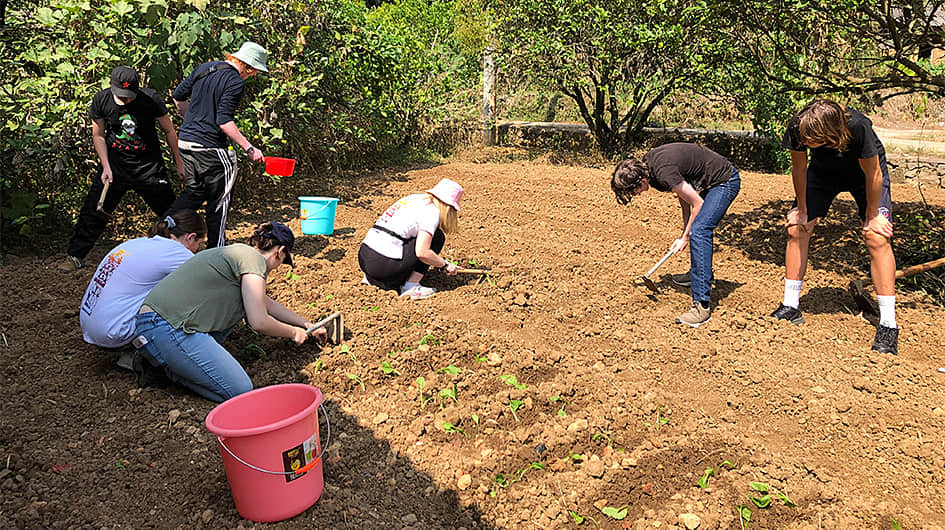 Growing Vegetables
Comfortable Hotels
| | |
| --- | --- |
| Guilin | Guilin Bravo Hotel |
| Longsheng | Ping'an Hotel |
| Yangshuo | Green Lotus Hotel |
Note: please feel free to contact our travel specialist if you prefer to stay at other categories of hotels.
What's Included
Experienced English speaking tour guide
Entrance fee to all spots listed in the itinerary
Well-selected hotel accommodation
Meals mentioned in the itinerary
Qualified driver and comfortable vehicle with air-conditioner