XM-01:

6-Day Private Tour from Xiamen to Nanjing: Discover the unique Tulou architecture and Hakka culture

Located on the south-eastern coast of Fujian Province, Xiamen has a gift from nature, with spectacular scenery, pleasant tree-lined beaches, and rich culture. In Xiamen city, you will encounter the historical remains of sites, such as the Huli Mountain Fort, Nanputuo Temple, Shuzhuang Garden, Piano Museum and Jimei School Village. Traveling further out from the city, there are many well-preserved Earth Buildings (famously known as 'Tulou') in Nanjing County, which would not disappoint you when you visit. You will be enlightened by learning about the experience of Hakka and tea culture.
Trip Highlights
Enjoy riding around Huandao Road to capture great views of the sea and the sky
Watch a traditional Hakka puppetry
Learn to make tea and a model of Tulou
Experience the process of making "Ciba (Sticky Rice Cake)"
Soak in the scenery and traditions of this waterfront district
Suitable For: School Students, Travelers Who Love Culture and Architecture
Full itinerary for Xiamen Educational Tour
Day 1
Xiamen Arrival
Take a flight or train to Xiamen. You will have four full days' educational tour, accompanied by a knowledgeable guide. Hotel check-in and have a good rest.
Day 2
Xiamen: City Tour (breakfast, lunch & dinner)
Morning
As a very important port in the southeast of China, Xiamen needed to build their defense system against invaders. Huli Mountain Fort was built in 1891 and is famous for owning both the biggest and smallest cannons in the world. The massive Krupp cannon in good condition is impressive, and the view over the harbor and city is spectacular.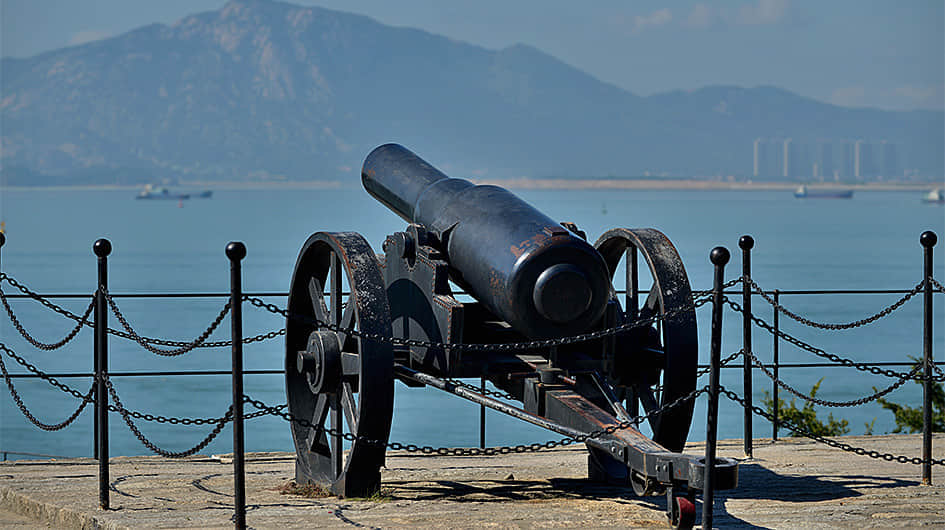 Huli Mountain Fort
The Buddhist culture deeply affects Chinese people from ancient times. The Nanputuo Temple which is another home to the Buddhist Godness Guanyin, after the original one on Putuo Island. Over a thousand years old, this temple continues to be used. You can see a crowd of people burning incense and praying, facing the four directions in succession.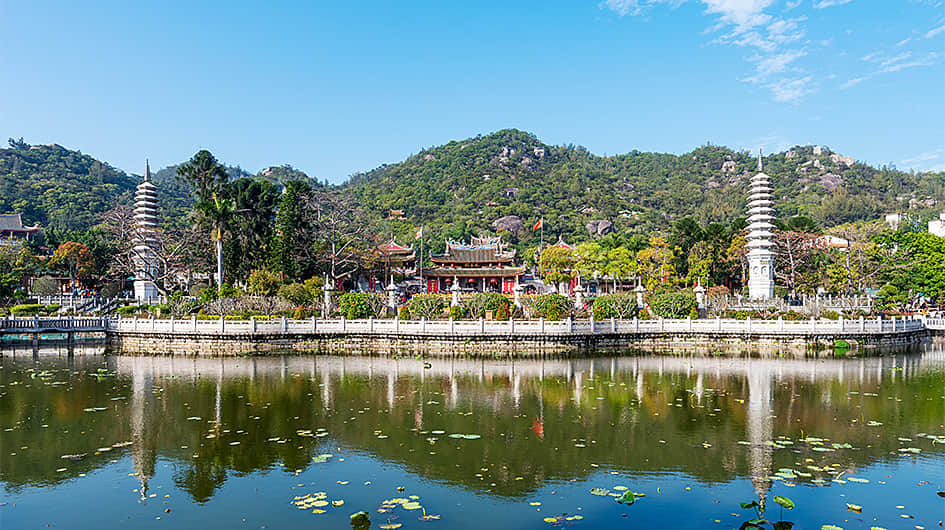 The Nanputuo Temple
Afternoon
Why is Gulangyu Island so popular? As an important window for Sino-foreign exchanges during the 19th and 20th centuries, it maintains a mixture of different architectural styles including traditional southern Fujian style, western classical revival style, and veranda colonial style. There are many interesting things to do on this island. Tracing the past: you will discover the ancient inscriptions carved along the rocky path which leads you to the island's highest point named Sunlight Rock. Finding an answer: Piano Museum found in Shuzhuang Garden tells you why Gulangyu is nicknamed "Piano Island". This island is only 10 minutes' ferry accessible from Xiamen city.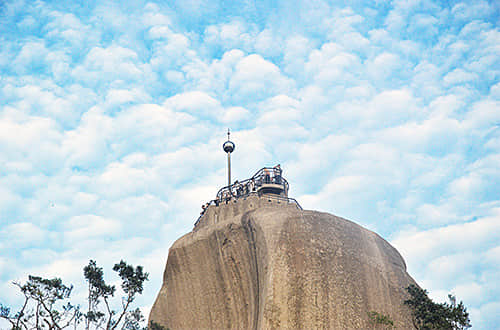 The Sunlight Rock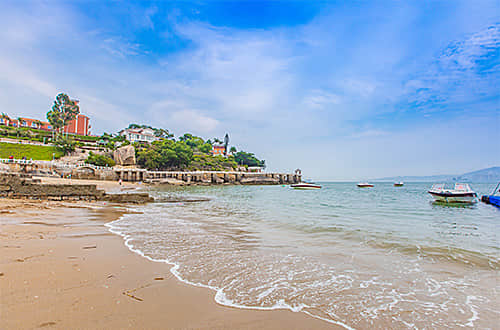 The beautiful Beach of Gulangyu Island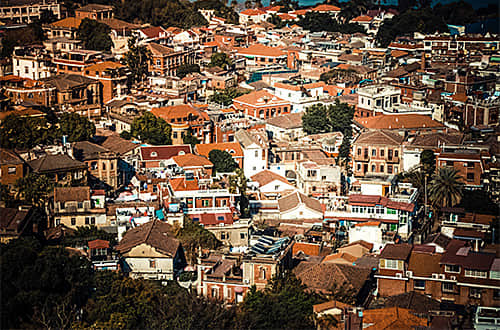 The Architecture on Gulangyu Island in Various Styles
Day 3
Xiamen – Nanjing County by Road: City Tour (breakfast, lunch & dinner)
Morning
You can start your day by cycling or leisurely walk along Huandao Road, a nice stretch that has unparalleled glimpses of beautiful coastline and the sea of Xiamen Islet. Enjoy the gentle breeze at your own pace.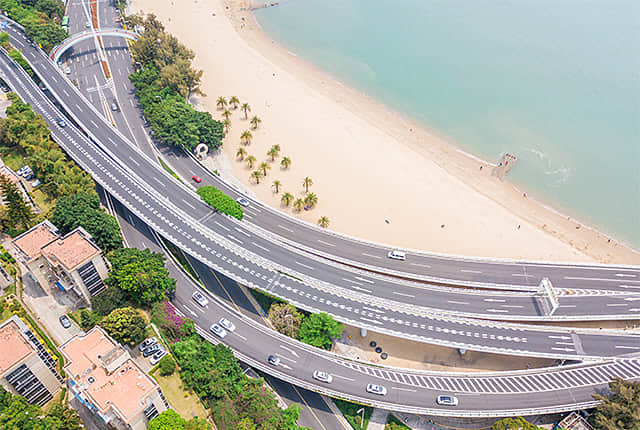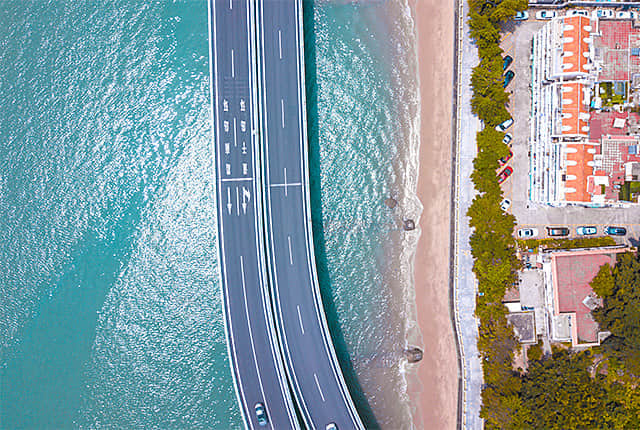 Next, you can stopover in Jimei School Village. It is a park for relaxation and to the memory of Mr. Tan Kah Hee who is the founder of Xiamen University. In the memorial hall, you can learn about the history of how this small fishing village was turned into an educational precinct.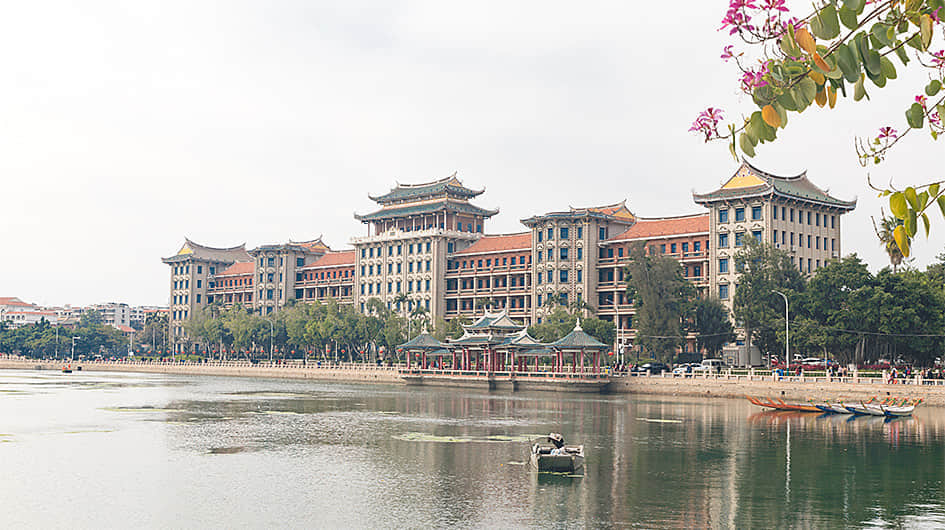 Jimei Middle School
Afternoon
After lunch, your guide and driver will take you to Nanjing County, approximately 3 hours' drive. On arrival, you can refresh at the hotel and prepare for the evening's activity.
Evening
There will be a traditional Hakka puppetry on stage. The puppets will entertain you with traditional Chinese fairy tales and folk stories. You will be impressed by how this is done! The puppeteer stands behind the stage manipulating the puppet with 12 strings attached to it. More strings can be added to create more intricate and complex movements.
Day 4
Nanjing County: Architecture and Culture (breakfast, lunch & dinner)
Morning
Today you will visit the unique architecture found only in this area - Tianluokeng Tulou Cluster. It consists of a square earth building surrounded by four round earth buildings. Each building can house around 800 people. The very thick earth wall and with only one entrance creates a perfect defense system, either against an invasion or natural disaster. Venture into the building and listen to the history and current activities of this village. There are two important characteristics of the earth building worthy to note. The Yuchang Building features its zig-zag support where a left slant is supported by a right slant. The Ta'xia Village takes you on a journey back in time. It's stunning 5-storied building was built without any machinery more than 700 years ago, and is still occupied by tenants today.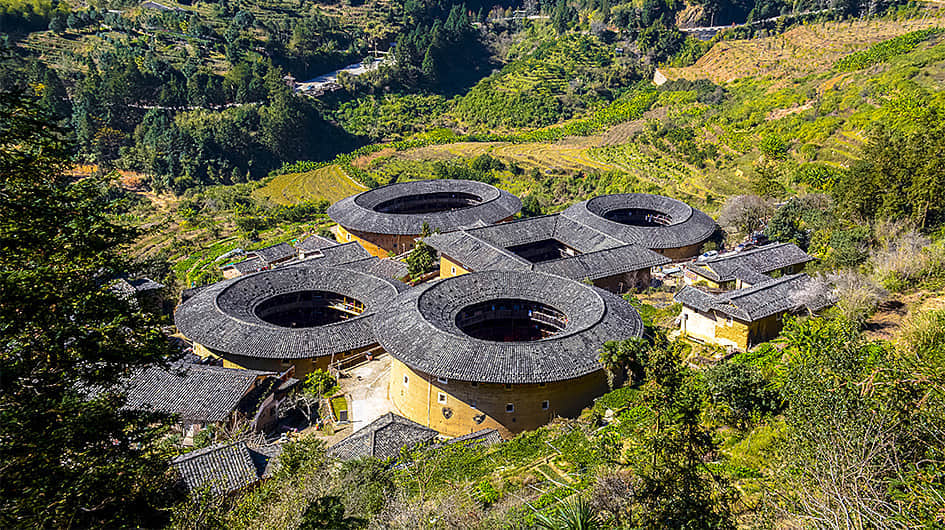 Tianluokeng Tulou Cluster
Afternoon
In the subtropical mountainous area, it is suitable for growing tea. There you can experience hands-on the joy of picking tea in the local tea plantation. "Ciba" in Chinese is a type of sticky rice cake. Hakka people serve it during traditional festivals or family celebrations. The interesting part of preparing Ciba is pounding the glutinous rice with a wooden pestle. Give it a go – but be warned, it is physically hard work!
Day 5
Nanjing County – Xiamen by Road: Hakka Cultural Learning Experiments (breakfast, lunch & dinner)
Morning
The local people will teach you how to dry tea leaves and prepare it to sell. Put the aired tea leaves in a cooking pot at high temperature and keep stirring them until the leaves curl. Roll the leaves after cooking and spread them out to dry at room temperature.
Hekeng Tulou Cluster is one of the most magnificent ones. This village is connected with mountains and streams. If you look down from Shizishan ("the Lion Mountain"), you will see that seven Tulous form into a pattern of the Big Dipper. Keep the Tulou's structure in mind, as you will experience making a model of the Tulou. Follow the three steps: kneading the clay, pinching into the shape of the Tulou (using bamboo skin as a tool, if necessary), and painting whatever you like on it.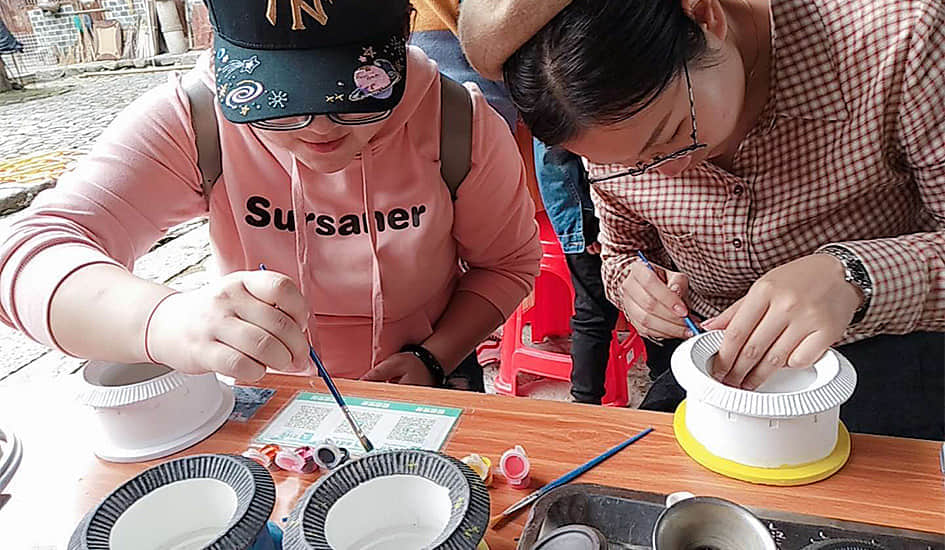 Making a Model of the Tulou
Afternoon
Enjoy a hearty lunch and then you will return to Xiamen city. You will be free for the rest of the day.
Day 6
Xiamen Departure (breakfast)
From the ancient Tulous to the modernity of Xiamen, sadly your tour ends. Our guide will meet you at your hotel lobby and accompany you to the airport/train station.
Comfortable Hotel
| | |
| --- | --- |
| Xiamen | Ramada Xiamen |
| Nanjing County | Qingdelou Inn Nanjing County |
Note: please feel free to contact our travel specialist if you prefer to stay at other categories of hotels.
What's Included
Experienced English speaking tour guide
Entrance fee to all spots listed in the itinerary
Well-selected hotel accommodation
Meals mentioned in the itinerary
Qualified driver and comfortable vehicle with air-conditioning