XJ-1:

9-day South Xinjiang Tour

Southern Xinjiang, the area at the southern end of the Tianshan Mountains and northern end of the Kunlun Mountains, is the most exotic land in China. The various minority groups – Uyghur, Tajik, Kyrgyz – who are living there practice rich and diverse cultural customs. Driving along the highway through the Taklimakan Desert, seeing ancient cities along the Old Silk Road, the gorgeous landscape of the mountains and lakes, and tasting the mouth-watering food, all these will make your trip a life-time memorable one.
Trip Highlights
Local experts speaking fluent English
Comfortable vehicles for land transportation
Visit a Tajik family and talk to the host
Taste different types of local delicacies
Suitable For: Expats, Travel Enthusiasts, Travel Buffs
Map of this Trip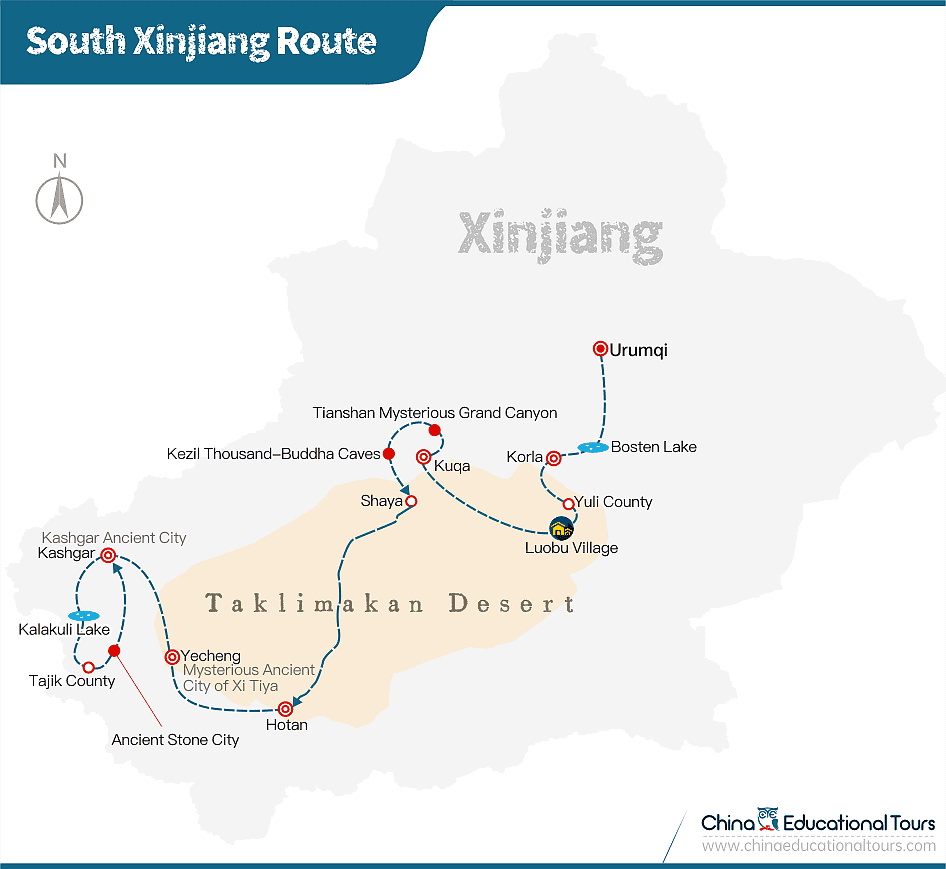 Click to enlarge
Full itinerary for In-depth Tour of South Xinjiang
Day 1
Urumqi Arrival
Welcome to gorgeous Xinjiang as you are landing in Urumqi. Your personal tour guide will be greeting you at the arrival terminal of Urumqi Diwopu International Airport (URC). You will be transferred to your hotel in the city center and you can rest at leisure. If you arrive earlier on this day, you will have time to explore the neighboring streets, check out some shopping malls or take a picture of the city view at Red Hill Park.
Overnight at Urumqi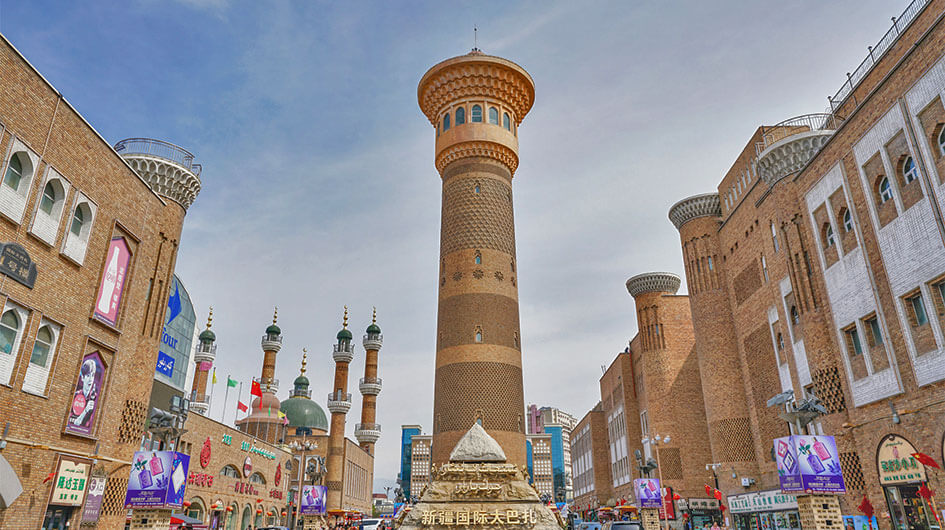 Day 2
Urumqi to Korla via Bosten Lake (breakfast & lunch) (480km, 7 hrs driving)
After breakfast, your guide and driver will pick you up and drive southwards to visit Bosten Lake, the biggest fresh water lake in China. It is the source of the Kongque (Phoenix) River, the mother river of Ancient Loulan.You will spend some time here to enjoy the beautiful, tranquil lake view. And then we will continue the journey to Korla, a small city located in the middle of Xinjiang. It is a center of transportation from the Southern Region to Urumqi and inland. It is also the gate of the southern route of the Silk Road. After checking-in, you can have a leisurely walk along the Phoenix River to enjoy the evening lights.
Overnight in Korla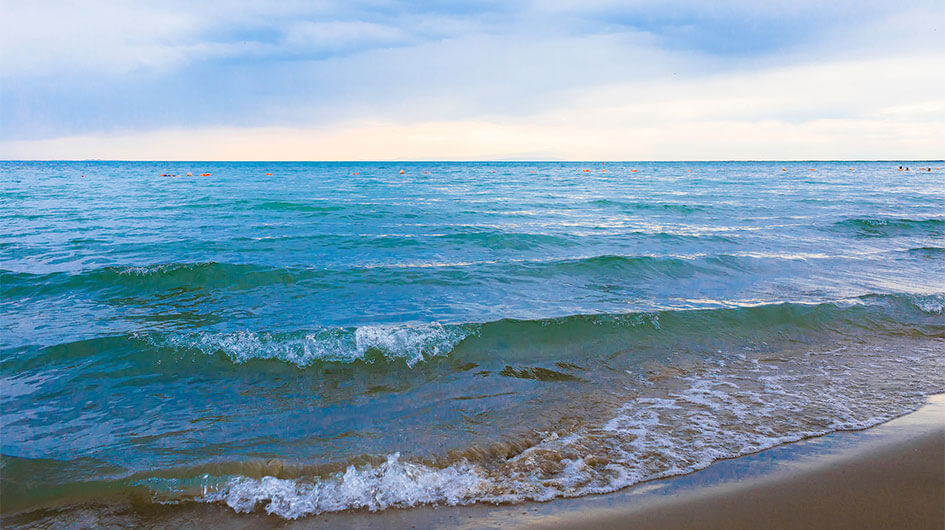 Day 3
Korla to Kuqa en-route Luobu Village at Yuli County (breakfast & lunch) (480km, 7.5hrs driving)
After breakfast in your hotel, you will set off again towards the desert. In about one hour of driving, you will arrive at Luobu Village. A very small village in the middle of the desert and a meeting spot of the Talimu River and Weigan River, Luobu Village is still guarding Ancient Loulan. You will get to learn the tradition and folklore of the locals and have a light lunch in a local restaurant. Then you will continue to Kuqa. We will prepare some snacks and drinks onboard for the long drive.
Overnight at Kuqa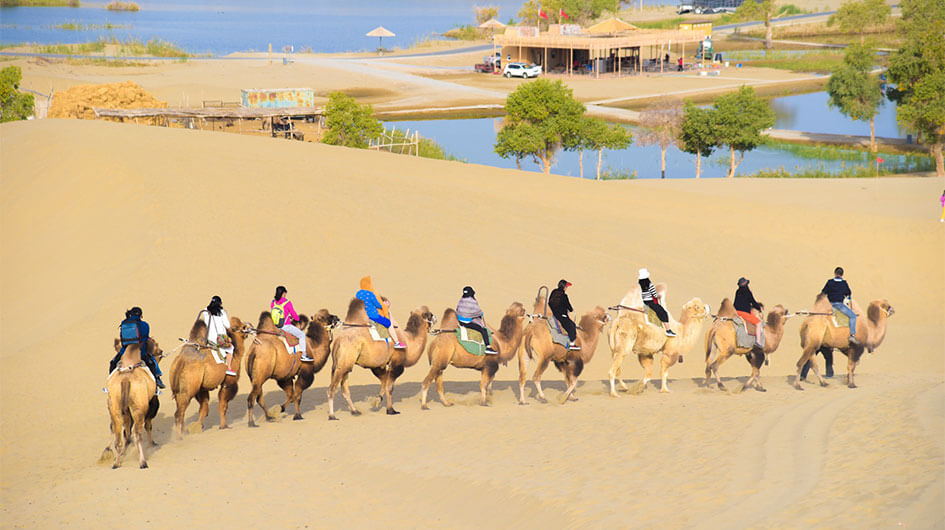 Day 4
Kuqa to Shaya, Mysterious Grand Canyon, Kezil Thousand-Buddha Caves (breakfast & lunch) (200km, 5hrs driving)
We will have a bit less driving today. Enjoy a leisurely breakfast in the hotel before setting out. The first stop is Tianshan Mysterious Grand Canyon, formed by wind and rain over billions of years. It is famous for the unique colors and rock shapes. The canyon is 5.5 kilometers long from east to west with an average depth of 1,600 meters. You will spend 2 hours here to take some amazing photos.
Within a 1.5 hour drive, you will get to The Kizil Thousand-Buddha Caves. There are corridors of murals surpassing other existing caves in China in their abundance of content, quantity and long duration. It is the place you will learn about significant Buddhist stories as well as the history of ancient Qiuci Kingdom (today's Kuqa).
After visiting the cave, you will head south towards the desert to Shaya County and stay there overnight.
Day 5
Shaya to Hotan via Desert Highway (breakfast & lunch) (500km, 8 hrs driving)
Today is a long driving day. The journey starts from the north of the Taklimakan Desert southwards all the way to Hotan. Taklimakan Desert is the largest desert in China. Driving along the desert highway provides a gorgeous view of sand dunes in various shapes and colors. When arriving at Hotan in the evening, you can experience the diverse cultural customs and tasty food at the night markets. Hotan jade is famed as the most beautiful and precious in the world.
Overnight at Hotan
Good to know:
The driving journey trip today is quite challenging. Due to the limited supply, lunch will be very basic. You can bring your own snacks and drinks.
Residents in both Hotan and Kashgar are mostly Muslim. Please don't smoke or drink alcohol in restaurants and local living areas.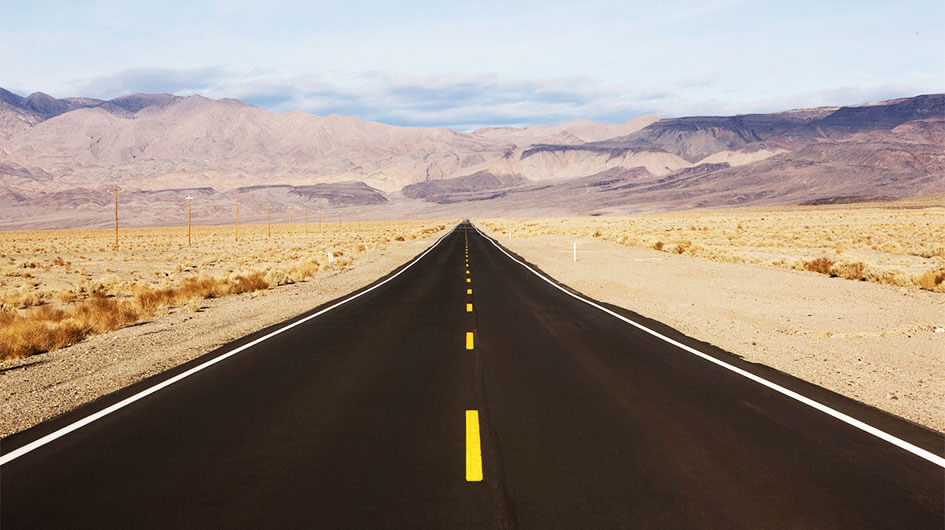 Day 6
Hotan to Yecheng to Kashgar (breakfast & lunch) (530km, 7 hrs driving)
In the morning, your driver will take you from Hotan towards the northwest to Yecheng County for about 3 hours. Yecheng is famous for producing walnuts, pomegranates, jade and folk dances. You will experience authentic exotic customs in this small border town. With a short lunch break in Yecheng, you will visit the Mysterious Ancient City of Xitia. Without any historical records, Xitia is considered a mysterious ancient city and has been rebuilt in classic central-Asian style. Then you willcontinue the journey further northwest to Kashgar. Kashgar is the most important hub in southern Xinjiang where you can experience the Uygur culture and customs.
Overnight in Kashgar
Good to know:
It is tranquil to wander around Kashgar old city area. Seniors sit together and chat with each other under the house, children chase after one another in the alleys, dogs and cats lie there with eyes closed.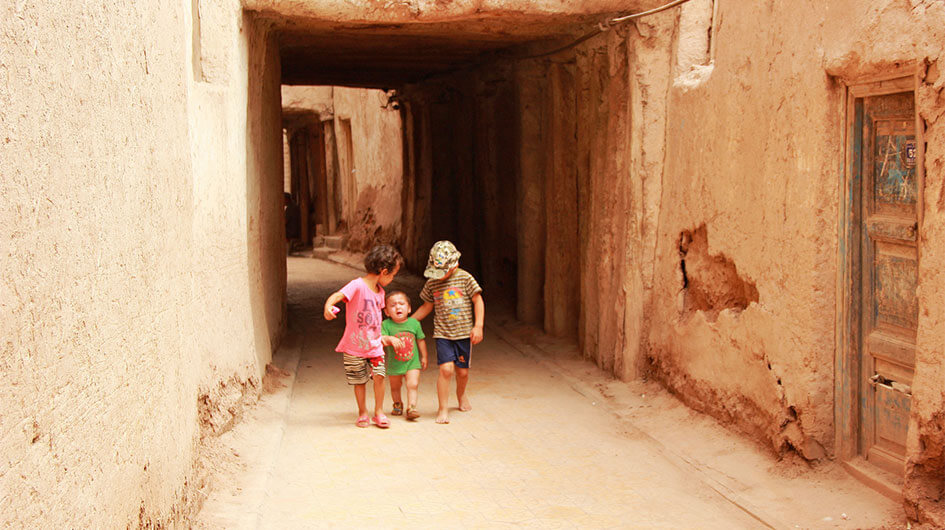 Day 7
Kashgar to Tajik County, Kalakuli Lake (breakfast & lunch) (290km, 5.5hrs driving)
What a pleasant change to visit a greenish lake after several days of driving through the desert! Today you will head out to visit Kalakuli Lake, a bright pearl on Pamir.It is about 3 hours' driving with snow-capped mountains in the distance. Once arriving there, you will find it is totally deserving of the long drive. Standing by the lake, it is stunning to admire the reflection of Muztagh Ata (the 3rd highest peak of Kunlun Mountains) in the water. In the afternoon, the trip continues to Tajik County within 1.5 hours' driving withalpine scenery on Pamir. The only white people in Asia, the Tajik, have lived here for generations. Let's look forward to visiting one of their families.
Overnight in Tajik County
Day 8
Stone City, Home Visit, and back to Kashgar(breakfast & lunch) (290km, 5.5hrs driving)
In the morning, you will spend 1-2 hours to visit the Ancient Stone City in downtown Tajik County. The Ancient Stone City was the capital of Puli Country in Western Region during the Han Dynasty (206 BC-220), for its strategic importance (the meeting spot of the roads from Kashgar, Shache, Yingjisha and Yecheng to Pamir). The ruins present a tranquil and inspiring picture with snow-capped mountains, grasslands and rivers surrounding.
The specially-arranged family visit to a local Tajik household will provide a chance to see where they live and their lifestyle, specially their traditional customs.
Your driver will take you back to Kashgar in the late afternoon.
Overnight in Kashgar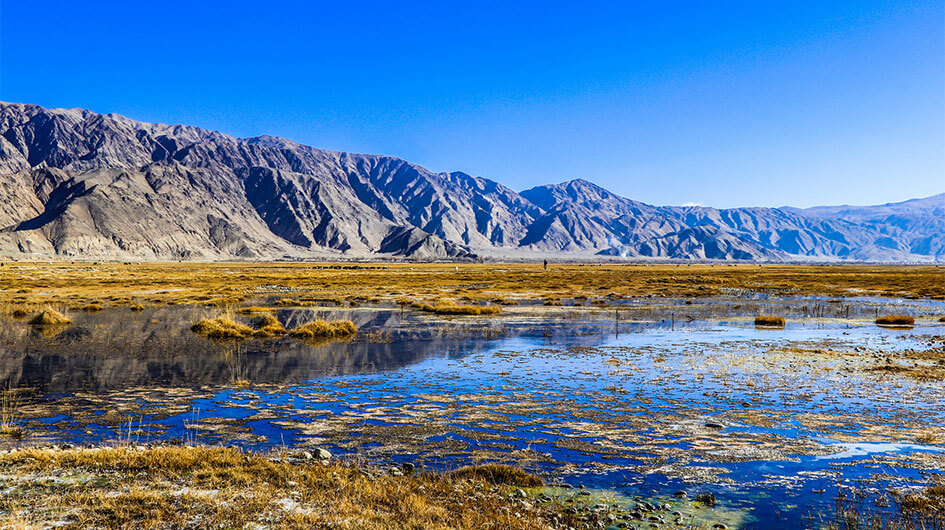 Day 9
The Id Kah Mosque, Tour Ends (breakfast)
You will be transferred to the airport or train station for your next destination if your flight departs before noon. Otherwise, you will visit Id Kah Mosque in the morning. As the landmark of Kashgar and located at the central square, Id Kah Mosque is known as the biggest mosque in China. Id Kah means a place of praying and celebrating in festivals. It was firstly built in the year of 1442 and has been renovated several times. Now it is a group of old Islamic constructions with strong ethnic style and religious features.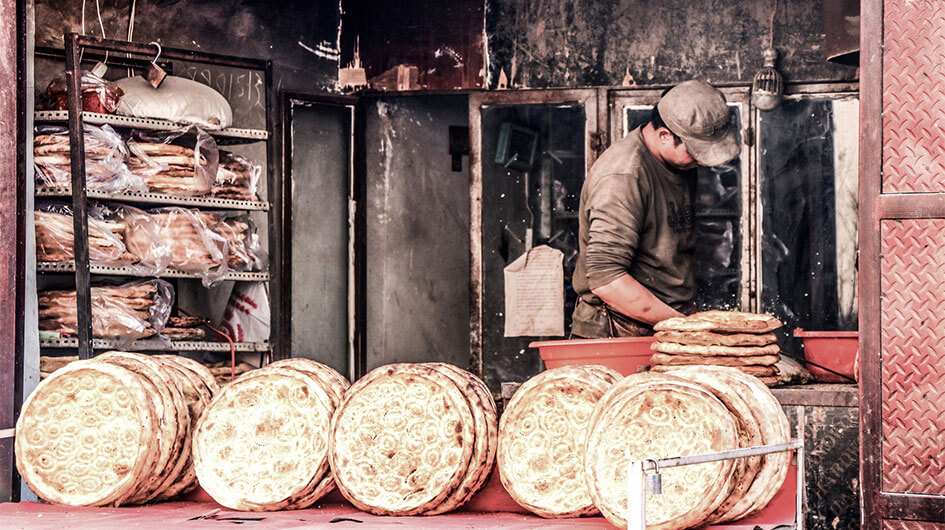 What's Included
Expert tour guides who can speak fluent English, Chinese Mandarin and local dialects
Air-conditioned vehicles for land transportation
Eight nights' accommodation in comfortable local hotels with daily breakfast
Meals as listed
Entrance fee and cost for activities as mentioned