A sleepover is an interesting way for young friends to experience the Museum and learn about prehistoric animals through storytelling, information, and participation in fun activities.
Day 01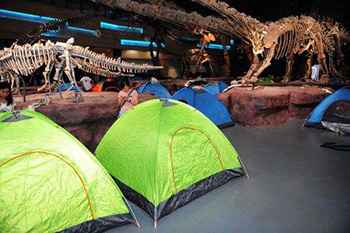 18:45-19:00 Sign in, paint a dinosaur on a T-shirt.
Design a picture of your own, and draw a colorful T-shirt with your imagination. Then you can take photographs wearing your distinctive T-shirt.
19:00-19:30 play a game and watch a 3D movie
Enjoy playing a game in a small group. Participants will get to know each other and make some new friends.
Watch 3D movies which demonstrate the evolution of prehistoric animals. You will immerse yourself in the mysteries of the original oceans and the earth.
19:30-20:00 visit the Prehistoric Animals Museum
The guide in this museum not only introduces collections, and knowledge about prehistoric animals, but also some enchanting stories about paleontologists. Of course, the guide is always willing to answer awkward questions from young friends. They will lead you into the magical world of prehistoric animals.
20:00-20:30 hunt for treasure in the Chamber of Dinosaurs.
Participants look for some vital clues to find designated boxes, and then decode them using their knowledge of prehistoric animals. This game will challenge both your brain and your memory.
20:30-21:15 assemble models of dinosaur skeletons
Guided by an expert, young friends will strengthen their practical skills by assembling models of dinosaur skeletons.
21:15-21:30 learn to put up tents
The youngsters' abilities in field survival will be strengthened as they learn to put up tents. Interaction between parents and children will enable them to experience the rigors of scientific investigation. Admire the dinosaur fossils with light, and make camp close to the dinosaur fossils. What a stunning memory it will be!

21:30-22:00 pitch camp, clean and wash.
At the end of a day, enjoy a monumental night's sleep at the Museum.
22:30 lights out.
Day 02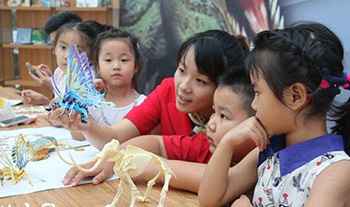 6:30-7:00 get up, wash and dress.
7:00-8:00 repair fossils
With the help of experts, young friends will learn about how to repair fossils with specialized tools.
8:00-9:00 make sandwiches to imitate the layers of the earth, and enjoy breakfast.
An expert will introduce knowledge about a set of layers of the earth; young friends make sandwiches to imitate these layers for parents and themselves, and after that enjoy your unique breakfast.
9:00 take a group photo at the end of this activity.