Visiting The Great Wall of China is on everybody's traveling list. Our hiking trip on the unrestored sections of the Great Wall presents the original Wall with its rich historical background.
Day 1
Beijing to Gubeikou to Jinshanlin (2 hours' drive and 5 hours' hike)
Your guide and driver will pick you up from your hotel at 8am. Drive to the Olympic Venue for a 20-minute walk to see local morning exercise. Then have a stop at Subway to pick up a sandwich for today's picnic lunch.
After 2 hours' drive you will reach the wall. Once on the wall, you will see the winding wall you are going to hike along for the next two days.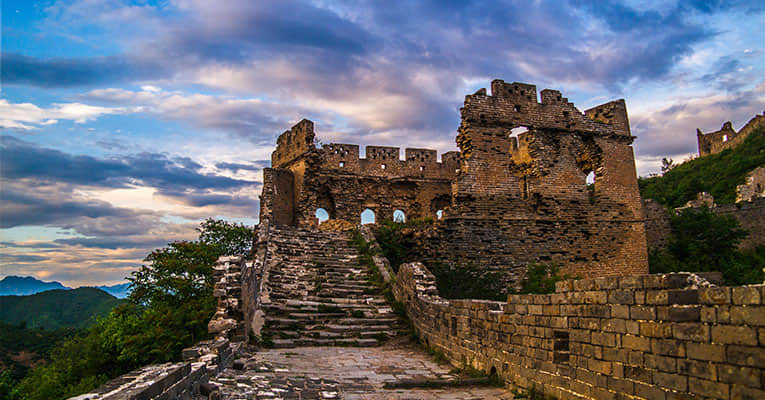 Jinshanlin Great Wall
Gubeikou section of the Great Wall is the best completed wall in Chinese history. It was the key strategy to protect China from Mongolia nomads between Shanhaiguan Pass and Juyongguan Pass. Walk along the wrecked wall with its bullet holes, you can feel that part of the history. The scenery along Yanshan Mountain is breathtaking.
After 2 hours' hiking, we will walk on the paths away from the Wall for 1.5 hours to avoid a military base, and then come back to the wall of Jinshanlin section. In the late afternoon, drive to Gubeikou village for rest and accommodation. You could explore the village if you are still feeling energetic.
Tips: Shorts are NOT recommended as you will pass through some bushes. Deodorant should be prepared. Hiking poles will be provided if necessary.
Day 2
Jinshanlin to Simatai West to Beijing (3 hours hike and 2.5 hours' drive)
A very early start is suggested for sunrise if the weather allows. This is a wonderful experience to see the sun come up from the far end of the ancient wall. Packed breakfast with tea and coffee will be served afterwards. Today's hiking is not long but challenging as it is the steepest section with more than 35 watch-towers. It is only 6 km but the view varies due to the changing of elevation and perspective. You could easily take great pictures with the endless wall ahead. After reaching the Simatai section, the best preserved original part of Ming Great Wall, you will get off the wall at Kylin Tower and then return to Beijing with 2.5 hours' drive. In the afternoon, a foot massage is well earned. You will be dropped at your hotel or any other place as per your request.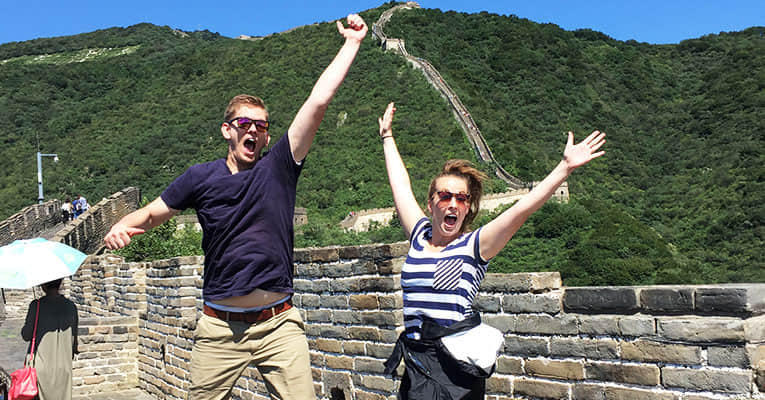 Our Customer's Photo in the Great Wall