CD-03:

6-Day Chengdu Private Tour about Pandas

If you are a big fan of pandas, this tour package is designed for you. You will not only take part in a panda volunteer program and get to know more about pandas and interact with them closely, but also have a chance to hike in a valley where you can see the tracks of a wild panda. It is combined with city highlight tours to learn about the local culture.
Trip Highlights
Sip tea at a local open-air tea house
Learn about the local's daily life by visiting a vegetable market
Take care of pandas as a volunteer
Visit the panda center at the Wolong Nature Reserve
Dengsheng Valley Hiking to find traces of Giant Pandas in the wild
Have a close look at the Giant Buddha Statue in Leshan
Suitable For: Panda Enthusiasts, Family, Solo, Group
Full itinerary for Panda Volunteer Program for Panda Enthusiasts
Day 1
Chengdu Arrival
Welcome to the hometown of pandas! Your tour guide will meet you at the arrival hall of Chengdu's Shuangliu Airport and take you to your hotel by private air-conditioned vehicle.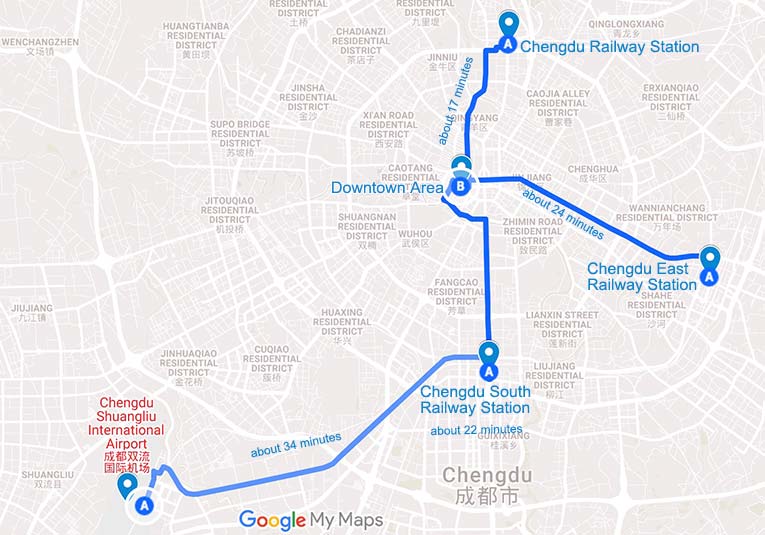 Day 2
Chengdu: City Tour (breakfast & lunch)
Morning
Your full day city tour starts after breakfast. Wuhou Memorial Temple was built in 223 BC and is the only ancestral temple to the memory of both an emperor and several marquises. It is a great place to learn about the history of the Three Kingdoms. And then you can walk along Jinli Old Street. It is said that it is one of the oldest and most commercial streets in the history of West Sichuan. You can get a taste of the authentic Chengdu flavor by trying some local snacks and specialties. It is recommended to have hot pot for lunch today.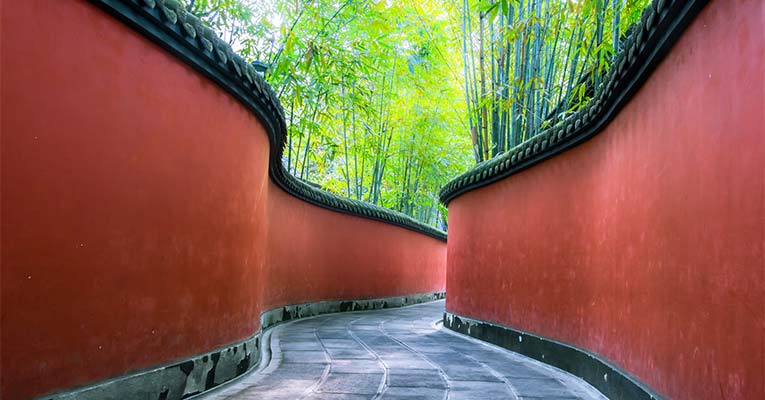 Famous Red Wall
Afternoon
Visiting a local vegetable market is special for you. It is a very old market where local people buy their daily necessities like meat, vegetables, traditional Chinese medicine, beverages etc. You can taste freshly made Spring Rolls and drink a cup of Baijiu (pronounced "Bye Joe") , a kind of alcohol made from rice. Later you will stop by People's Park to see local people having fun or playing mahjong; take your seats at a tea house and drink tea as the locals do. Enjoy the slow life of Chengdu people.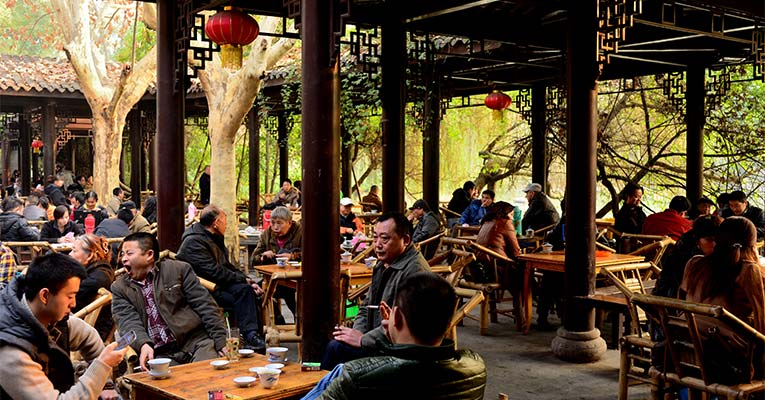 Tea Time
Evening
Recommended activity: Shu Feng Ya Yun Sichuan Opera presents the wondrous authentic west Sichuan folk classical opera, presented in a large-scale multi-functional Liyuan theater which integrates traditional Chinese art performance, unique folk performance, opera and drama supplies. The programs are Sichuan opera, stick-puppet shows, hand shadow plays, Chinese Acrobatics and face changing shows.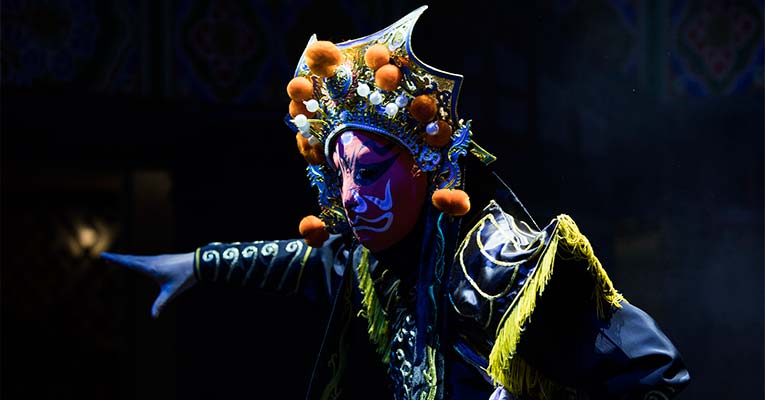 Sichuan Opera face-changing (Bian lian)
Day 3
Chengdu – Wolong – Dujiangyan: Wolong Giant Panda Nature Reserve (breakfast & lunch)
Morning
After breakfast, we will drive you to Wolong Giant Panda Nature Reserve, which is a must-see for any panda fan. It takes almost 3 hours to drive there by road. On arrival, you will visit the base. They focus on panda wilderness training programs. A simple Chinese lunch will be served at the cafeteria of the Reserve Center.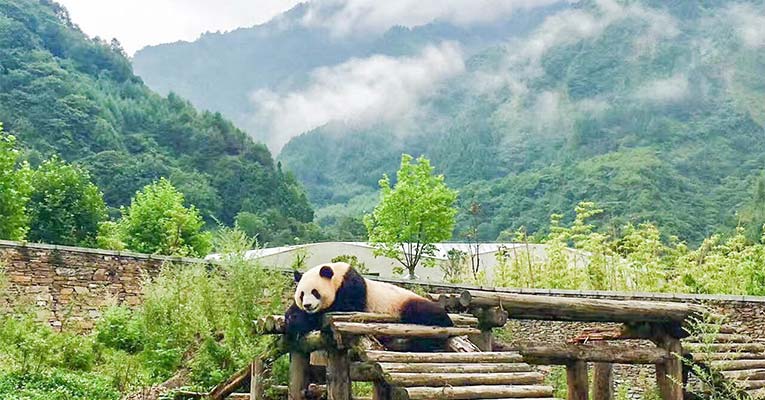 Wolong Giant Panda Nature Reserve
Afternoon
Going hiking in Dengsheng Valley, where there is an area of authentic natural habitat of wild giant pandas, is a good way for you to discover this cute creature. The well-paved hiking trail is 5 km (3 miles) long and the hike takes about 2–3 hours. The forest and ecosystem along the trail are well preserved. If you're lucky, you may find evidence of wild giant pandas. After that, we will transfer you to Dujiangyan for overnight. Have a good rest to prepare for the exciting program tomorrow!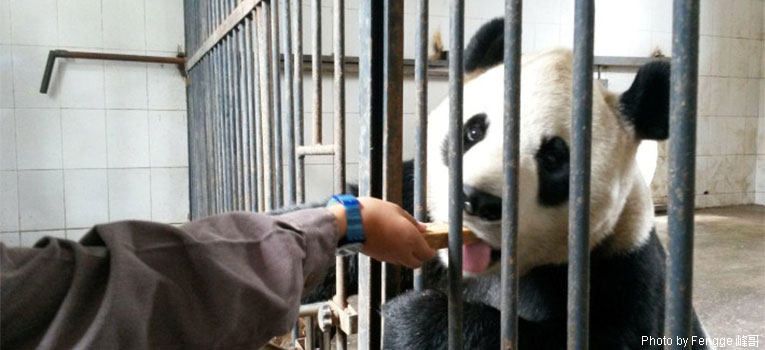 Wolong Panda Keeper Program is optional, if you prefer to do the Panda Keeper Program in Wolong, please feel free to contact travel specialist.
Day 4
Dujiangyan – Chengdu: Dujiangyan Panda Intern Program Experience (breakfast & lunch)
Morning
After breakfast, you will begin your panda keeper program which lasts until late afternoon, around 15:00. The standard process is as follows:
1. Your keeper work may include cleaning the enclosures, cleaning bamboo, preparing food (fresh bamboo, apple, special biscuits and/or vegetables), feeding the pandas, weighing panda feces, and hosing the panda off (in summer) from outside the enclosure.
2. You will also be shown around the base to learn some knowledge about giant pandas. As the experience ends, you will be issued with a panda keeper certificate. Note: Pandas have their own behavior and life style. The schedule of the keeper experience is subject to circumstances in order not to disturb their life, so the work listed above might not all be available, which is not under our control. Please follow the instructions and guidance of base staff. Have lunch at the base.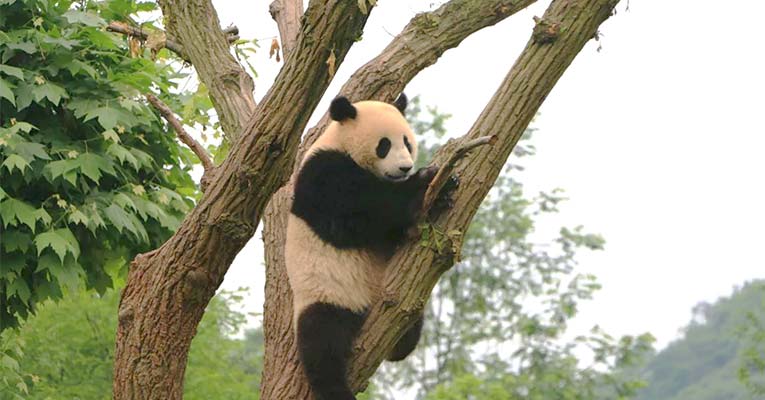 Afternoon
After finishing the program at around 15:00, you will be transferred back to Chengdu. Our guide will help you with the hotel check in on your arrival.
Day 5
Chengdu – Leshan: Leshan Giant Buddha (breakfast & lunch)
Morning
An early breakfast and then it is time to visit Leshan Giant Buddha which is about 2 hours away from Chengdu. It is a UNESCO Site listed in 1996. To calm the troubled flow of three rivers, an Emperor in the Tang Dynasty ordered workers to construct a sitting Maitreya statue against the Wuyousi Mountain. The whole project took 90 years to finish. Have lunch at a local restaurant.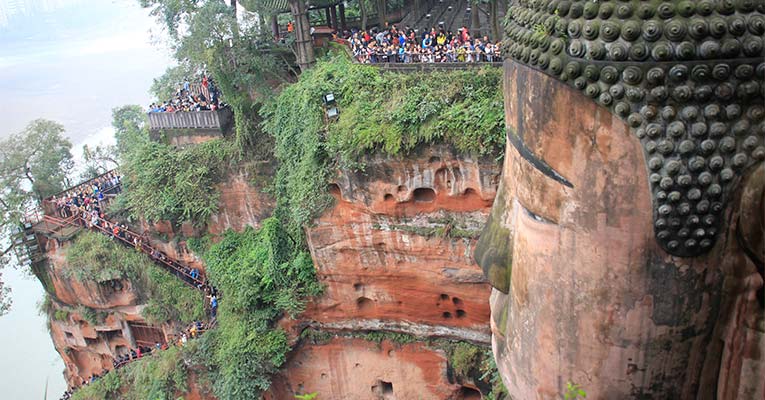 Afternoon
You will have chance to visit Lingyun Temple, which is located at the right rear of the Buddha's head, and climb the famous "nine plank road" which is on the right side of the Buddha and was built around the same time as the Buddha. Today's highlight is taking a boat ride to view the Leshan Buddha Statue. It's only a short ride to the Buddha and each boat takes its turn directly in front of the Buddha, so get your camera ready. The Buddha is awesome and it's really only from the water that you can really appreciate how HUGE it is. We will drive you back to Chengdu after the tour ends.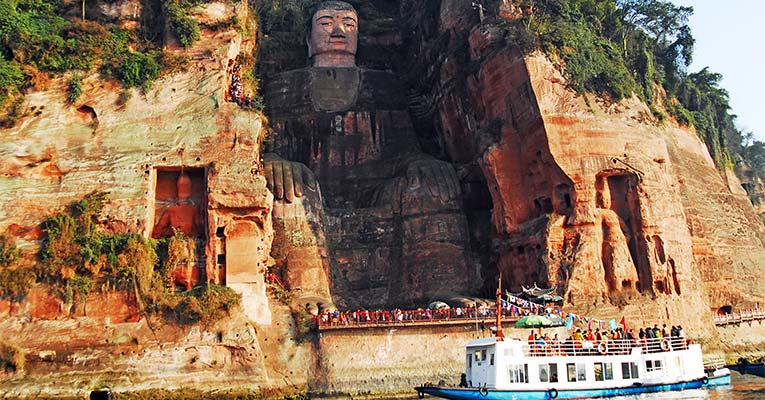 Taking a boat ride to view the Leshan Buddha
Day 6
Chengdu Departure (breakfast)
Your final day starts with breakfast. Your guide and driver will escort you to the airport for your flight to your next destination.
Featured Hotel
Comfortable: Chengdu Tianfu Sunshine Hotel, Holiday Inn Express Dujiangyan Ancient City
Deluxe: The Ritz-Carlton Chengdu, Howard Johnson Conference Resort Chengdu
What's Included
Panda Keeper Program
Well selected hotel accommodation
All sightseeing & entrance fees as described in the itinerary
Local English speaking tour guide
Overland transfer with private driver
Meals as described in the itinerary