CD-05:

7-day Chengdu, Jiuzhaigou Valley

One-week tour in Sichuan will ensure adequate time to visit highlights in and outside of Chengdu city. You will have a taste of everything by watching adorable pandas having breakfast, being wowed by the Leshan Giant Buddha and feasting your eyes on Jiuzhaigou Valley.
Trip Highlights
Sipping tea in a local tea house
Boat cruise to see a sleeping Buddha of Leshan
Take great photos in Jiuzhaigou Valley
Suitable For: Travel Buffs
Full itinerary for Fantastic Combo: Pandas and Fairyland of Jiuzhaigou Valley
Day 1
Arriving in Chengdu
Upon arriving in Chengdu airport, your private tour guide and driver will meet you and escort you to the hotel. The rest of the day is for you to rest at your hotel.
Day 2
Wuhou Temple, Dufu Cottage, Panda Breeding Center, local Tea House
A packed day to see the city and pandas. You will spend the morning at the Panda Breeding Center to see how pandas lead their lives and the way they enjoy their breakfast. The Panda Breeding Center also provides rich information on how to breed pandas from baby to adult pandas. A hot pot lunch awaits you before you visit more highlights in the city. Wuhou Temple is a great place to learn about the Three Kingdoms, especially if you are a fan of the book or the history. Dufu Cottage used to be the residence of the famous poet in the Tang Dynasty- Mr. Dufu. End the day by stopping at a local tea house to sip a cup of hot tea.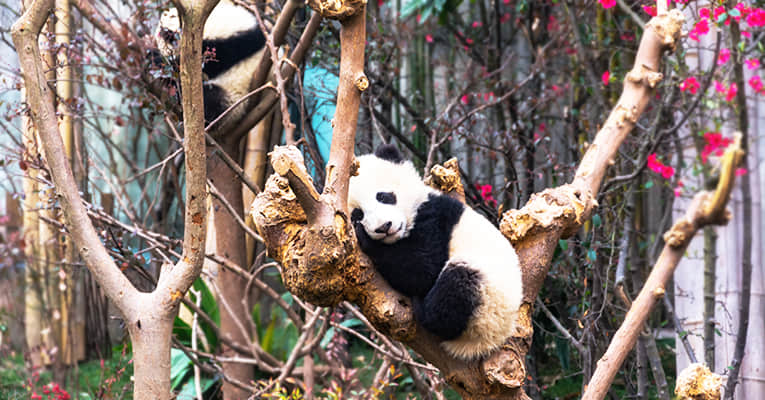 Day 3
Leshan Giant Buddha (including a short boat ride)
Leshan city is about 2 hours away from Chengdu, and the most famous sight would be the Leshan Giant Buddha. Back in the Tang Dynasty, a stone Maitreya statue was formed against the mountain just to calm the three rivers meeting here. It is the Leshan Giant Buddha listed as a UNESCO site in 1996. You will get very close to admire the Giant Buddha by walking upthe stairs cut into the nearby hills, and you will also take a 15-minute boat ride to have a complete view of the whole Giant Buddha.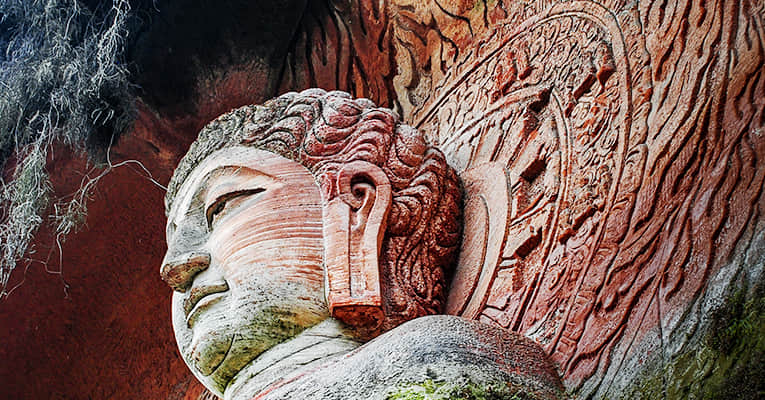 Leshan Giant Buddha
Day 4
Chengdu to Jiuzhaigou
Take a morning flight towards Jiuzhaigou Valley. Jiuhuang airport is about 88 km away from Jiuzhaigou Valley and a 2-hour ride should be expected. Jiuzhaigou Valley got its name as there are nine ('jiu') Tibetan villages lying in the Valley. The unique landscapes of multi-colored lakes, waterfalls and untouched forests are stunning and Jiuzhaigou Valley was recognized as a UNESCO World Heritage Site in 1992.
Upon arrival at Jiuhuang airport, you will be met and transferred by your private tour guide and vehicle to your hotel. After lunch, start your amazing journey in the Valley with your guide. A public shuttle bus will be used in the Valley as private vehicles are not allowed in order to protect the environment.
Jiuzhaigou is composed of three valleys, and they lie in the shape of the letter Y: Shuzheng Valley is the central valley, Rize Valley is on the right, and Zechawa Valley is on the left. Each valley offers unique vistas of its own. The suggested itinerary for today goes as follows:
Take the shuttle bus to the end of Rize Valley, located on the right side of the scenic area, first visiting the unspoiled forest on foot, then going downhill to see all the lakes with all kinds of colors. Highlights you should not miss are the Pearl Bank Waterfall and the Five-Flower Pond. Before taking the shuttle bus back to the entrance, you will also stop by Nuorilang Waterfall to enjoy the majestic views.
Day 5
Jiuzhaigou Valley
Today you will focus on Zechawa Valley to visit the Long Lake and Five-color Pond which is located on the left side of the scenic area. By noon you will get back to Norilang Waterfall, the junction. Keep walking downhill to visit more lakes and waterfalls which Shuzheng Valley has to offer.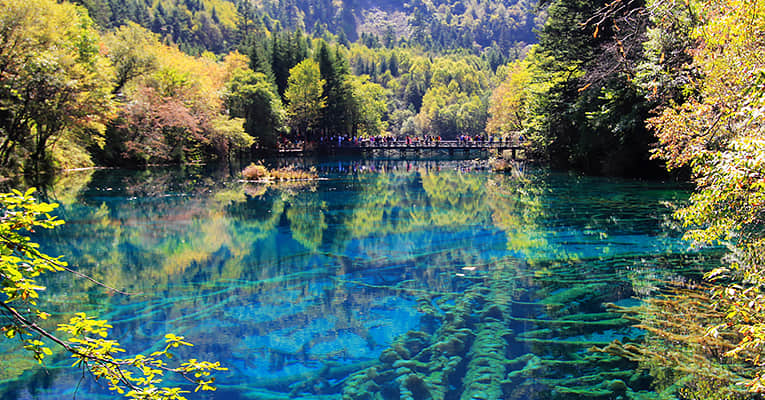 Day 6
Jiuzhaigou to Chengdu
The morning is for leisure on your own. Or if you wish to take more photos of lakes and ponds in the Valley, you may pay for the entrance tickets to go inside. Later your tour guide and driver will escort you to the airport for your flight back to Chengdu. Upon arrival in Chengdu, you will be met and transferred to your hotel in Chengdu.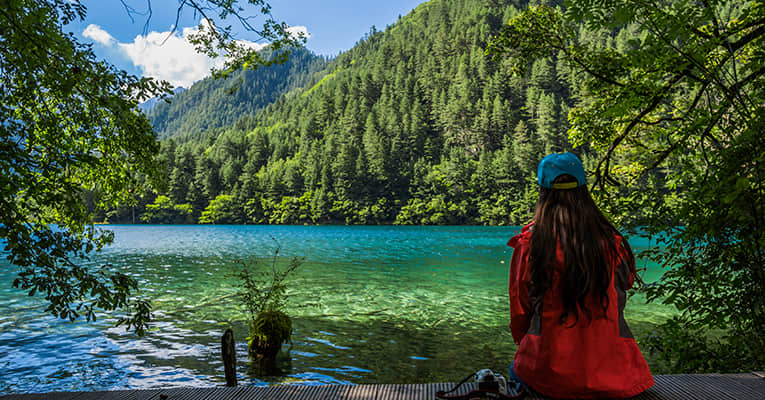 Day 7
Leaving Chengdu
Your tour guide and driver are ready to pick you up at the hotel lobby. They will make sure that you get to the airport for your flight safe and on time!
Hotel Options
| City | Comfortable | Deluxe |
| --- | --- | --- |
| Chengdu | Tianfu Sunshine Hotel | Tibet Hotel Chengdu |
| Mt.Emei | Emeishan Grand Hotel (Block 3) | Hongzhushan Hotel (Block 8) |
| Jiuzhaigou | Qianhe International Hotel | Sheraton Jiuzhaigou Resort |
What's Included
Round trip airfare from Chengdu to Jiuzhaigou
6 nights selected hotel accommodation
All sightseeing & entrance fees as described in the itinerary
Local English speaking tour guide
Overland transfer with private driver
Meals as described in the itinerary
China Life Tourist Accident/Casualty Insurance