Top 6 Places for Architecture Photography

Architecture photography focuses on buildings and structure, including exteriors and interiors, as well as structural details and cityscapes.
Today architectural photography is the most direct and widely-used method for communicating the true form of the building environment.
Capturing the perfect architectural photography can be far more difficult than one might anticipate. If you are interested in architectural photography in China, this guide will help you find what you need. We have listed the best locations to take the right shoot as well as including some photography tips.
1. Beijing-Ancient architecture integrated with the modern
Forbidden City is the peak of Chinese ancient palaces, which represent the highest level of traditional architecture art. Pre-eminent Forbidden City works display its grandeur and majesty by technique and artistry.
Forbidden City has an extraordinary artistic expression in photography; pre-eminent works display its grandeur and majesty from the ingenious perspective or a high shoot on the Jingshan Mountain with a telephoto lens.
Don't miss Hutongs around the Forbidden City, which formed from the Yuan Dynasty to the Qing Dynasty. There are many historical Hutongs around Shichahai of Xicheng District and Qiangmen of Dongcheng District. Siheyuan is a must-see sight for any photographer, the symmetrical quadrangle gives you a good visual sense.
The Great Wall is the perfect location, the fluent and undulating lines will spark your inspiration for the composition. Bricks and watchtowers will provide excellent close-ups with a medium focal lens. The Great Wall presents different glamour on any day regardless if it is sunny, rainy, snowing, and misty. Sunrise in the morning and sunset at the dawn will give a warm tone with changeable light and shadow, which provides outstanding views of the subjects.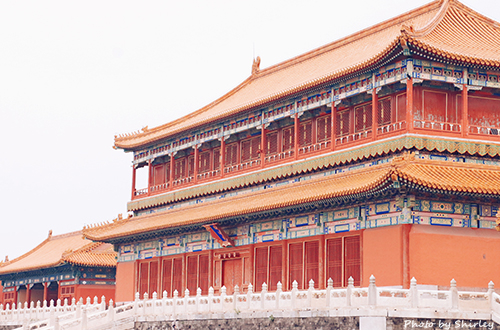 Forbidden City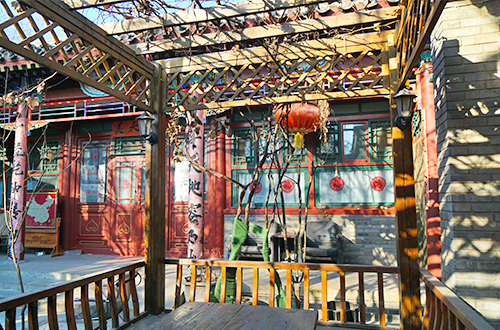 Courtyard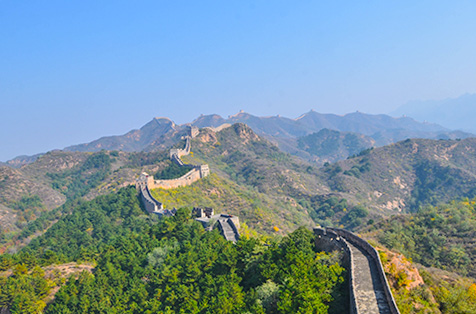 The Great Wall
Beijing's modern architecture is also a treasure to be explored. Unique designed CCTV building "The Pants", a cool architecture feat of glass, concrete, and steel. Visitors can capture beautiful artwork at the 798 Art Zone, double helix loop-like Phoenix International Media Center, National Grand Theatre and Galax SOHO, and the creative design of the National Stadium and National Aquatic Center – these are just some of the architectural wonders around the city.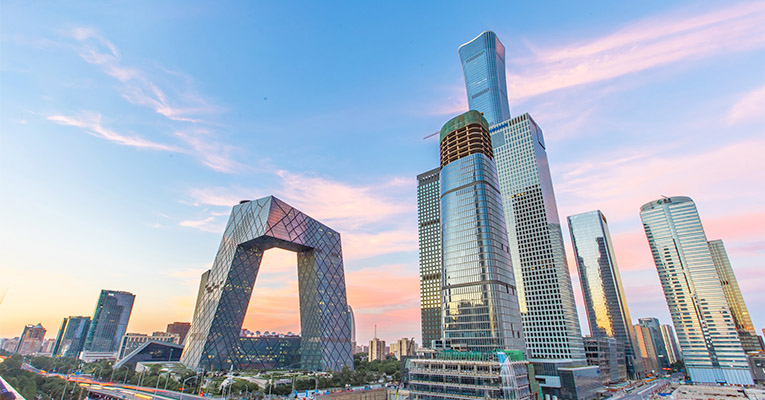 CCTV Building in Beijing CBD
2. Jiangnan Gardens and Water Towns
Jiangnan refers to the regions to the south of the lower reaches of the Yangtze River. Chinese gardens are a landscape garden-style that has evolved over 3000 years. They reflect Chinese culture and are typically enclosed by walls, includes one or more ponds or lakes, rock works, trees and flowers, and an assortment of halls, towers, and pavilions within the garden, connected by winding paths and galleries. Visit the Humble Administrator's Garden, Lion Grove Garden, and Lingering Garden, in which their designs are based on ink-paintings. Another must-see is the modern garden Suzhou Museum, which combines the classical architecture style with modern features, based on the design by the famous architect I. M. Pei's final masterpiece.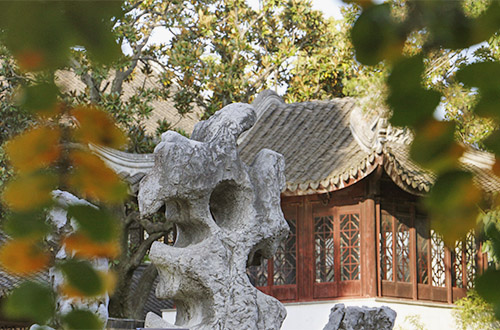 Lion Grove Garden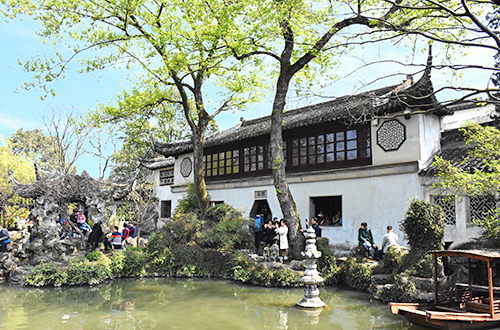 Lingering Garden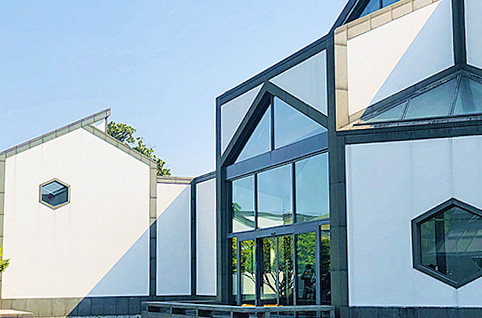 Suzhou Museum
China is known for its water towns, such as Zhouzhuang, Luzhi, and Tongli in Jiangsu Province, Wuzhen, Xitang, and Nanxun in Zhejiang Province.
Many of these ancient buildings were constructed during the Ming and the Qing Dynasty in lanes surrounded by canals and interconnected by small bridges. You can capture the beauty and essence of these ancient towns at different intervals throughout the day, reflecting both the unique architectural carvings on the buildings, bridges, waterways, and gardens.
We suggest you bring a wide-angle lens and a medium telephoto lens to capture the entire landscape and what makes these ancient towns special. We trust that each shot will tell a story of a well-traveled journey back to ancient China.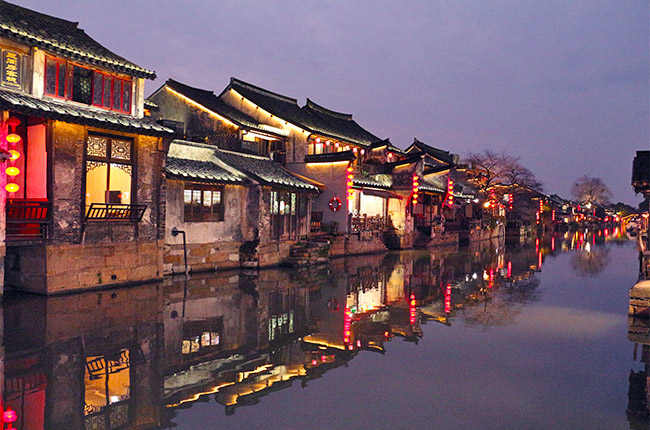 Xitang Water Town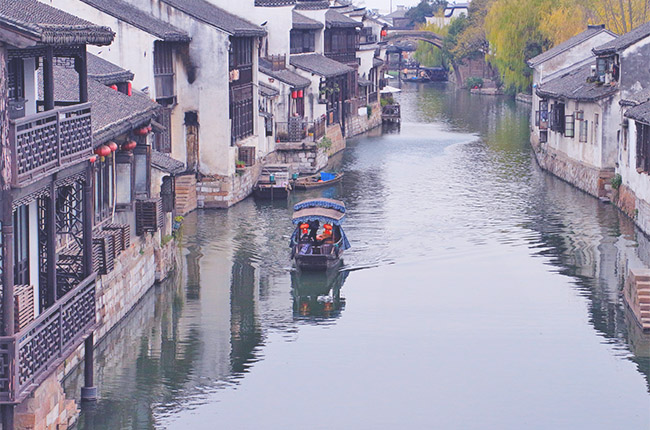 Nanxun Water Town
3. Pingyao Ancient City—Shanxi merchant folk house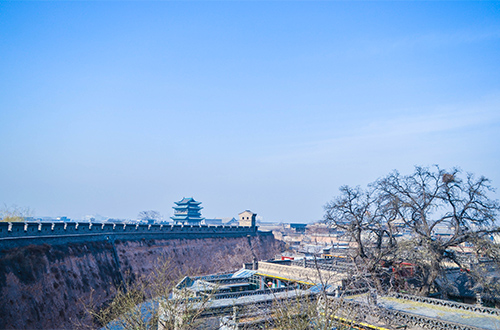 Established during the Ming and Qing Dynasties, the charm of Pingyao Ancient City is well-preserved. With its unique folk customs and local festivals, Pingyao hosts the International Photography Festival every year. Every corner of the city will give you opportunities to photograph some famous family compound, shops and streets, sculptures, and colorful frescos that will make wonderful subjects. Climb the stairs up to the top of the City Wall will provide you a great photo opportunity for sunrise and sunset, as well a bird's-eye view of the ancient city.
Gray is the main color tone of the ancient city therefore attention needs to be paid to the contrast. A wide-angle lens and telephoto lens are recommended.
Photographers need to observe and find the perfect vantage points and eye-catching architectural details to record and make images that reflect time has come to a stand-still.
Visit during the Pingyao International Photography Festival where you can meet other photographers and admire their brilliant photography pieces.
4. Yi County in Huangshan—Ancient villages of southern Anhui
Ancient villages of the south of Anhui are represented by Xidi and Hongcun villages. There are some regional culture and historical background of those villages with Huizhou cultural charateristics, and about 3,600 resident houses remain. Xidi, Hongcun, Nanpin, and Pingshan villages feature an orderly layout and exquisite constructional techniques. Armed with your camera take a stroll through the alleys of the villages that will provide you with plenty of unique artistic subjects for photography, such as gray tiles with white walls, engraved decoration, narrow lanes and alleys, and running streams. The entire village reflects a Chinese ink-painting. This is a great place for all-year-round photography, and photographers can begin their day in the early mornings, where the mist hangs giving you a more dramatic effect for photography.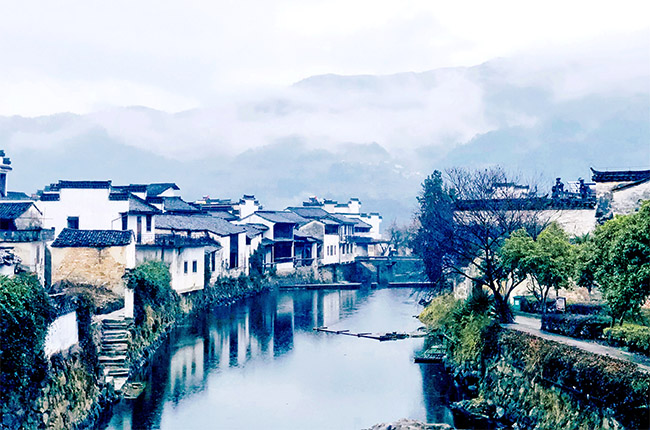 Chengkan Village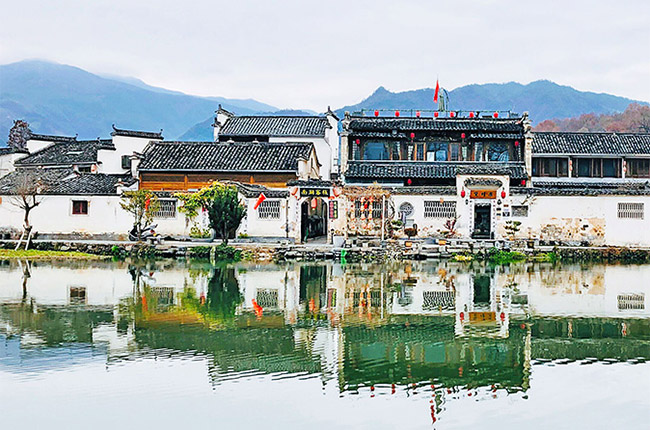 Hongcun Village
5. Fujian Tulou (Earthen Buildings)—Rectangularity and circularity in a perfect configuration
Fujian Tulou or Earthen Structure is a unique type of dwelling built by the Hakka and Hoklo people in the mountainous regions of southern Fujian. A Tulou is typically circular or rectangular and is used to house multiple families. These clay buildings are usually between 2 to 5 stories high and have a specific defensive function.
You can discover the most classic and famous Yongding and Nanjing Tulou. Bring along your wide-angle lens and fisheye lens. A tripod is also necessary; use a narrow aperture as it can capture the sharp and charming nightscape.
6. Qiandongnan Miao and Dong Autonomous Prefecture—Compact stilted buildings
Situated in the southeastern Guizhou Province, Qiandongnan Miao and Dong Autonomous Prefecture are populated by the Miao and Dong (Kam) ethnic group, where you will be fascinated by their ethnic cultures and unique style of architecture.
Xijiang Village, Langde Upper Village, Zhaoxing Village, you will find their stilted buildings are connected and built along the hill that forms an open-air museum of ethnic traditional culture and customs. Many of their homes, drum towers, and their famous 'Wind and Rain bridges' are all constructed of wood, and without nails. Visit these villages dotted along the mountains, and capture the beautiful sunrise and sunset as it hits the villages giving photographers a picture of stilted buildings with a warm tone.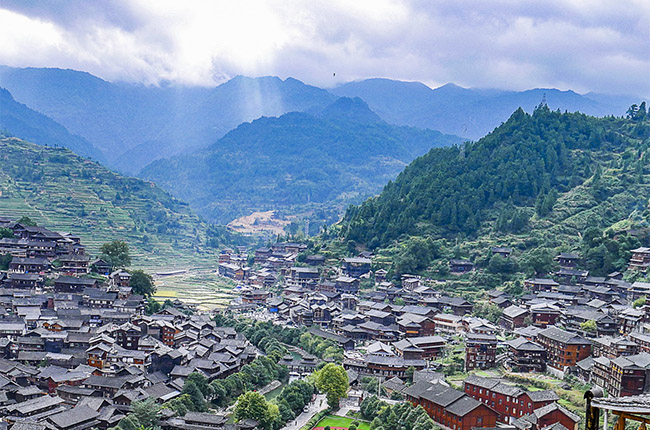 Xijiang Village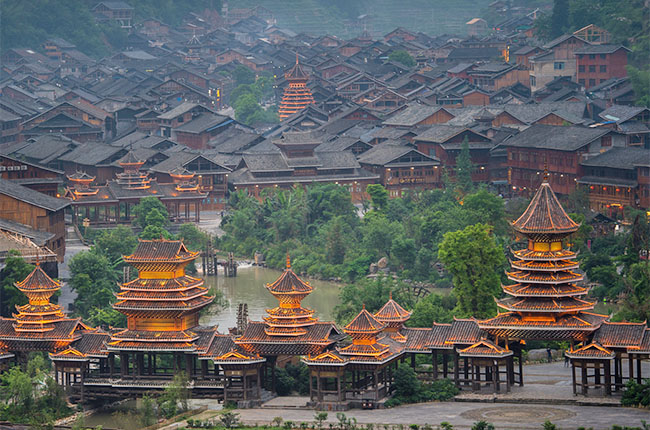 Zhaoxing Village
Tips:
Light and Weather
Light and weather are great effect for photography. In architecture photography, good weather is the best condition, but only produces clear picture and flattering lines. While the outstanding architecture photography may be created by any weather condition, cloudy and overcast produce obscure details, a moody silhouette, and gives the picture the texture of oil painting. Thunderstorm adds a particularly dramatic atmosphere, and snowy climate create a pure artistic scene. The adverse weather for photography will become the unique elements and inspire your new ideas, adapt different conditions to make use of it, and do creation.
Lines and Shapes
Keep an eye out for horizontal, diagonal, or vertical lines. Buildings with the front view show symmetrical beauty, photo from a side extends space of pictures and help shows more details, while lookup a building can make that structure more dominating.
A wide-angle lens can be useful for your architectural photography, particularly if you are taking a photo of fairly tall buildings from bottom to top.
Don't be annoyed by people passing by, foreground with people shows contemporary cityscape.
Have a question?
OR
Are you eager to begin your Chinese cultural journey?
Drop us a line and we will promptly connect you with our leading China expert!