Interesting Snacks and Street Foods

A visit to China is an opportunity for the very best gastronomic adventure you can have. It isn't even expensive as cheap and tasty treats are available in stalls on every street!
Is street food safe to eat?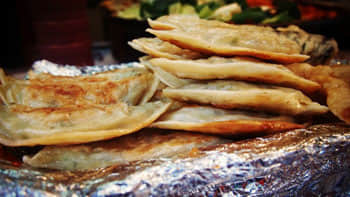 The main thing that makes any food unsafe to eat is lack of freshness, especially warm food that sits too long before it is eaten. However, in China food rarely has a chance to get stale as there is always high demand. Cooked food you buy from a street stall is usually cooked right there in front of you – really fresh!
How is street food cooked?
Chinese food vendors have several types of mobile cooking appliances. Sometimes food (such as meat-on-a-stick) is cooked over the hot coals of a mini-barbecue. Some food is fried in oil, or boiled in spicy hot water, in a vat or wok right there on the street. Other foods are fried or grilled on a gas or coal heated hot-plate. You may even see a vendor turning the handle of his special gas-fired popcorn maker on a cart. In winter you might also see a street vendor roasting sweet potatoes right there in a mobile drum.
Interesting meat-based street foods
Westerners often get a bit squeamish when offered an unfamiliar meat treat, while most Chinese are game for anything.
Stuff on sticks
You'll find it hard to believe the range of foods threaded onto a kebab stick that you can buy on the snack stalls. You'll see little octopuses, seahorses, bugs that look like huge roaches, scorpions, a neat stack of hearts or tongues, frogs, pig snouts, tiny fish, crabs – the variety is endless.
While you make feel unsure about sampling the more unusual meats, the regular meats such as pork, chicken, or mutton, are guaranteed delicious. Sometimes they are cooked over a grill, sprinkled with delicious spices. Another option is "malatang" where the skewers are boiled in spiced hot water.
You can also buy "Balut" / "Mao Dan" / "Feather eggs" fried on a stick. These are eggs that contain a chick that is almost ready to hatch, so it makes it a meaty snack.
Dumplings, steamed buns and Chinese hamburgers
A stack of bamboo steamers over a steaming wok suggests a surprising range of steamed buns and dumplings with all sorts of fillings – sometimes meaty, and sometimes sweet.
The steamed buns are fluffy and white, and incredibly light. Dumplings, on the other hand, can be steamed or boiled, and usually have a meaty filling. Some dumplings – called "xiao long bao" – include delicious hot soup around the meat.
There are some stalls where the vendor is frying and chopping meat, such as pork along with peppers and other flavors. He also quickly kneads and rolls out flat buns and tucks them into a special hot oven space. The fresh, hot bun is then sliced open and filled with the delicious meat mixture, and served as a Chinese version of a hamburger.
Interesting vegetarian street foods
There are lots of interesting snacks which are not meat, although they may be quite meaty.
Stinky Tofu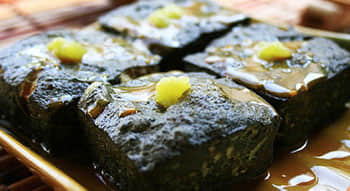 Chinese love their tofu, and eat it in many forms. One that you will notice whether you want to or not is "Stinky Tofu". The smell will immediately assault your senses, and bring eager diners from all around. The food is fermented tofu – which is touted to be a healthier alternative – which is then deep fried. They say that if you can get past the smell it is delicious! These square treats are often served on a stick, fresh out of the pot.
Sweet stuff
Another aroma that may reach you on the street is that of sweet flavored popcorn. You can choose your flavor and watch the vendor pour generous amounts of sugary syrup or chocolate into his machine, turn the handle for a while, and then sell you a large plastic bag full of the best popcorn you have ever had.
Then there are the makers of fairy floss – familiar in the west but uncommon nowadays – and the intricately fashioned sugar figurines. These of course are pure sugar so to be consumed in moderation.
Fried dough sticks, often two joined together to be pulled apart and munched on, are comforting and delicious. These are long pieces of dough on sticks, deep fried.
Fruit
Fresh fruits are available all year round, and neatly cut up and served – usually on a stick so you can walk around as you munch – on street stalls everywhere. You will find all kinds of melons, pineapples and even dragon fruit on sticks. Then there will be sellers with barrows full of huge strawberries and juicy mandarins, for example.
As a special treat you will often see long sticks of haw berries dipped in a crispy coating of sugary toffee. The sweetness of the coating combines with the tartness of the berries to fill you with surprise.
Packaged treats
When you are staring at an array of wrapped treats on a stall or in a little shop, and you can't read the Chinese labels, you need to remember that things are not always what they appear.
Well-known snack favorites – such as Oreos, Choc chip cookies, Kit Kat bars – have a strange greenish tinge, because they are flavored with green tea.
What look like shiny wrapped chocolates, are probably dried (spiced) meat. Chocolate cream biscuits may include chili in the flavor.
Road-side freezers in summer contain wonderful iced treats with unusual flavors such as green pea, green tea, and corn-flavored ice cream on a stick.
Drinks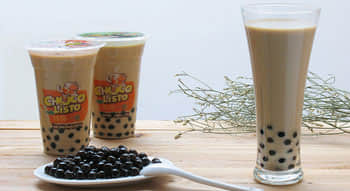 You can always get a refreshing cup of Chinese tea – colorless hot water with just a hint of green tea, often served in a disposable clear plastic cup made of such flimsy plastic that holding anything other than the top rim will cause it to collapse.
On the stalls you will see cups of milky-looking pearl tea, or bubble tea, in a variety of colors and flavors with a layer of large black blobs at the bottom of the cup. The balls are sago, with flavor that is released when your drink is prepared. The cups are served with a thick straw so that you can enjoy the drink and also munch on the sago balls as you go. In winter they are warm and comforting, in summer they are served cold and refreshing.
Where to find the best street foods
It is easy to find the food stalls in every city you will be. Most of them can be found along small alleys, in early morning and in the evening. However, finding the best street foods requires local knowledge. Ask your local guide for advice.
Have a question?
OR
Are you eager to begin your Chinese cultural journey?
Drop us a line and we will promptly connect you with our leading China expert!