Top 26 Popular Chinese APPs
China is one of the world's fastest growing countries. There is a surprising amount of advanced technologies that have an impact on modern life. The most commonly used device in daily life in China is the smart phones.
Across the country, people depend on their mobile phones for a multitude of uses. A variety of APPs are designed to help people connect socially, pay for goods and services, shop online, travel, and entertain. Anywhere you go and everything you do can be paid for or managed via your cellphone in China. This brings a whole new level of convenience that is unheard of in the rest of the world. Just be sure to keep your phone charged!
Chinese Messaging Apps and Chinese Social Media Apps
Regardless of where you are headed in China, keeping in touch with friends and family is more than essential. Because of this, Chinese companies have developed cutting edge social media applications to keep everyone connected and up to date with the latest news and trends.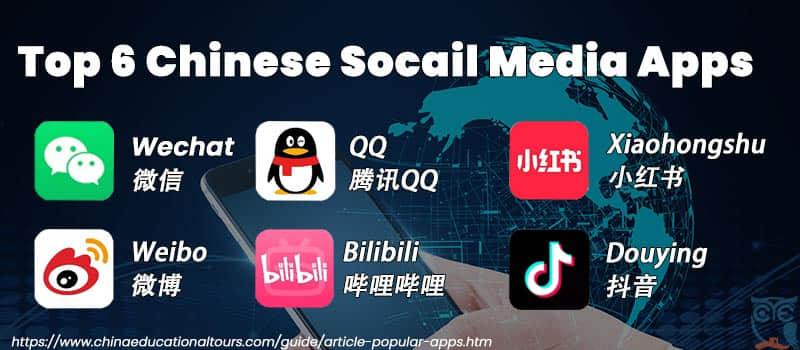 WeChat

WeChat has become the breakout messaging app in China, equivalent to WhatsApp. It is another popular social media produced by Tencent, China's tech giant, created after QQ. This is an absolute must if you're coming to live in China or here for an extended period, or if you want to communicate with pretty much anyone in China. Everyone that has a phone uses WeChat for some purpose. You can connect with friends, family, and strangers to share messages, photos, and videos. WeChat is often used for more intimate conversation. You can also share PYQ (stories) of photos or videos with all of your friends on the application. Learn more on How to Use WeChat.
QQ

QQ was the first messaging platform created by Tencent in 1999. While this application once was the front runner of messaging and file sharing, it has since changed from a daily use APP to one focused on business applications. QQ offers most Chinese people with access to their personal and professional emailing service, using a platform that is comparable to Gmail. QQ also still has instant messaging and file sharing capabilities that have proven extremely useful in professional environments. For those looking to conduct business in China, QQ is a must-have.
Weibo

Sina Weibo is one of the most popular social media applications in China. Similar to Twitter, it allows users to share short messages to the platform about any topic. There are millions of celebrities, companies, and communities specializing in different topics. Finding fame on Weibo may be hard due to the massive amounts of users, but it is the best place to stay caught up with all of the most recent trends.
Xiaohongshu

The Xiaohongshu lifestyle platform connects people with diverse lifestyles they can discover and explore. Through photos, text, videos, and live streaming, millions of users share their experiences on the platform, including fashion, food, travel, and entertainment.
Top 2 Chinese Payment Apps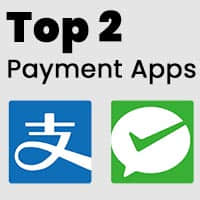 One of the most advanced features of Chinese APPs is the ability to pay for nearly every good and service on your phone. While it is common that the older generation is still using paper money, China is quickly becoming a cashless society, all because of two wildly popular applications. Paying with these applications is easier than ever, just scan the QR code from the vendor or show your paying QR code and you bill is paid!
WeChat Pay

As an important function of WeChat, WeChat Pay is a popular payment method. From small grocery store to big super market, WeChat Pay is available. It leads the trend of cashless society. It is also used by nearly everyone for everyday things, like splitting the bill for dinner with friends. It is extremely simple to send and receive money to your friends on WeChat.
AliPay

Alibaba is the tech giant of China. Offering tech services in nearly every sector, one of the most commonly used features by the masses is AliPay. With endless amounts of places to use AliPay, mobile users find AliPay as a great way to pay for utilities, housing, business expenses, and even directly paying for travel.
Entertainment ( Short-form Videos, Movies, TV, Dramas, Shows...)
Regardless of your age or profession, everyone enjoys winding down with some great mobile entertainment. If it is movies, TV, or short videos, there is a Chinese application for your needs. In China, many of the entertainment based applications will keep you occupied with thousands and thousands of hours of new content coming all the time. Many people also suggest using these applications if you are looking for a more applicable way to learn some Chinese using real-life cultural tools.
Douyin (Chinese TikTok)

TikTok has taken the world by storm, offering short videos made from individuals about any topic. Humor, romance, informative, or relaxing content is all found on TikTok. While TikTok is the international name for the application, the parent company, ByteDance, is based in Beijing. Their application Douying is the same as TikTok, just branded for the Chinese audience. This application has quickly become China's most popular app, boasting hundreds of millions of users.
Youku / Tencent Video / iQIY / MangoTV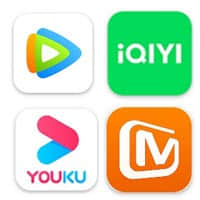 These are widely popular streaming applications where you can find videos, movies, and television from a variety of different sources in China. A similar platform to Netflix is offered by these four apps. Live events and shows can also be watched on these platforms. Most of the most popular shows and movies can be viewed for free on these four apps, but many others require a subscription.
BiliBili

Similar to YouTube, BiliBili is a platform that allows users to share original videos with millions of viewers. There are a wide variety of videos to choose from, some for entertainment and others for learning or business purposes. Many users find a wide range of topics to explore their interests and find out more about a wide range of topics. There are users that appeal to audiences of all ages and interests.
Bilibili also caters to live streaming. This has become one of the best platforms for live interaction between streamer and fans. With people spending a lot more time at home these days, livestreaming and video viewership has skyrocketed.
Top 3 Chinese Shopping Apps
Online shopping has become the norm in China in recent years. While there are still many physical stores to browse in the big cities, many of them act as a storage place for their online sales distribution. There are a few popular Chinese shopping applications to choose from, each offering an outstanding selection of products to meet every need and more!
TaoBao
The shopping giant of China, owned by Alibaba. TaoBao is a platform that tracks trends, user reviews, and personal shopping preferences to show you some of the best products for your needs. With a wide range of sellers on the platform, it is easy to find products of any type and quality. TaoBao has perfected the user experience, making it easy to communicate with the sellers and browse user reviews
JD

JingDong, or JD, has one of the most efficient and effective delivery services in the world. Offering high-speed delivery and a range of quality products from trusted sellers, users enjoy JD for its amazing customer satisfaction rating. After ordering on JD, you can expect the delivery on the next day!
Pinduoduo

This is the largest platform for buying and selling online in China. Users can find any product they want and need here for a surprisingly low price. One of the stand out features of this application is that users team up to approach buyers to receive better pricing. This application works like a wholesaler, but is geared toward selling to individual consumers.
The Most Popular Food Delivery Apps in China
From groceries to McDonalds, there are applications that can get food delivered right to your doorstep within one hour. Quick delivery and super-fast food locations allow for users to have access to a wide range of food options for any time of the day.
Meituan

As the leading App of online food delivery service, Meituan has the most variety of groceries and restaurants. You can choose your order, pay with WeChat Pay or Alipay, and track the status. You can share your ordering with friends and split the bill on the App.
Eleme

Similar to Meituan, but has less market shares in some regions. Being part of Alibaba enterprise, it gets impressive flow from Taobao and Alipay. When ordering takeaway, some people prefer to use Meituan and others may like Eleme better.
Must-Have Travel Apps in China
Regardless of where you are headed, there is a travel application ready to help you book the ticket as easily as possible. For flights, trains, subways, and taxis, there is a wide selection of choices to get you around town or around the country.
12306

China offers an extensive and advanced railway system. The high speed railway system has made traveling around China affordable and enjoyable. 12306 is the official railway website and App to book train tickets online. It has only Chinese version so far, so you may want to seek help from Chinese friends or try other Apps with English version that can provide you with the same level of service.
CTrip

If you are looking for the all-around travel companion APP, then Ctrip is the best option for you. This application allows you to book flights domestically and internationally as well as schedule and reserve accommodation in your desired location.
Didi

A simple, yet useful application for daily use, Didi is China's version of Uber. This is a simple application to use to help you get around the city with ease. You can book taxis or private cars in this application for your short distance travels.
Top 5 Chinese Dating Apps
As online dating becomes more and more popular in China, different Chinese dating apps and platforms have surfaced to help those who want to meet their Mr. or Miss Right. Here are the most popular five apps.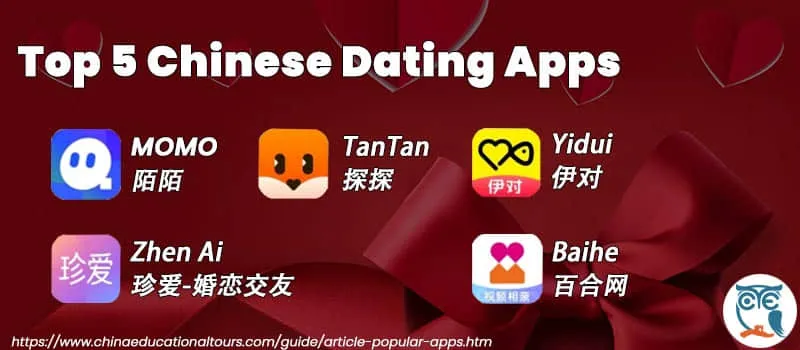 MOMO 陌陌

MOMO is a location-based mobile social dating tool that lets you meet strangers in your neighborhood, check their information, and chat with them. In a very short time, you can turn online relationships into offline ones through MOMO.
Tantan 探探

If you're looking for a social dating app that can help you find casual dates and serious relationships, Tantan is worth checking out. With Tantan, you can enjoy roulette-type matchmaking, which means you'll be shown potential matches one by one. If you're interested in any of them, you can freely interact with your successful matches. The app also offers helpful features like icebreakers and date ideas to make online dating even easier.
Yidui 伊对

The app differentiates itself from other Chinese dating apps by providing a live streaming feature, which allows users to start or join a video chat room, in the presence of a matchmaker. Matchmakers look for potential matches for clients and host video dating to facilitate relationship building.
Zhen'ai 珍爱-婚恋交友

Zhen'ai, founded as early as 2005, is one of the oldest and well-known matchmaking websites in China, which also offers offline services. The app, which was released in 2012, offers a more traditional service to singles—through a matchmaker middle person. Unlike Yidui's matchmaking, which is free, Zhen'ai charges a hefty sum for its professional service. Users can filter search results by age, body type, height, occupation, educational background, and more. Zhen'ai also touts its live streaming feature, which allows the direct virtual face-to-face chat to facilitate potential relationships.
Baihewang 百合网

Baihewang targets people who are serious about finding the right match and are not there just looking for a booty call. In fact, users' info in Baihe look more like job resumes rather than typical dating profiles. All users must use real names and have to pass verification to ensure there are no fakes.
In China, you will find that your mobile phone becomes your best friend. With endless possibilities and uses in daily life, a mobile phone and the applications that come for them will make anyone's life easier in China. These applications can be especially helpful for travelers to China, as you can often achieve daily tasks without needing to speak directly to someone or know more complex terms in Chinese.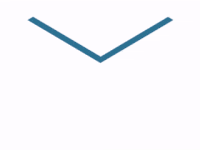 Have a question? Or can't wait to immerse yourself in the engaging journey of Chinese culture? Send us a message! Our top China specialist is ready to assist and connect with you without delay!