China 2024: Top 12 Travel Destinations

With so many dazzling destinations around the world, it can be hard to choose your perfect vacation spot. Are you struggling with the decision about which destinations could be listed on your next travel plan?
With its vast landscape and ancient history, China offers an abundance of captivating destinations for travelers to explore. From bustling metropolitan hubs to tranquil villages nestled in the mountains, China has something for everyone. This article highlights 12 of the top destinations in China that should be on your travel bucket list for 2024.
1. Beijing – the political center with tradition and modernity
Beijing has been the capital city since the Yuan Dynasty (1271-1368 CE), nestled as it is on the north of the North China Plain. Its climate is characterized by short springs and autumns, along with hot, rainy summers, and cold, dry winters. With the low humidity, visitors need to take good care of their skin and respiratory tract.
What to see
Beijing is a historical city with many faces. Here travelers who love history and heritage can visit magnificent royal palaces and gardens, such as the magnificent architecture in the Forbidden City and Summer Palace, as well as the defensive system of Great Wall, priceless treasures in the National Museum and the crisscrossing Hutongs. In addition, 798 Art Zone, Red Brick Art Museum, and the novel Galaxy SOHO reveal the modern side of Beijing.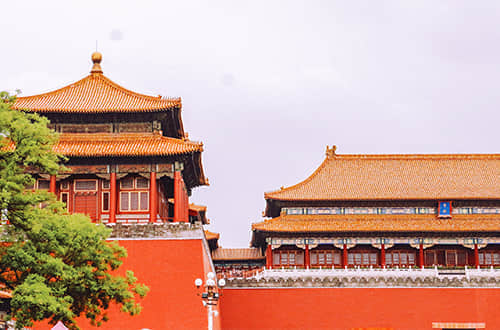 Forbidden City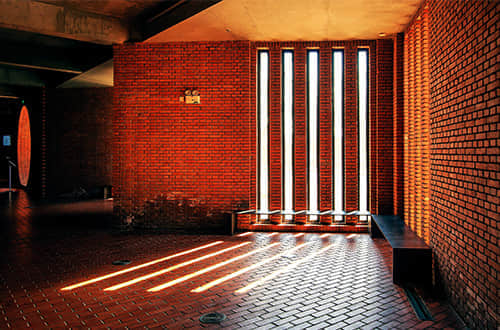 Red Brick Art Museum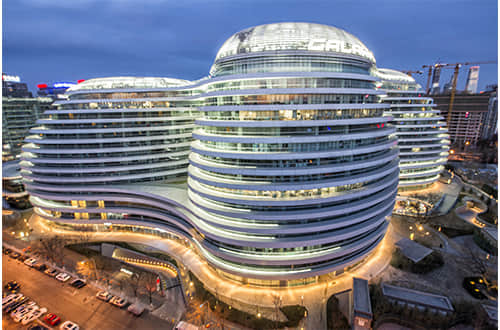 The novel Galaxy SOHO
What to experience
Riding a bike in the Hutongs, hiking on the Great Wall, and learning Taichi with a local master will be an impressive tour in Beijing. You can draw a mask of Beijing Opera and admire traditional Chinese Opera, and then you can also explore Beijing night life at Shicha Lake to listen to Jazz, Electro, Blues, or Rock and Roll in the bars.
Hiking on the Great Wall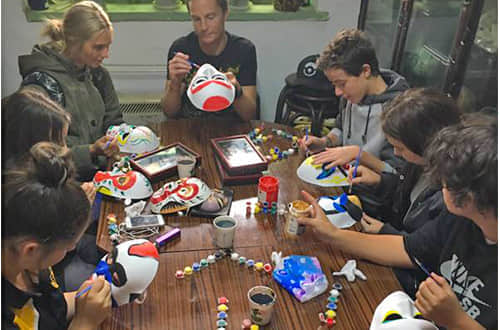 Draw a mask of Beijing Opera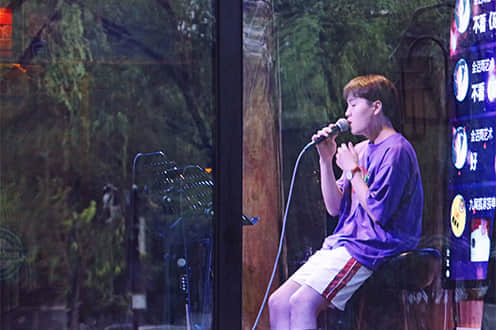 A music bar at Shicha Lake
What to eat
Beijing food is China's culinary melting pot, except Peking Duck, Lvdagun (fried chopped rice cake), and Beijing Fried Noodles, along with some food with Mongolian or Sichuan origins, such as Copper Hotpot, lamb spine and Kung Pao Chicken.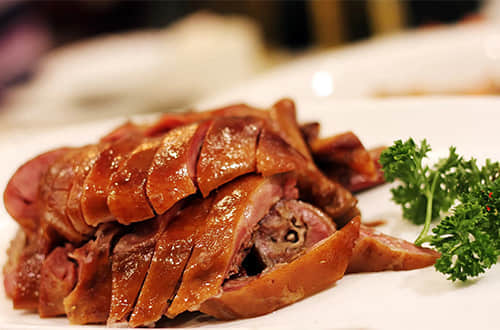 Peking Duck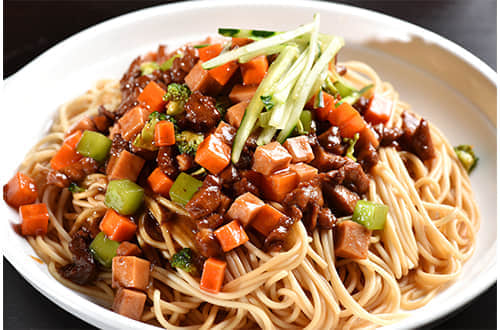 Beijing Fried Noodles
2. Shanghai – the Oriental Paris
Shanghai is an international city due to its rapid growth in the last two decades. It is also called the fashion capital of China. Its weather is generally mild and moist.
What to see
If you want to have a glimpse of Shanghai's past, then a Yuyuan Garden, Shikumen Museum, and Longtang (Shanghai lanes) visit is recommended. But if you have an itch to relaxaton, you can go to the classic skyline at the Bund, the top of the Shanghai World Financial Center. A lot of tasteful museums and art galleries are scattered in different districts in this city, just waiting for you to explore.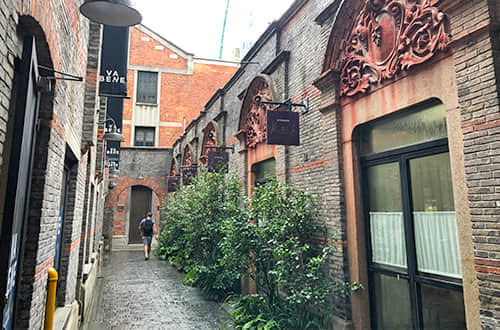 Shikumen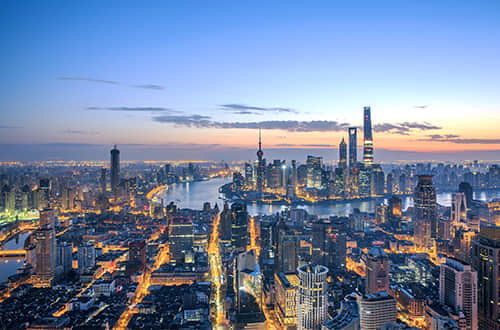 Shanghai World Financial Center
What to experience
Shanghai is a vigorous city in the daytime, but at night it is full of taste and charm. During the day, you can go to the top of the Oriental Pearl Tower or Shanghai Tower to enjoy a bird's-eye view of the entire city, or wander through the Former French Concession for relaxation. Disneyland is also a good choice. At night, you can immerse yourself in the serenity and beauty of the colorfully lit Huangpu River Cruise. Additionally, different types of fancy bars and aesthetic restaurants will satisfy you with whatever you want.
What to eat
If you want to try some real Shanghai specialties, you shouldn't miss breakfast. Go to the market through old streets, and visit family-run restaurants. Grab a snack like a local would, such as Nanxiang Small Steam Bun, Pan-fried Bun, and Scallion Oil Pancake. Then there is the traditional Benbang cuisine, Braised Eggplant, Squirrel-shaped Mandarin Fish, Sweet and Sour Ribs, Chinese Braised Pork, and Hairy Crab – take up a new challenge to your taste buds if you do not know what flavor those are.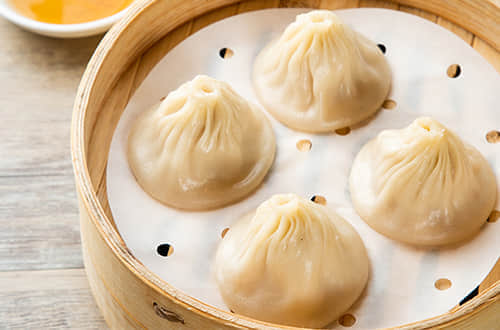 Nanxiang Small Steam Bun
Hairy Crab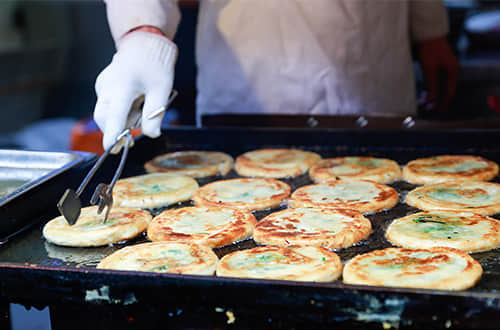 Scallion Oil Pancakes
3. Xi'an – one of Four Great Ancient Capitals of China
Xi'an, with more than 3,100 years of history, was also known as Chang'an before the Ming Dynasty, and was the capital during several dynasties including Zhou, Qin, Han, Sui, and Tang.
What to see
As a famous historical city, Xi'an is worthy to have you spend several days here, and you will barely explore its cultural treasures. Visit the marvel of the Terracotta Warriors' history, view the lit up Bell and Drum Towers at night, climb the Small Wild Goose Pagoda, and explore the cultural heritage of the Daming Palace Site Park.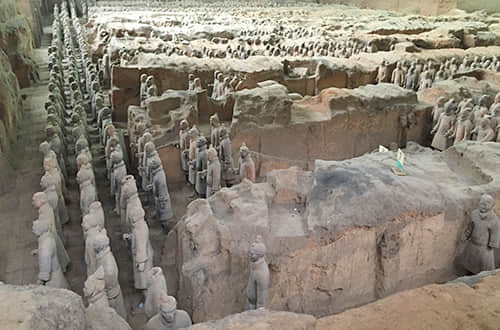 Terracotta Warriors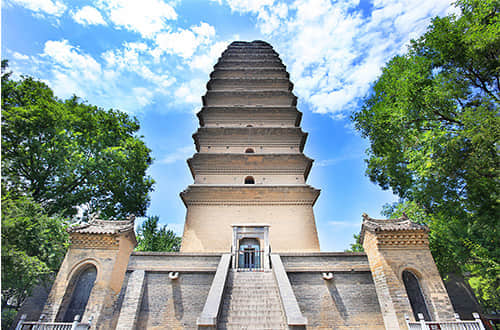 Small Wild Goose Pagoda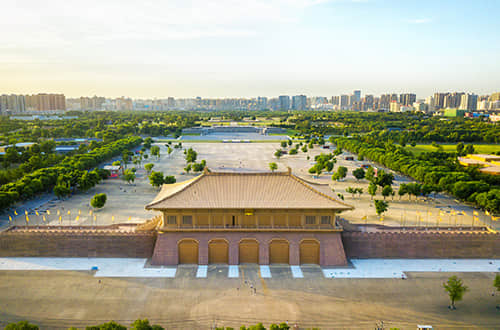 Daming Palace Site Park
What to experience
It is not hard to find more cultural experiences to make your tour even more impressive. Try on Han style customs; visit a historical residence; learn to make dumplings on your own; make a small model of a Terracotta Warrior as a souvenir; and enjoy a dumpling banquet with a Tang-style singing and dancing performance.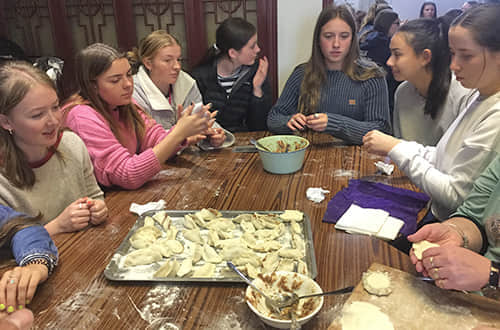 Make dumplings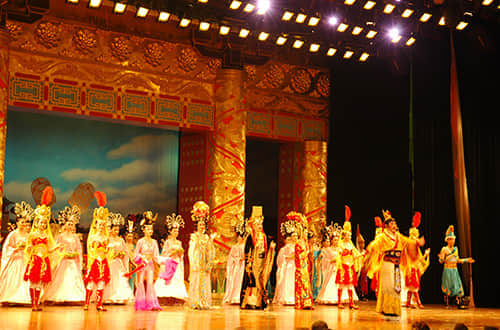 Tang-style singing and dancing performance
What to eat
Local wheaten food is the most famous. Xi'an is like heaven for people who are fond of wheaten food. On offer is an array of noodles – such as cold noodles, hot oil noodles, and Biangbiang noodles – as well as Chinese Burger, Lamb Stew, and a whole variety of tasty dumplings, which will allow you to walk around exploring and eat as much delicious food as you can, and by then you should have a fair understanding of Xi'an food.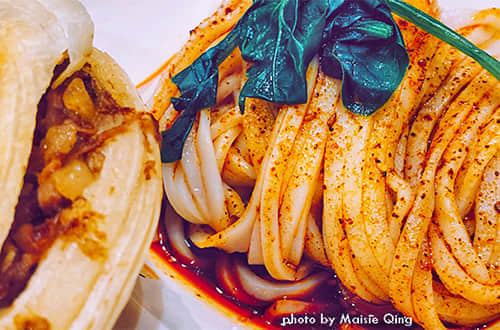 Cold Noodles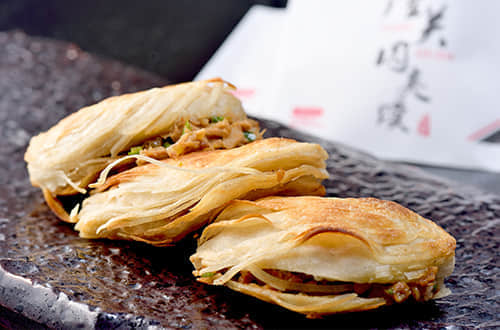 Chinese Burger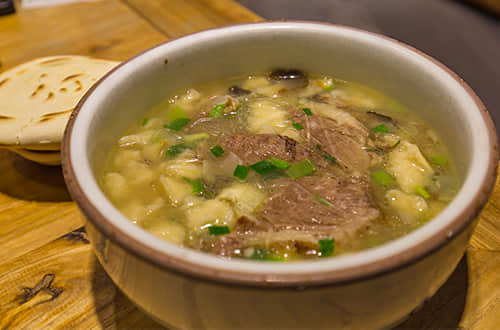 Mutton and bread in soup
4. Chengdu – a land of abundance and joy
Chengdu, Sichuan Province, is located in southeastern China and has been praised as a land of abundance. This lively city is known for its picturesque scenery, cute pandas, and mouth-watering food.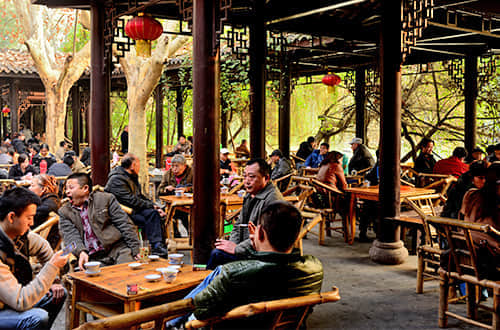 A traditional tea house in Chengdu
What to see
Go to Chengdu Wuhou Temple, you will get a great picture with the Red Wall Corridor. Enchant by the colorful and breath-taking Jiuzhaigou National park, and immerse in cloud sea of Emei Mountain. Wander in the Chinese great poet Du Fu's thatched cottage.
What to experience
There's fun around every corner in Chengdu, so take a photo with an adorable panda in Sichuan Panda Breeding Research Center, climb the Leshan Giant Buddha to admire the huge stone Buddha, and appreciate the magical art of Chinese "Face Changing" in Sichuan Opera.
What to eat
One of the most famous cuisines is hotpot in Chengdu. Beyond hotpot, there are chili oil wontons, Mapo Tofu, Cold Diced Rabbit with Chiles and Peanuts, and Mung Bean Jelly with numbing-hot sauce. Chengdu dishes are definitely spicier, and feeling spicy lips and a numb tongue will give the food traveler a feeling of excitement, by not offering the tourist version of dishes, so it is ideal place for foodies.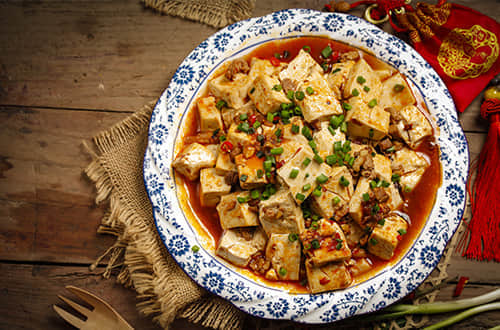 Mapo Tofu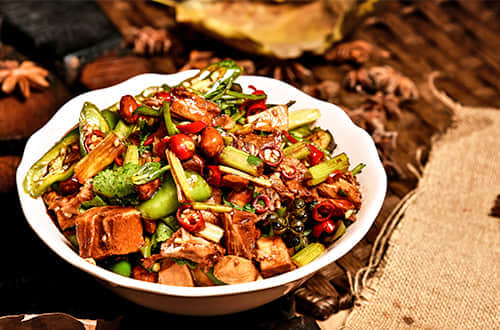 Cold Diced Rabbit
5. Hangzhou – paradise on earth
Hangzhou enjoys an important geographic situation which offered convenient transportation with prosperity in ancient history. The city is known as one of the Seven Ancient Capitals of China.
What to see
Take a boat on Xixi Wetland as lush trees and mirrored water stretch away all around, or stroll around Lingyin Temple and as you close your eyes and quiet your mind you will find it is a healing time and place. And then there is so much history full of tales about West Lake to explore.
What to experience
Hangzhou is a leisure city; and you can have a lot of cultural experiences, such as fan drawing, painting umbrellas, and hand-made Song-style porcelain. Admire natural and historical sites, and also enjoy a rich cultural and artistic experience, including learning rubbing, hammering, ink pad making and seal carving in the Xiling Seal Club, and then taste the ancient Chinese herbs at Huqing Yutang.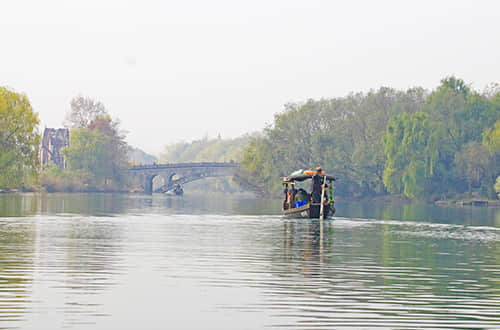 Xixi Wetland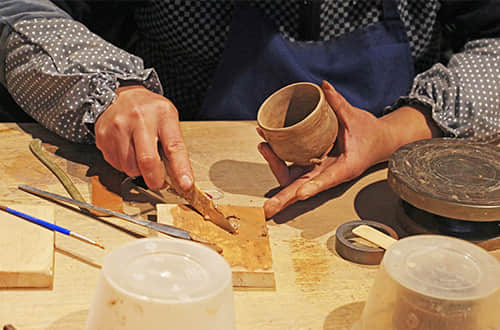 Handcraft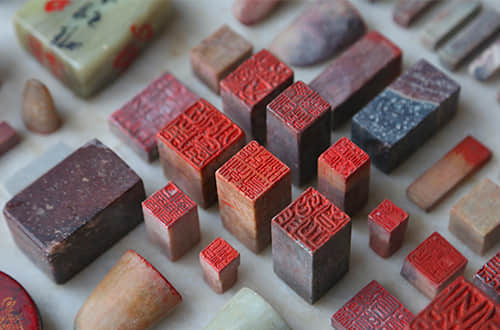 Chinese seal
What to eat
Each of the famous dishes has its own story or culture. Fried Shrimps with Longjing Tea, Braised Dongpo Pork, Crab meat tofu, and West Lake Lotus Root Powder, are all representative of local cuisine. The highlight of Hangzhou food is the original taste of the ingredients themselves.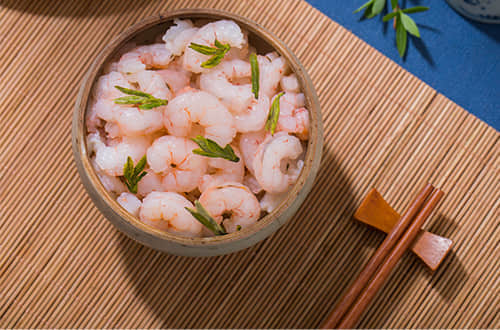 Fried Shrimps with Longjing Tea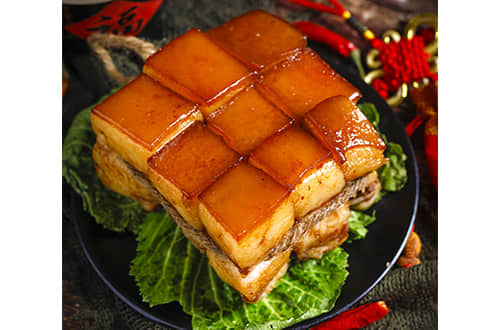 Braised Dongpo Pork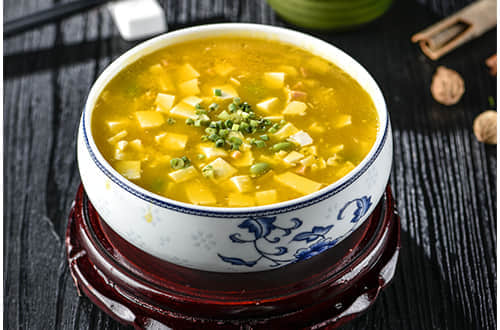 Crab meat tofu
6. Suzhou – the Venice of the East
If some leisure time and a classical ancient town are what you are looking for, look no further than Suzhou. For easy access to Chinese traditional gardens and towns, you can find somewhere to truly get away from the crowds.
What to see
Suzhou offers plenty of famous gardens and water towns, including the Humble Administrator's Garden, Lingering Garden, the Master of the Net Garden, Luzhi Town, Tongli Water Town, and Zhouzhuang Water Town. Appreciate antique architecture and the gentleness of the water to experience some tranquil moments.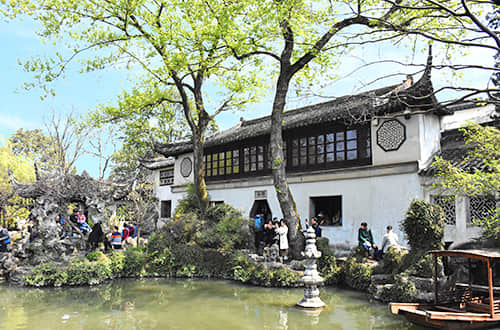 Lingering Garden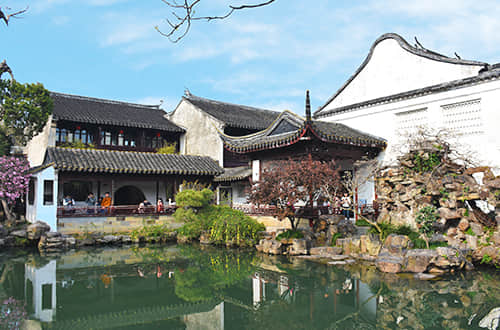 The Master of the Net Garden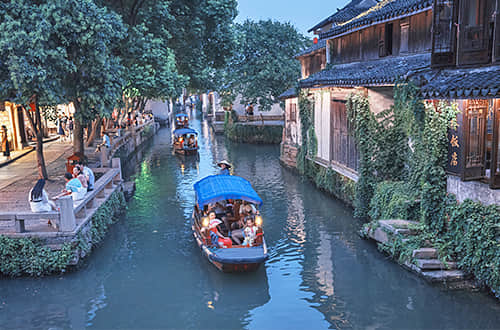 Zhouzhuang Water Town
What to experience
Visit Lingering Garden to appreciate Kunqu Opera, instead of on a stage, as here you can enjoy the opera with live action. Take a traditional boat along the canals through the water town and boggle your mind as you admire the scenery on both sides.
What to eat
Most Suzhou dishes with light, gentle flavors rely on the finest and freshest ingredients. The specialties are Cherry Pork, Cangshu Mutton, Maple Town Pork Noodles, and Taihu Three Whites (silver fish, whitefish and white shrimp in Taihu Lake).
7. Huangshan – a wonderland comes from ink paintings
If you are looking for landscapes and scenic ancient villages that look just like Chinese ink-paintings, then Huangshan is tailor-made for you. Situated in southern Anhui Province, Huangshan City can boast of its stunning mountain, as a dream destination for photography, and steeped in culture.
What to see
Explore Mt. Huangshan Mystery, fantastic rocks, jagged peaks, and an awe-inspiring sea of clouds. Watch water birds in Xin'an River alongside bright yellow rape flowers in spring. Live in an antique house with a patio, elegant gateway, and elaborately carved windows and doors. Walking through the winding alleys is just like entering an open Chinese art museum.
What to experience
Experience local farm life, pick vegetables in a private garden and make local dishes with your host. Visit a tea garden, learn tea-picking, tea-making and drying. You can also taste tea while a Chinese stringed instrument is played. Learning how a handmade Huizhou-style incense pendant or ink are created will be a unique way to understand Chinese culture.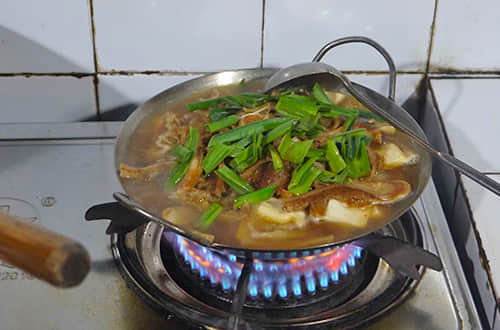 Cook a local dish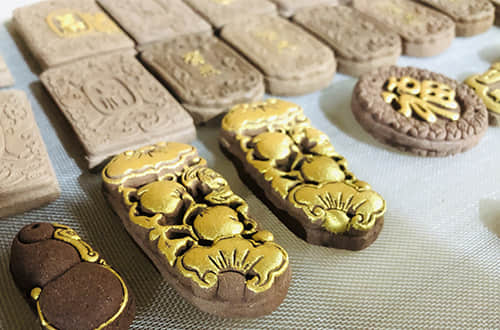 Handmade Huizhou-style incense pendant
What to eat
Huangshan dishes refer to Huizhou cuisine, signature cooking techniques of cuisine which incorporate stewing and steaming, but not much frying. Crispy Huangshan pancakes, Soy Braised Mandarin Fish and Yipin hotpot are recommended. If you have a Chinese appetite, you can also try tasting a kind of fermented tofu, named Hairy Tofu.
8. Guilin – worldwide famous Karst scenery
A view of Xianggong Hill
You should bring hearty energy and good walking shoes to Guilin. For a quintessential experience, go mountain climbing and hiking for a really refreshing outcome.
What to see
Life in Guilin city center is slow-paced and it's great to wander in the Dongxi Alleys, to walk around the Two Rivers and Four Lakes, and to cruise the Li River to enjoy the picturesque scenery.
What to experience
The villages around the city are popular for nature lovers and would-be adventurers. Climb Xianggong Hill to take in an amazing view of mountain peaks, hike in Longji Terraced Fields to create some Instagram-worthy iconic photography. Rent a bike and grab a map and, accompanied by a local guide, explore the rural area. If you are an adventurer, rock climbing in Yangshuo will be the perfect activity for you.
What to eat
Guilin food is a mixture of Cantonese cuisine and Hunan cuisine, with a sour and spicy flavor. Guilin noodles are eaten in the morning, available everywhere and always cheap. Beer Fish, stuffed dishes, Duck with Blood and Vinegar, and Caramelized Taro are all very authentic Guilin dishes.
9. Zhangjiajie – the land of 'Avatar'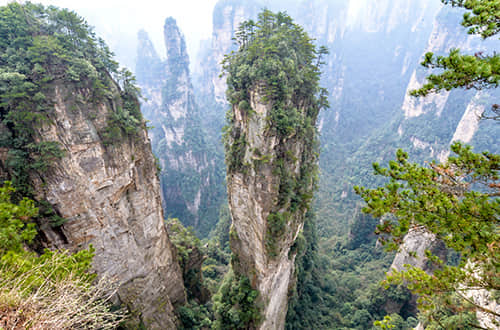 Avatar Mountains
Zhangjiajie National Park, better known as the "Avatar Mountains", is located in the northwestern corner of China's Hunan province.
What to see
The karst peaks, Heaven-Toward Cave, and tranquil streams in Zhangjiajie National Park, as you explore around these places, you will find Xiangxi Tujia and Miao village worth staying at, as well as Furong Town and Fenghuang Ancient City.
What to experience
The Bailong Glass Elevator is built on the side of the cliff, so taking the sky-scraping glass elevator and rising 1070 feet within 2 minutes will be an exciting experience. Even more stimulating is going across the glass bridge between two cliffs, which is also used for bungee jumping.
What to eat
The local cuisine combines the dishes of Tujia ethnic group with Hunan style. Tujia smoked dishes include smoked pork, salted sheep, as well as poultry, and salted vegetables. The hot pot which has the three ingredients of pork, beef, and lamb, and is called Sanxiaguo, is the most recommended.
10. Yunnan – a colorful fairy-tale land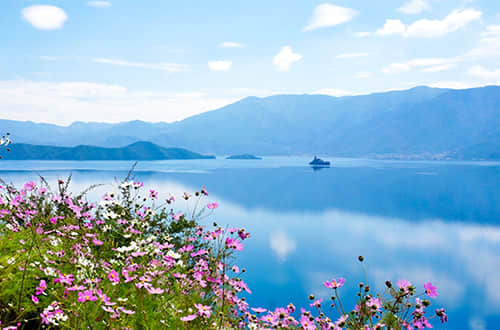 Lugu Lake
This is a province in southwestern China with ethnic diversity. From a distance, it looks like a fairytale faraway place ringed by snowcapped peaks, with ancient towns and villages lying beneath it.
What to see
Yuanyang Rice Terraces offer spectacular views, especially when the sun rises and sets. Lijiang Old Town and Shuhe Ancient Town are romantic and cozy places to hang out. At Lugu Lake and Erhai Lake you can enjoy the view as the sunlight penetrates the clouds and sparkles of light are dotted all over the water, along with the setting of the mountain with the floating clouds as the background.
What to experience
Visit a local ethnic market, enjoy the exotic culture of Yi and Hani ethnic minorities, enjoy the real life of local people in the village, try making Naxi embroidery as a souvenir, have a bonfire party with ethnic people, and take a unique old-style Chinese train to thoroughly enjoy the idyllic landscape. It is impossible to list all of the pleasures in Yunnan, so you are welcome to also explore it on your own.
What to eat
Yunnan cuisine is known for its sour and slightly spicy dishes, multi-ethic presentation and wide range of raw materials. One of Yunnan's most popular dishes is Guoqiao Mixian (rice noodles), which is served with chicken broth, and ingredients including vegetables, meat, and rice noodles. Here you get a good opportunity to enjoy a surprisingly diverse feast, like edible wild mushrooms, ham, mashed potatoes, rice-flavor cake, and Rushan (a cheese made from cow's milk). If you are daring enough, you can try some insect dishes made from locusts, dragonflies, silkworm chrysalis, cicadas and bamboo worm.
11. Guizhou – full of colorful ethnic culture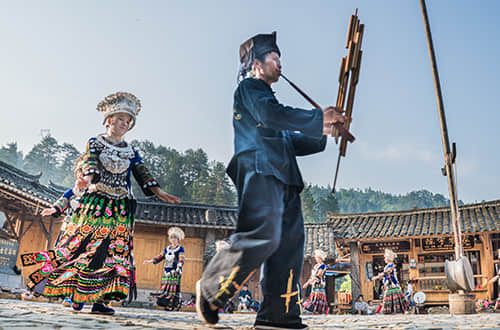 Guizhou is a province in southwestern China, of which nearly 90% of the area is mountainous terrain, with an abundance of amazing natural scenery scattered across rugged landscapes.
What to see
Guizhou may remain largely unknown to travelers outside of China, but there are spectacular natural features – Huangguoshu Waterfall, Seven Small Arches, Mushroom Rock in Fanjing Mountain, and Zhengyuan Ancient Town settled the river side.
What to experience
People of Guizhou consist of more than 18 ethnic minorities, and visitors to the area can not only appreciate the beauty of nature, but also discover the rich and distinctive folk customs and cultures of different ethnic groups. As you visit local families, you will have a chance to see their traditional way of making weaving and spinning and celebrate the traditional festivals of the minority group.
What to eat
Guizhou food, also called Qian cuisine, features a sour and spicy flavor. The famous dishes include Sour Soup Fish, Qingyan Pigs Trotters, Mutton Rice Noodles, Red Oil Rice Tofu, and Siwawa (a flour wrapper rolled with shreds carrots, cucumbers, potatoes and tofu).
12. Tibet – an unblemished place in people's hearts
Tibet Autonomous Region is on a high plateau, surrounded by rolling mountains. It is not easy going with the high altitude, but this place offers a real feast for your eyes.
What to see
Climb Potala Palace, one of the grandest palaces which is located in the capital Lhasa Sacred Monasteries, experience the focus and tranquility, and refresh your mind and body. Visitors can trek the path around Mount Everest, and enjoy a stunning view of the world's highest mountains. Tibet's lakes are extraordinarily beautiful, the wide and pure blue have a magic to heal your heart.
What to eat
Tibetan cuisine has a very distinctive character due to special geographic conditions of high altitude, harsh climate, and the people's religion and customs. The daily diet consists of yak meat, mutton, milk, yogurt and butter tea. Tsampa (made with flour and yak butter) and blood sausages (made with yak or sheep's blood mixed with barley or rice) are typical foods of the local Tibetan.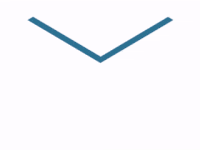 Have a question? Or can't wait to immerse yourself in the engaging journey of Chinese culture? Send us a message! Our top China specialist is ready to assist and connect with you without delay!