Jianchuan Museum was founded by private entrepreneur Fan Jianchuan. Unlike public museums, folklore museums are marked by strong individual wills and distinctive personal marks. Folklore museums exclusively reflect the founders' innovation and creativity, which add a unique charm to the museums. The themes of Jianchuan Museum include collections of wars for peace, lessons for the future, disasters for wellbeing, and folk-customs for inheritance. Over 30 halls on the War of Resistance against Japanese Aggression, folk-customs, the revolutionary period and earthquake relief work are planned to be established, with 25 of them being open to the public already. As the largest folklore museum in China, Jianchuan Museum owns the largest exhibition area and collections.
Quick Facts
Chinese name: 建川博物馆 Jiàn Chuān Bó Wù Guǎn
Built in 2005
Duration: 0.5hour-1 day
Entrance fee: RMB 100 per person for through ticket (Three-day validity); RMB 20 per person for individual hall (One-day validity)
Opening hours: 09:00-17:30
Address: An'ren Ancient Town, Dayi County, Chengdu City, Sichuan Province
Best time to visit: all year around
How to get there:
A: Chengdu Chadianzi Bus Station to An'ren Town: launched every 30 minutes, 70-minute journey. More buses are launched during holiday
B: Chengdu Shiyangchang Bus Station to An'ren Town: launched every 20 minutes, 60-minute journey.
C: Shuangliu Bus Station to An'ren Town: launched every 60 minutes, 45-minute journey.
D. Chongzhou Bus Station to An'ren Town: 20-minute journey.
E. Dayi County- An'ren Town: Take Bus 11 and get off at Jianchuan Museum Stop
Highlights of Jianchuan Museum
The War of Resistance against Japanese Aggression: Five exhibition halls (namely Hall of Mainstay Forces, Hall of Frontline Battlefield, Hall of Flying Tigers Military Forces, Hall of Unyielding Prisoners of War, and Hall of Resistance by Sichuan Military Force) and three squares (namely Red Square, Square of Sculptures of Chinese Heroes (1931-1945), and Square of Fingerprints of Chinese Veterans) have been opened to the public. Hall of Unity and Hall of Traitors are under preparation and construction.
Hall of Flying Tigers Military Forces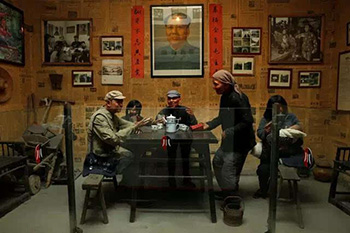 Hall of Flying Tigers Military Forces
With a total exhibition area of 1382 sqm, this Hall is divided into three parts. The first part shows aid from the American military during War of Resistance against Japanese Aggression; the second part themes around General Chen Nade and his legendary stories, which as the highlight of this Hall elaborates on Flying Tigers Military Forces and Chen Nade, and battles and life of Flying Tigers Military Forces; the third part, in honor of the history of friendship between China and America, exhibits major events held by American and Chinese, especially by veterans of WWII. This Hall was designed by Chester Huai-Dong, former president of American Institute of Architecture.
Revolutionary Period Series: Museums on the Revolutionary Period include Porcelain Hall, Hall of Articles of Daily Use, Hall of Seals, Clocks and Stamps, Hall of Brochures, Hall of Tickets, Hall of Mirrors, Hall of Video and Audio Recordings, etc.
Porcelain Hall
As a producer of famous porcelain products with histories, China takes pride in its excellent craftsmanship and splendid designs. Porcelain made from 1950 to 1980 is the impressive result of the times. Thousands of porcelain works collected by this Hall form a vivid and grand scene. Porcelain works from the revolutionary period are the embodiment of the history of that particular time. Visitors are reminded of history by the porcelain works of the revolutionary period: pure and complex, firm and changing, passionate and pessimistic, colorful and dull, expectant and hopeless, devoted and doubtful. History lasts, though porcelain works are easily broken.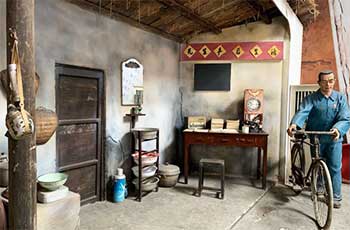 Folk-customs Hall
Folk-customs Hall:
The Folk-customs series includes the Hall of Furniture in Time-honored Mansions, the Hall of Aged Photos, the Hall of Fine Pen Containers, the Hall of Smoking Sets and Gambling Devices, the Hall of Three-inch Shoes, the Hall of All Sorts of Occupations, and so on.
Hall of Wedding Cultures :
introduces Chinese (Chuanxi in particular) wedding cultures, customs, classic love stories and games played during wedding ceremonies. There are complicated procedures in traditional Chinese wedding ceremonies. Folklore takes wedding customs and cultures as an important study topic. Many procedures during the ceremonies come with rich implications. These topics are presented in a relaxing and humorous way. This Hall also caters for weddings. It is really meaningful to get married according to the traditional customs in a wedding museum.
Three-inch Shoes
Hall of Three-inch Shoes:
shows the foot-binding history and twisted aesthetics in the feudal society. Exquisite shoes in the shape of lotus displayed are witness to a hard time over 1000 years for Chinese women. Appealing embroidered shoes in this Hall show refined workmanship and beautiful patterns. The history of anti-foot-binding is also shown here. This Hall can be taken as an encyclopedia of Chinese women in ancient times.