Welcome to Chengdu
Internationally famous for being the capitol of the Giant Panda, Chengdu is the capitol of the Sichuan Province and is more than 1,300 years old. This is the best place in China, and thus the best place in the world, to see (and even possibly touch) the adorable, cuddly, famously shy, and exceedingly rare Giant Panda. But for the Chinese, Chengdu is a hot, spicy, fragrant, and modern city, with a rich, vibrant cultural history nationally famous for its local specialty "Hot Pot" - the Giant Panda then is just one of the city's many draws.
Chengdu Facts
English Name: Chengdu
Chinese name: 成都 Chéngdū
Location: Southwest China
Population (city): 15M
Language: Mandarin
Dialect: Sichuan dialect
Zip code: 610000
Tel code: +86 (028)
Time zone: China standard (UTC+8)
International Airports: Chengdu Shuangliu International Airport (CTU), Chengdu Tianfu International Airport (Under Construction)
Railway Stations: Chengdu Railway Station (North Railway Station), East Railway Station, South Railway Station, West Railway Station
The Best Time to Visit Chengdu
Spring (March to June) and autumn (September to November) are the best times to travel to Chengdu because the temperatures and humidity are much more comfortable, and it doesn't rain as often as during summer.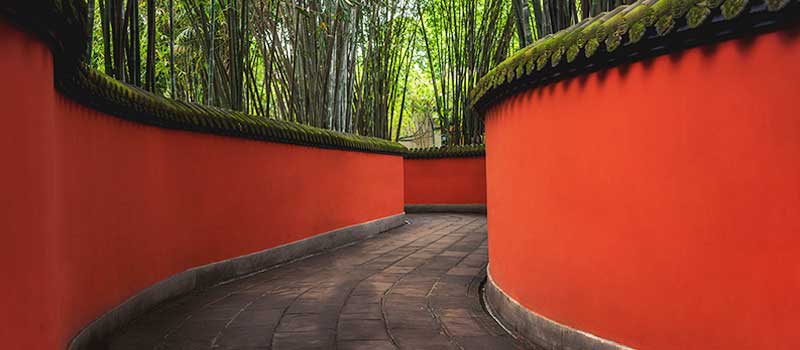 Chengdu Wuhou Temple - Red Wall Corridor
Summer runs from late June to September when the weather can be quite hot. For those who visit in the summer, and need a cool escape, Chengdu is located at the base of the Himalayan foothills so it's a fairly quick trip to reach the mountains where temperatures are much cooler and drier.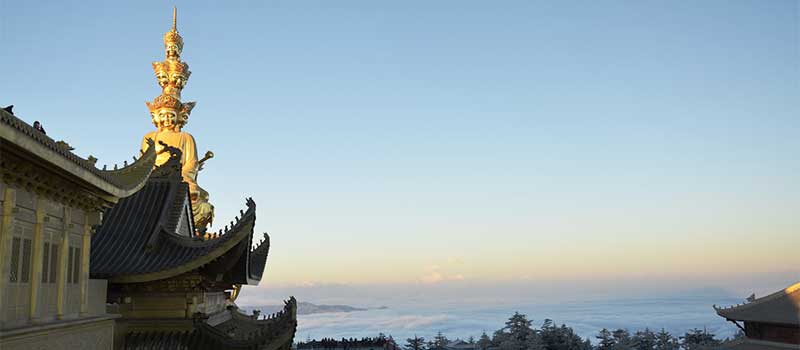 The Ten-faced Puxian Stupa and Hall at Jinding, Mount Emei
Recommended nearby locations include the breath-taking national park of Jiuzhaigou, the lush green and ancient mountain of Qingcheng and the heaven-like, usually-shrouded-in-a-sea-of-clouds Emei Mountain. Winter runs from December to February and the weather can get bitter cold with occasional snow, making skiing and winter sports a great option.
Chengdu Weather by Month
Jan
Feb
Mar
Apr
May
Jun
Jul
Aug
Sep
Oct
Nov
Dec
Mean
Maximum
Temperature
°C
10
11
16
21
26
27
29
29
25
20
15
10
ºF
49
52
61
70
79
81
84
84
77
68
59
50
Mean
Minimum
Temperature
°C
2
4
8
12
17
20
22
21
18
14
9
4
ºF
36
39
46
54
63
68
72
70
64
57
48
39
Rainfall Amount
mm
7
10
21
47
87
103
231
224
132
39
17
5
Days with Rain*
days
3
4
6
8
10
10
13
12
12
8
4
1
Mean Daily Sunshine Duration
hrs
2
2
3
4
4
4
5
5
3
2
2
2
*denotes number of days with at least 1.0 mm of rainfall
Read more about Chengdu Weather
Top Things to do
Chengdu is such a gorgeous, fun-filled destination with so many unique experiences found in and around the city that many people find they don't want to leave. It's truly one of the top 10 destinations in the country (some people claim it belongs on the top 5 list with Beijing, Shanghai, Hong Kong, and Xian) and has a wonderful mix of the modern and ancient world.
1. Getting (very) up-close and personal with a Panda
If there's anything as iconic for China as the Great Wall or the Forbidden Palace, it's the Giant Panda, and of course the best place to see these gentle giants is Chengdu.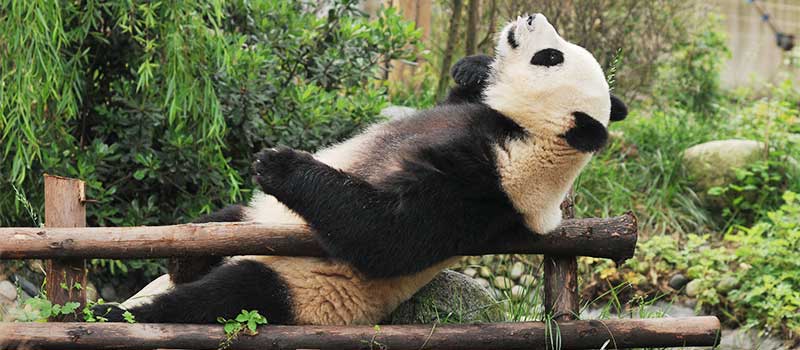 "I want to eat some bamboo, bamboo is my favorite."
There are 3 panda bases around Chengdu. Which one is the best for you? We have listed some information below to help you to make the decision.
Place
Driving Distance from Chengdu
Number of Pandas
Access
Activities
Time to stay
Hotel Attached
Crowds
Dujiangyan Panda Valley
1.5 hrs
30+
Easy
1.Volunteer Program
2.Holding Pandas
1 day
Yes
Bifengxia Panda Base
3 hrs
80+
Quite Far
Volunteer Program
2+ days
Yes
Chengdu Giant Panda Breeding Center
30 mins
30+
Near the city
Seeing Pandas Only
half day
No
2. Sipping Tea in a Local Tea House
Trying hot Chinese tea in any region of China can be a wonderfully memorable experience (as long as you choose your tea house wisely). Chengdu has many of them and the lush, greenness of the city gives an afternoon of tea drinking a different feel from many other popular destinations like Beijing, Hong Kong, Shanghai, and Xian. Take your time and enjoy as much tea as you'd like – do some reading or trip research, catch up online with friends back home – a tea house is a relaxing, cultural way to spend your time. It is recommended that you check (or double check) prices before ordering, especially if you have been invited to a tea house by someone you have recently met, or do some research before heading out to make sure you are going to a legitimate establishment.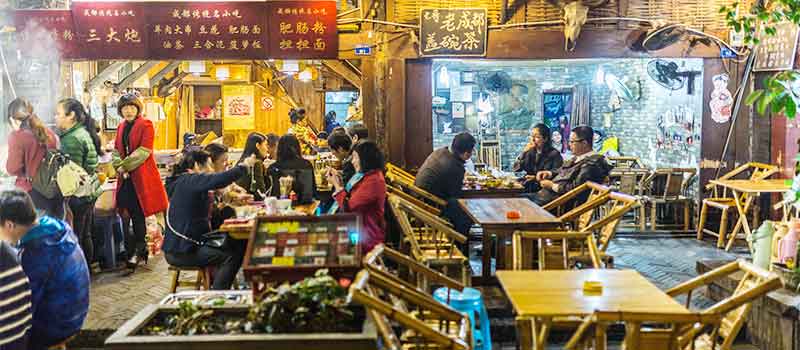 Relax in a local teahouse at night
3. Exploring ancient alleyways and historic neighborhoods
Like many places in China, small, narrow alleyways located in historic neighborhoods represent the embodiment of local life. Chengdu also has many of these, the most famous being Kuanzhai Alley. It combines the architectural features of northern China's Courtyard House with those of traditional dwellings in western Sichuan. Walking through these neighborhoods will give visitors a sense of what life was like hundreds of years ago and will still feel, and look, very much as if you're walking through history.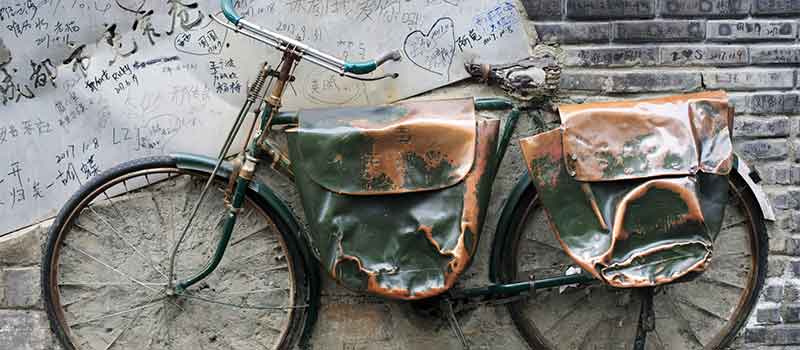 Sculpture culture in the Kuanzhai Alley
4. Try the mega-famous, local specialty of "Hot Pot" and other Chengdu delicacies
While the dish named "Hot Pot" is called "hot" mostly due to it being served steamy and warm, in the province of Sichuan, the "hot" definitely refers to its spiciness. Nowhere in China is Hot Pot served as mouth-numbingly spicy as here. Grab a few tissues for your soon-to-be runny nose, unzip that jacket, and get ready for one of the most unique culinary experiences of China. For those not accustomed to spicy food, there is honestly not much you can do to reduce the spiciness of Hot Pot as the spice is added to the broth prior to serving. Some restaurants may offer a less spicy version, so ask around or do some online research if this is an important factor. Hot Pot is also an important part of societal food culture in Sichuan, so missing this experience means missing more than just a unique meal – you'd be missing out on an essential part of the region's culture.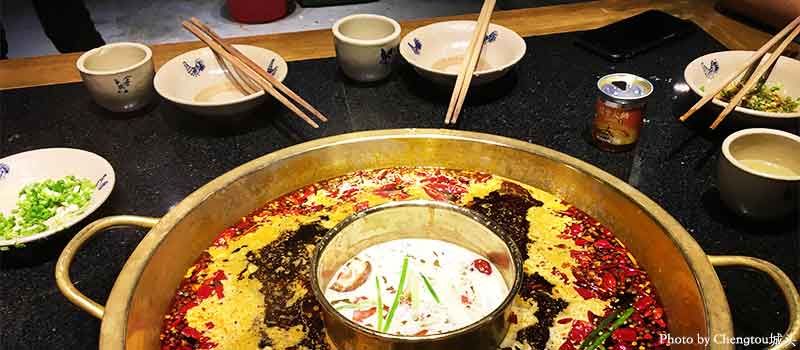 Hotpot, a must-try when visiting Chengdu
In addition to Hot Pot, Chengdu offers several other unique dishes – and not all of them are spicy. Seven other recommended dishes to try are:
» Cold Chicken in Chili Oil (凉拌鸡 – Liang Ban Ji)
» Rabbit fried with Peppers (双椒兔 – Shuang Jiao Tu)
» Smoked Sausage (腊香肠 – La Xiang Chang)
» Spiced Steamed Beef (粉蒸牛肉 – Fen Zheng Niu Rou)
» Sichuan Dumplings in Chili Oil (红油抄手 – Hong You Chao Shou)
» Wood Fire Chicken (柴火鸡 – Chai Huo Ji)
» Fish Mint (折耳根 – Zhe Er Gen)
5. Tombs, Temples and Parks
Chengdu has lots of low-cost options for people looking to explore a city without having to spend a ton on entrance fees. The tombs and temples here are as magnificent as any in the country. The top recommended destinations include: the tomb of Wang Jian, Zhaojue Temple, Green Ram Temple in Culture Park, Du Fu's Cottage, Nanjiao Park, Wuhou Temple, River Viewing Pavilion Park and People's Park.
6. Visit Local Museums
One of the quickest ways to get to know a city's history and local culture is to visit its museums. Many (not all) museums have signs in English (if you're into reading) as well as objects, displays, and presentations that can only be seen at that specific museum. Museum visits also leave longer-lasting impressions than just watching a video or listening to someone briefly speak about a historical topic. Check out this impressive list of 16 museums: Jinsha Site Museum, Du Fu Cottage, Wuhou Memorial Temple, Sichuan Museum, Chengdu Museum (Old Hall), Chengdu Museum New Building, Sanhe Classic Car Museum, Sichuan Opera Museum, Chengdu Botanical Garden, Sichuan Science and Technology Museum, Teddy Bear Museum, Chengdu Industrial Civilization Museum, The Royal Tomb of Wang Jian, Chengdu Beer Culture Exhibition, Museum of Old Medicine, and the Sichuan Art Museum.
7. See the largest stone buddha in the world - Leshan Giant Buddha
The Leshan Giant Buddha, also named Lingyun Buddha, is located on the eastern bank of the Southern Min River, Leshan City. Listed by UNESCO as the largest carved Buddha in China with a height of 71 meters, its ears alone are 7 meters tall and its feet are 8.5 meters wide. Workers took 90 years to finish this masterpiece about 1,200 years ago.
You can climb the steps on the mountain to see it up close. To get a good perspective view, you could take a boat ride on the late at foot of Leshan.
Other Recommended Attractions
The Most Recommended 3 Days Tour: the Best of Chengdu
*Price from USD319 per person (based on a group of 6 people)
Day 1, Chengdu Arrival
Your tour guide and driver will pick you up from the airport or train station and transfer to your hotel.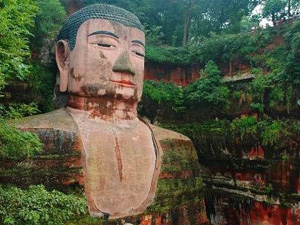 Day 2, Hello Panda (B,L)
After breakfast, your guide will meet you at the hotel lobby and transfer to Chengdu Panda Breeding and Research Center. It's good to see the pandas in the morning, as they are more active than in the afternoon. After lunch, drive back to Chengdu and discover the city in its old and modern styles. Experience the Chengdu Kuan-zhai Lane, marvel at the beautiful architecture of the traditional courtyard. Pay a visit to Chengdu People's Park, see the local people's life. Drive back to your hotel or the driver can drop you off at Jinli Old Street to shop around on your own.
Day 3, Leshan Giant Buddha & Departure(B,L)
Today you will drive about 2 hours to see the Leshan Giant Buddha. You can climb for about 40 minutes to get close to the Buddha. Then the 40 minute boat ride takes you to a vantage point where you will have a complete view of the Giant Buddha. (The cost of the boat ride is included.)
After lunch, your tour guide and driver will escort you back to Chengdu. They will transfer you to the airport or train station based on your request.
You can also check out other Chengdu tour packages or contact us and tailor make a Chengdu tour for you.
Chengdu Transportation
Transportation within Chengdu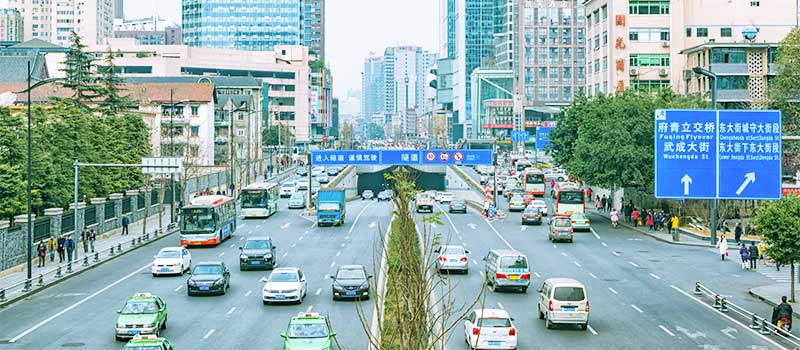 Chunxi Road
Taxi
Taxis are plentiful, efficient, affordable, and safe in Chengdu (as well as in most of the China) The base rate is 8-9 RMB, depending on the type of car, and then 1.9 RMB for every kilometer. A night subsidy is charged from 23:00 to 6:00. All taxis have easily displayed meters and usually the drivers are very good about using them. If you do get in a taxi and the meter (with bright red LED numbers) is not turned on within the first few seconds of the trip (again, very rare), just point to it and the driver will turn it on.
Tip: If you're traveling in summer and the driver has the windows down and the AC off (which is more common than you may think), if you'd really like for it to be on, you can usually communicate this wish by pointing in the area of the AC control and then waving your hand back and forth in front of your face indicating that you're hot. However, since most distances are fairly short and the ride will be over in 5-15min, it may not be enough time for the car to cool down. So, before you get in a taxi on a hot day, just make sure the windows are UP and check to make sure the car is cool as soon as you open the door – or be prepared to sweat. During the day, don't be afraid to pass on a taxi, even if you stopped it, as the driver will easily find another passenger.
A great way to hail taxi's now is through a taxi-hailing app. The most popular, and arguably best one, is the Apple backed app "Didi Chuxing", simply called "Didi".
Subway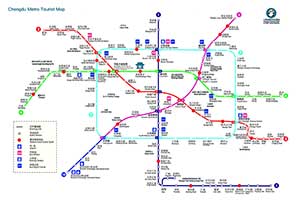 The subway is the fastest, nicest, coolest, and the most convenient way to move around Chengdu. Modern, climate-controlled trains whisk you around the city quickly efficiently, and best of all, very affordably. While taxis are affordable by western standards, you'd need to take several subway trips before equaling the cost of just one taxi ride. True, you'll need to walk a little to get to your final destination, but Chengdu's subway system has stops at most major (and even minor) popular destinations – and traffic is never an issue.
Notes and Tips:
Taking the subway, even at night, is extremely safe. All stations are well lit and have security guards. Westerns who are used to doggy, dingy, or poorly lit subways with no security are in for a treat. China's subways are the complete opposite.
Subway maps, found inside the trains and all over the stations, use both Chinese characters and their Pinyin counterparts (Pinyin is Chinese written using the Roman alphabet). For those not familiar with riding subways, the following is important: before boarding a train, find your destination on a map and then look at the FINAL DESINTATION going in that direction. The name of the final destination is important in order to find which train you need.
While built somewhat out of numerical order, these are the current open lines: Line 1, Line 2, Line 3, Line 4, Line 7 and Line 10.
All train stations conveniently connect to the subway system.
Bus
Pros:
1) Buses are as cheap as the subway (usually only 1-2 RMB)
2) China is famous for having very comprehensive bus systems covering nearly every corner of every city meaning you won't have to walk very far once getting off.
3) Buses come frequently with popular lines arriving possibly every minute during rush hour, but rarely longer than every 10 minutes.
4) Buses are modern and usually based on Japanese or German designs.
5) Some buses even use hybrid engines making them better for the environment.
6) During summer, they always have the AC on.
How to get there from Major Cities
Air
Chengdu is the capital city of Sichuan Province. It's also the transportation center for the west of China. Most of the major cities have a direct flight to Chengdu, such as Beijing, Xi'an, Shanghai, Guilin, Lhasa, Urumqi, Guangzhou, Kunming, Hangzhou, and Shenzhen etc.
Railway
Most of the popular cities have trains which travel to Chengdu. Unfortunately, the bullet train is not available from some big cities.
| | | | |
| --- | --- | --- | --- |
| Cities | Distance from Chengdu (km) | By Air to Chengdu | By High-Speed Railway to Chengdu |
| Beijing | 1982 | 3hrs | 8-10hrs |
| Xi'an | 842 | 1.5hrs | 4hrs |
| Shanghai | 2153 | 3.5hrs | 11hrs |
| Lhasa | 3360 | 2hrs 20m | No direct train |
| Chongqing | 504 | No direct flight | 1.5-2hrs |
| Kunming | 1100 | 1.5hrs | 5.5-6.5hrs |
| Guilin | 1178 | 1hrs 45m | 7-8hrs |
What to Eat in Chengdu
Brick-and-mortar restaurants are not the only places to get great food in Chengdu. Food stalls often serve up some of the most memorable tastes for visitors and will be found scattered throughout the city.
Visitors should know that the health standards employed by food stalls are often not very different from those observed at established restaurants. And, one major benefit of eating at food stalls is the fact that you can clearly see the food being prepared, the ingredients that are used, the storage practices of those ingredients, and the hygienic standards of the chef. All of these issues are well-hidden at most restaurants (with one exception being "Lanzhou" style restaurants in China – the ones that make hand-pulled noodles – which usually have large windows between the kitchen and the dining area).
See more about Top Chengdu Delicacies, Top 5 Chengdu Cuisine Restaurants, 5 Chengdu Food Streets
Shopping in Chengdu
Top Items to take back Home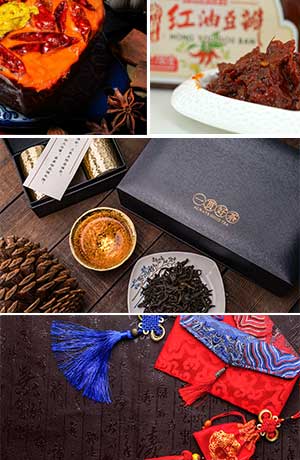 Top souvenirs in Chengdu
After enjoying the professionals of Chengdu preparing your meals, you may want to try and recreate some of the dishes, or beverages, back home.
Chengdu Hot Pot Seasoning: Generally, local hot pot restaurants sell their own hot pot seasoning blends. Unlike the ones bought in supermarkets, this hot pot seasoning is the most authentic.
Sichuan style Broad-Bean Sauce (Doubanjiang): This is a wonderfully rich and unique soy-based sauce and is essential for properly preparing authentic Sichuan dishes. It uses fermented soybeans and chilis which gives it a spicy kick.
Tea: Chengdu has the largest number of tea houses in China. Some people even say that Chengdu is "a city in a tea bowl". The most representative and endemic of Sichuan tea is "Zhuyeqing" and "Bi Tan Piao Xue" – both are a style of green, jasmine tea. One great thing about bringing back tea is it barely weighs anything!
Sichuan Silk Brocade: Here's one item worth taking home that is not for consumption. This is one of Chengdu's most famous handicrafts – a unique and beautiful style of stitching. Highly skilled and experienced weavers spend hours hand-stitching decorative and highly detailed patterns into a variety of clothes and textiles – shirts, blouses, pillow cases, sheets, tapestries, etc. For those who like hand-woven items, plan to spend the better part of an afternoon browsing or shopping for these – and leave extra room in your suitcase. These make fantastic gifts too.
Top Places for Shopping
Chunxi Road
Chunxi Road has a mind-boggling number of big, name-brand stores and little private shops selling so many items, we simply can't even begin to list them here. It's one of the best places in Chengdu to find fantastic deals because this is a real shopping district mainly for locals, not a touristy area. So slip on your most comfortable shoes (there are very few places to sit and you will be on your feet for hours without realizing it) and bargain hard.
Address: Chunxi Road, Jinjiang District, Chengdu, Sichuan Province
Kejia Lane
Kejia Lane is a hip, trendy street near Chunxi Road popular with young people for its wide array of stores selling the latest in fashion. There are many food and beverage shops on the street, so it's a great place to take a break and enjoy some local tea (or coffee if that's your thing).
Address: Jinjiang District, Chengdu, Sichuan Province (near Chunxi Road)
Sino-Ocean Taikoo Li Chengdu
Located in the Chunxi Road area, Sino-Ocean Taikoo Li Chengdu is a brand spanking new area full of international luxury brands and Michelin-starred restaurants. If you get tired of the old and ancient and have a hankering for modern and cosmopolitan, this is some of the best Chengdu has to offer. It's also perhaps the best place in the city to buy genuine Gucci, Coach, LV, or Kate Spade items (buying elsewhere, especially at non-authorized stores, probably means what you're buying is not authentic even if the price tag is high); however, be aware that prices for genuine luxury items in China are usually much more expensive than in western countries. For those not interested in forking over $1,000 USD/EU for a handbag, Taikoo Li is an uber-modern, glitzy, charming street full of life and a great place to see how the upper-class of China live. It's also one of the best places in the city for a fine dining experience.
Address: No. 8, Shamao Street, Jinjiang District, Chengdu, Sichuan, China
Chengdu International Financial Square (IFS)
What attracts the most visitors to IFS is the large Panda Bear statue climbing on the building. This lovely panda has a fascinating attraction to youth which make IFS no longer an Conventional shopping mall. There are luxury brands and famous chain restaurants here, which make IFS the highest-end shopping mall and a landmark of Chengdu. You can have a photo taken with the "Panda" on the terrace of the roof.
Address: No.1, Section 3, Hongxing Road, Jinjiang District, Chengdu (near Daci Temple Road, Chunxi Road Pedestrian Street)
Recommended Hotels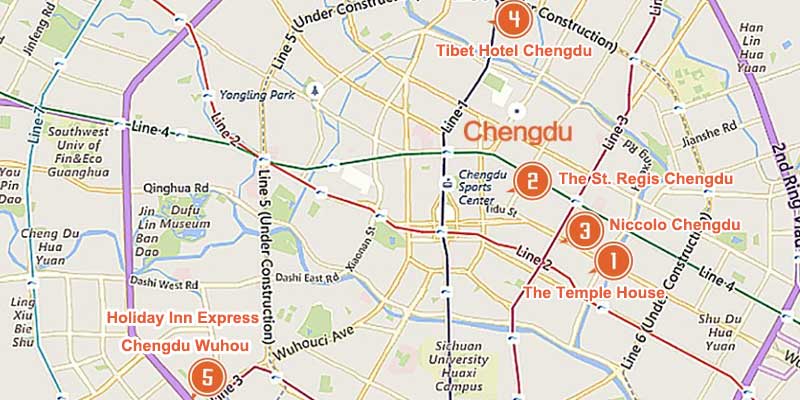 The location of the recommended hotels in Chengdu
The Temple House - Deluxe, 5-star
This deluxe hotel has a gorgeous stone façade and an enchanting , quiet courtyard lining a row of rooms adorned with beautiful reddish, all wood doors, windows, and support beams. It combines an ancient Chinese styled exterior and courtyard with modern room interiors. The whole place is dripping with quaintness. For those who enjoy the feeling of living in a Chinese village in the 1800's, yet with all modern amenities, this is one of the best choices in the city.
Address: No. 81 Bitieshi Street, Jinjiang District, Chengdu, Sichuan, China
The St. Regis Chengdu - Deluxe, 5-star
When you want to spend the night in the future, say 5 years ahead of now, the St. Regis is the spot. There's not a hint of the old-world here; this is the postcard of the relaxingly contemporary, futuristic tomorrow. Steps from Tianfu Square and Chunxi Road, Chengdu's newest icon unites impeccable service with the ambience of a private residence. An alluring haven for tired feet and aching backs in the heart of Chengdu's business district, the St. Regis Chengdu artfully combines historic Art Deco accents with cutting edge in-room technology. Recently built in 2014, the rooms have outstanding views of the city as you'll be staying in a gorgeous, mirrored-glass, 30-story building. Indoor pool? Check. Suites? Check. Did we mention the impeccable service? For the price, you'll actually get a lot and staying here may not be as expensive as you might imagine (it's surprisingly one of the more affordable options for this supreme level of comfort).
Address: 88 Taisheng Road South, Qingyang District, Chengdu, Sichuan, China
Niccolo Chengdu - Deluxe, 4-star
You may not believe how affordable this gorgeous 5-star hotel is. Much more affordable than the above choices mostly because it's simply not brand spanking new. Designed as a large, perfectly square building roughly 20 stories tall and in the spirit of an authentic Tibetan structure, the hotel is affiliated with the Government of the Tibet Autonomous Region. Bursting out from a grove a trees and painted gleaming white with brick red borders on top and bottom, it's hard to miss. It has all the amenities you'd expect from a 5-star hotel, with the charm of the Tibetan culture. It's located on the Jinjiang River in downtown Chengdu, adjacent to the business district, shopping malls, Wenshu Yuan Monastery, and Cultural District and inside offers Sichuan, Cantonese, Tibetan, and French Western dishes. They also have Tibetan dance performances and snowy aristocratic feasts in the Red Palace Ballroom. Check online for prices and you may be pleasantly surprised – it's one of the best deals in the city.
Address: No. 10, Section 1, Renmin North Road, Chengdu, Sichuan, China
Tibet Hotel Chengdu - Comfortable, 4-star
You may not believe how affordable this gorgeous 5-star hotel is. Much more affordable than the above choices mostly because it's simply not brand spanking new. Designed as a large, perfectly square building roughly 20 stories tall and in the spirit of an authentic Tibetan structure, the hotel is affiliated with the Government of the Tibet Autonomous Region. Bursting out from a grove a trees and painted gleaming white with brick red borders on top and bottom, it's hard to miss. It has all the amenities you'd expect from a 5-star hotel, with the charm of the Tibetan culture. It's located on the Jinjiang River in downtown Chengdu, adjacent to the business district, shopping malls, Wenshu Yuan Monastery, and Cultural District and inside offers Sichuan, Cantonese, Tibetan, and French Western dishes. They also have Tibetan dance performances and snowy aristocratic feasts in the Red Palace Ballroom. Check online for prices and you may be pleasantly surprised – it's one of the best deals in the city.
Address: No. 10, Section 1, Renmin North Road, Chengdu, Sichuan, China
Holiday Inn Express Chengdu Wuhou - Comfortable
As Holiday Inn Express hotels go, this one is a bit nicer than what you may find in western countries. Officially listed as a "3 ½ star" hotel, it is pretty much what you'd expect from this international hotel chain. Located in southwest Chengdu, in the Wuhou District, it's adjacent to the Wuhou Memorial Temple and overlooks popular spots such as the Du Fu Thatched Cottage Museum and Wangjiang Tower.
Address: No. 5, West Section, Second Ring Road, Wuhou District, Chengdu, Sichuan, China
Citadines South Chengdu (Apart Hotel) - Comfortable
A sleek, modern, and brand new 4-star hotel option that regularly offers excellent online deals. Its best feature is that all the rooms are mini-apartments: with kitchen including a sink, small stove, microwave, extra-large refrigerator, and even a washing machine! Rooms also have a small living room and dining area. Bathrooms come with huge showers and some with extra-large bathtubs – and nice views of the city. Once again, the price may be much more affordable than most people would imagine, especially if you can get one of their special rates making it one of the most surprisingly affordable options on this list. Without a doubt, it is the best value. The hotel has an indoor pool and as a nice bonus, a modern coffee shop on premise (called Maan Coffee). It's located in the central business district of Tianfu New Area, just a 2-minute walk from Tianfu Software Park and Tianfu 3rd Street Subway Station.
Address: No. 88, Tian Fu Third Street, Icon Cenesis Plaza Tower 5, Hi-Tech Industrial Development Zone, Chengdu, China, Wuhou, Chengdu, Sichuan China
Check Out our Chengdu Travel Guide PDF eBook - Free Download
Lush green jungles, pandas of all ages (yes, even baby ones), nearby jaw-dropping national parks, ancient Chinese architecture … what more can you ask for out of a city? China is a large country loaded with amazing places to see and trying to rank them is flirting with a mission in futility. Nevertheless, there are several cities that should rank near the top – Beijing, Shanghai, Hong Kong, Xian … and Chengdu. Our newly updated Chengdu travel guide gives you inside information on the best places to visit, how long you'll probably need at each destination, great hotel suggestions that will almost guarantee a comfortable place to stay at a price to fit nearly any budget, and hard-to-find practical information on everything from transportation, medical facilities, safety issues, and even what to pack. We want to make sure your visit is as enjoyable as possible, so we included everything you need to know in one, condensed, free-of-charge and easy-to-download guide.