Kuanzhai alley is an ancient pedestrian street constructed in the Qing Dynasty, consisting of Kuan (wide) Alley, Zhai (narrow) Alley and Jing (井-shaped) Alley. It is not only the relic representing the city pattern of a "young city" with over one thousand years' history and the century-old original architectural style, but also the only representative of northern China's architectural style and Hutong culture in southern China. Kuanzhai Alley, combining the architectural features of northern China's Si He Yuan (Courtyard House) with those of traditional dwellings in western Sichuan, is the epitome of Chengdu, an ancient city with modern vitality deep in Chengdu people's memory.
Quick Facts
Chinese name: 宽窄巷子 Kuān Zhǎi Xiàng Zi
Built in 1718
Duration: 2-4 hours
Entrance fee: free
Opening hours: all day
Address: 8 Kuan Alley, Qingyang District, Chengdu City, Sichuan Province
Best time to visit: all year around
How to get there:
Take Subway Line 2, get off at Renmin Park Station and walk for 400 m; or take Subway Line 4 by subway and get off at Kuanzhai Alley
Take Bus 62, 70, 93, 126 (Loop line), 127, 163 or 340, and get off at Kuanzhai Alley
Experience Local Slow Life: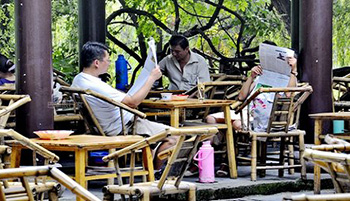 Local snow life
The journey to visit Kuanzhai Alley begins with Jing alley with its 400-meter cultural wall. As the only wall museum built with bricks, this cultural wall is the essence of Chengdu's history. A typical day for Chengdu people begins in Kuanzhai Alley. Choosing a serene courtyard or a cane bench along the alley, basking in the sunlight, savoring a cup of tea, appreciating traditional Chinese opera, or having your ears cleaned and talking with others about the past, you can truly relax yourself and enjoy the leisure brought by Kuanzhai Alley. During the day, leisure can be felt everywhere in Kuanzhai Alley. Elderly people enjoying their tea in their bamboo sling chairs; children singing and playing in the alley after school; green vines growing all over short grey walls and those wild flowers waving in the alley: all these scenes reflect the leisure in Kuanzhai Alley. Little scenery spots scattered along the alley are wonderful places for visitors to take photos and rest. Morning is a wonderful time for tourists to wander in the alley when there are few visitors here.
Try Local Delicacies: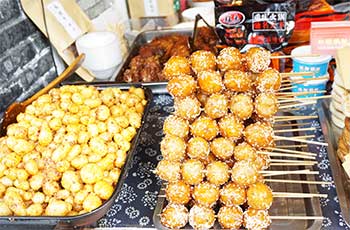 Local delicacies
Kuanzhai Alley is a remarkable place to learn about Chengdu people's pursuit of delicacies. The alley is like an international food expo where all kinds of food can be tasted, such as snacks, exquisite dishes, and abundant delicacies, as well as western food. Along with that, there are different food themes, including the regimen theme, uninhibited theme and so on. Different Chinese cuisines, including Sichuan cuisine, Cantonese cuisine, and Hunan cuisine, can be found here. One of the amazing things is that you can taste both cheap and expensive foods in the alley, and both are delicious. For instance, the 1-yuan kebob and the expensive braised abalone with isinglass are both delicious. The traditional local food "Glutinous Rice Balls" can attract tourists with both its taste and appearance.
Local Stores One Cannot Miss:
In the Panda House, the only creative gift store in Sichuan with the panda theme, you can appreciate the adorable gifts designed around pandas. Next to the panda house lies a folk furniture store with numerous examples traditional handmade furniture. Dotted with all kinds of flower floats, Kuanzhai Alley is the embodiment of folk culture in Chengdu, which can be appreciated through a quick visit. "Lotus among lotus", the address for which is 40 Kuanzhai Alley, is a fantastic store for women, who can buy exotic clothes and accessories here and experience the typical fashion in Chengdu. All the commodities here, including china and jewelry, are well-designed with fine texture, and a local souvenir is one of the best choices for gifts.