Shui Jing Fang Museum is the oldest winemaking workshop in the world. It was discovered and renovated in 1998. It not only displays the ancient winemaking workshops and wine wares, but also has a lot of historical materials. It is a good place to learn about the history of winemaking in Sichuan.
Shui Jing Fang distillery site is a National Intangible Cultural Heritage and is the oldest distillery that is still in operation, located in downtown Chengdu. In this museum, you can see how the Chinese potent spirit (baijiu) is made in the 600 year old distillery.
Quick Facts
Chinese name: 水井坊博物馆 Shuí Jǐng Fáng Bó Wù Gǔan
Built 600 years ago
Duration: 2 hours
Entrance fee: ¥ 50
Opening hours: 9:00am--17:00pm
Address: 19 Shui Jing St., JinJiang District, Chengdu City, Sichuan Province
Best time to visit: all year around
How to get there:
1. Take Subway Line 2, get off at DongMen Bridge Station and walk out of the station from EXIT B. Then walk along Xiang Alley for 400 m;
2. Take Bus 10、18、43、47、104、152、335, and get off at ZhiQuan St. Then walk for about 400m to the museum.
Highlights of Shui Jing Fang Museum
At present, Shui Jing Fang Liquor Making Site is the first site containing an ancient spirit brewing workshop that has been scientifically excavated in China. It has been preserved as the most intact and still with complete processing facilities.
It covers 2000m2 with the normal layout of "Store in the front, distillery in the rear". Also plenty of cultural relics have been found on this site.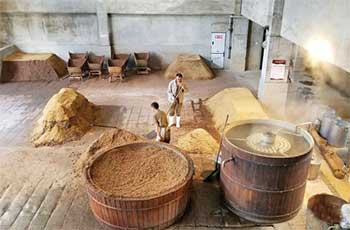 The traditional process of liquor making
Watch the traditional process of liquor making
It is not only a museum but also a "living" ancient liquor making workshop. You will have an opportunity to watch the process using traditional brewing techniques. The production of Shui Jing Fang liquor continues here, so this is a " living" museum.
Know something about the world famous distilled spirits and the future of Shui Jing Fang liquor
You may have a taste of Shui Jing Fang wine after you have learnt something about the winemaking. Then you will have an idea about the difference between Shuijingfang liquor and other famous spirits in the world, such as Vodka, Gin, Whisky, or Cognac.