Originally built in the Sui Dynasty and renovated in the Qing Dynasty under the reign of Emperor Kangxi, Wenshu Yuan Monastery is one of the key national Buddhist temples identified by the State Council, the leading one among four Buddhist temples along the upper and lower reaches of the Yangtze River, as well as the key cultural relics protection unit of Sichuan Province. With Buddhist relics and ancient buildings inside, it serves as a venue for pilgrimage, visiting, and Buddhism study. Existing buildings in Wenshu Yuan Monastery were built with wood only, retaining the style of ancient buildings on the Chuanxi Plain. Six main halls are all on the central axis, being magnificent and grand.
Quick Facts
Chinese name: 文殊院 Wén Shū Yuàn
Built in 605 AD
Duration: 2-3 hours
Entrance fee: free
Opening hours: 08:00-18:00
Address: 66 Wenshu Yuan Street, Qingyang District, Chengdu City, Sichuan Province
Best time to visit: all year around
How to get there: Take Subway Line 1 and get off at Wenshu Yuan Station; or take Bus 42, 75, 126 or 127 and get off at West Stop of Da'an West Road; or take Bus 16, 55, 98 or 298 (Night Shift), get off at Wenshu Yuan Stop, and walk about 320 m.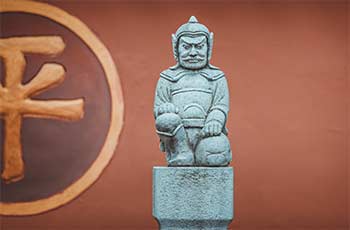 Stone carving
A Land of Buddhism
As a well-known Chuanxi Buddhist building, Wenshu Yuan Monastery houses a wide range of valuable cultural heritage, and tens of thousands of Buddhist sutras and items of literature, being visited constantly. There are over 300 stone, bronze, iron, wood, and clay Buddha statues of different sizes and with value as cultural relics and art. A Buddha statue made of Burmese jade is particularly precious. There are teahouses and a unique vegetarian restaurant "Xiangzhai Restaurant" inside the Monastery, where you can taste the covered-bowl tea unique to Sichuan and enjoy singing and playing by folk artisans. This Monastery is a popular choice among local residents for leisure.
There are over 200 ginkgo trees of varying heights inside and outside the time-honored Wenshu Yuan Monastery. In late autumn, the aura of Buddhism thickens, with golden leaves of ginkgo trees falling down on the ground and faint smoke suffusing in the air. Serenity in the Wenshu Yuan Monastery seems to be the very epitome of the slow life in Chengdu.
Laba Rice Porridge Festival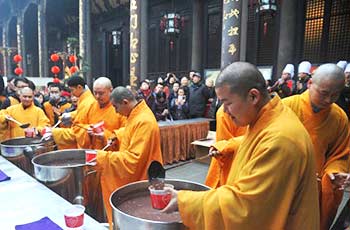 Laba Rice Porridge Festival
According to Buddhism, Sakyamuni, the founder of Buddhism, got enlightened on the eighth day of December on the lunar calendar. Therefore, Wenshu Yuan Monastery provides Laba Rice Porridge for free for visitors and citizens for three days at several specified sites in Chengdu during the Laba Rice Porridge Festival. Many visitors and citizens stand in line for the porridge to enjoy traditional culture and charm of traditional festivals.
Taste Time-honored Local Snacks
On Wenshuyuan Street in front of the Monastery, there is Wenshu Lane, known as "Buddhist Temple in the City". Along the Lane you can see pseudo-classic architecture, and several time-honored local snack brands are still in business. Delicious pastries, spicy and tasty hot-pots and special noodles are all popular among local residents and worth a try.
How to Visit
There are scenic spots in front of and behind Mount Qingcheng. Palaces and Taoist temples are concentrated in a relatively small area at the front range of Mount Qingcheng, which takes about half a day to visit.
Touring route: Jianfu Palace, Gate of Mount Qingcheng, Tianshi Cave, Fangning Bridge, Chaoyang Cave, Shangqing Palace, Laojun Pavilion, Cableway Service Center, Return by Cableway
Behind Mount Qingcheng is a large, deep and serene area with the original appearance, which takes a whole day to visit. It takes at least two hours to climb to Baiyun Temple on the top of the Mount from Tai'an Temple at the foot of the Mount. Most tourists choose to visit spots in front of the Mount, and climbers prefer to visit areas behind the Mount.
Taoist Health Liquor, Qingcheng Tea, Stewed Chicken with Ginkgoes and Qingcheng Pickles can be found in markets of Dujiangyan City and sent out as gifts.