Chongqing is often called the 'mountainous city' as the city has been built leaning on the mountains. It is one of the four municipalities directly under the central government. With the total population of 31.24 million people (as of 2019), Chongqing is the most populous city in China. Having been the disembarkation city for Yangtze River Cruises, and endowed with cultural and historical sites as well as yummy Chongqing food, this city has become a popular tourist city in China.
Quick Facts
English Name: Chongqing (Chungking)
Chinese Name: 重庆 (chóng qìng)
Government: Municipality directly under the central government
Location: Southwest China (106°55'E, 29°57'N)
Area Code: (+86) 023
Zip Code: 400000
Airports: Chongqing Jiangbei International Airport (IATA : CKG)
Railway Stations:
Chongqing Railway Station, Chongqingbei Railway Station, Chongqingxi Railway station, Shapingba Railway Station, Wanzhoubei Railway Station,
Port: Chongqing Port
Main Suburban Districts:
Yuzhong, Wanzhou, Fuling, Dadukou, Jiangbei, Shapingba, Jiulongpo, Nanan, Beipei, Dazu, Yubei, Banan, Hechuan
Population: about 31.24 million (updated in 2019)
Best time to visit Chongqing
July and August are the hottest months in Chongqing. During that period, the average temperature is from 30°C (86°F) to 35°C (95°F), and the hottest days could reach 40°C (104°F). Thus, Chongqing, Wuhan and Nanjing have been called the "three furnaces" in China. The weather in Spring (March to June) and Autumn (end of September to early November) is much more comfortable, when the temperature is around 17°C (62.6°F) to 25°C (77°F). Spring and autumn are regarded as the best times to travel.
What to See
Yangtze River
The Yangtze River is the longest river in both China and Asia, and the third longest one in the world at 3,915 miles. Chongqing is the disembarkation city for Yangtze River Cruises. The beautiful natural scenery and historical sites along the Yangtze River are the highlights of the cruise. The downstream cruise takes 4 days and 3 nights while the upstream one takes 5 days and 4 nights.
Dazu Grottoes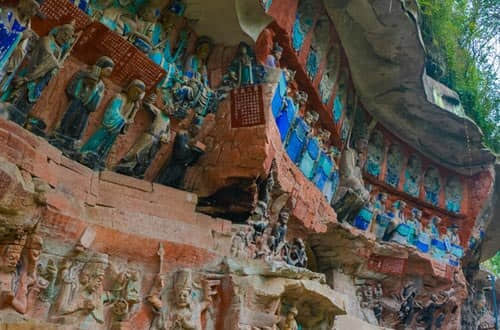 Dazu Grottoes
With a history of 1,200 years and having been built for more than 250 years, the Dazu Grottoes is the world famous historical site in Chongqing. There are more than 4,600 rock carvings which are spread out across different mountains. It's one of the most famous 'Eight Grottoes' in the world. Dazu Grottoes is famous for numerous Buddhist rock carvings, elegant sculptures, and well preserved statues. It was listed by UNESCO in 1999.
Ciqikou Old Street
Ciqikou old town was first built in the Song Dynasty, about 1,000 years ago. Located beside the Jialing river, Ciqikou was historically a very important port. It's a must see shopping mall street now. There are hundreds of shops along the street where you can buy souvenirs or taste some local snacks. To avoid the crowds, you can explore some off-the-beaten-paths and discover local people's life.
Hongyadong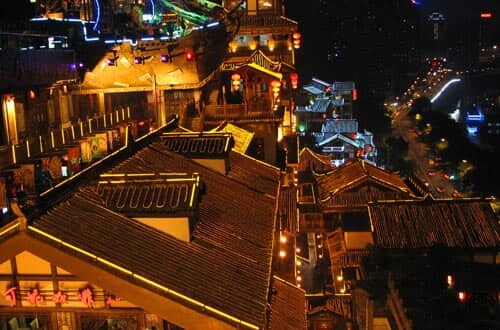 Hongyadong
Hongyadong is an 11 story shopping mall. But it combines along with the shopping mall, bars, hotels, historical sites and food streets. It's an ideal place to have a bird's eye view of the Yangtze River. When it's getting dark and lights up, the whole place turns yellow. The night scene is yet another highlight. You can spend a whole day here, and just have fun.
Three Gorges Museum
First built in 1951, the Three Gorges Museum has a long history. The collections of the museum were initially inherited from the Southwest Museum, including the antique chinaware, paintings and calligraphy, Chinese zithers (a traditional Chinese instrument), and Chinese inks which were preserved in Chongqing during the Anti-Japanese War. Because of the Three Gorges Dam project, there are some relics from the Yangtze River area. The museum has all the things you want to know about the Yangtze River and Three Gorges Dam.
Recommended attractions
| | | |
| --- | --- | --- |
| Chongqing Zoo | E'ling Park | The Stilwell Museum |
| Wulong National Park | The Flying Tiger Museum | Jiefangbei Square |
| Light Rail Ride Experience | Huguang Guild Hall | Ghost City of Fengdu |
How to get there
Chongqing is located in the southwest of China, and it's called 'the gate to the southwest'. You can fly to almost any major city in China from Qingdao Liuting International Airport.
How far is Chongqing from Major Cities
| | | | |
| --- | --- | --- | --- |
| Cities | Distance from Chongqing (km) | By Air to Chongqing | By High-Speed Railway to Chongqing |
| Beijing | 1760 | 3hrs | 12hrs |
| Shanghai | 1700 | 3hrs | 11hrs |
| Guangzhou | 1300 | 2hrs | 8hrs |
| Hong Kong | 1500 | 2hrs 50mins | / |
| Xi'an | 740 | 1.5hrs | 5hrs |
| Chengdu | 320 | / | 1.5hrs |
| Hangzhou | 1600 | 2.5hrs | 11hrs |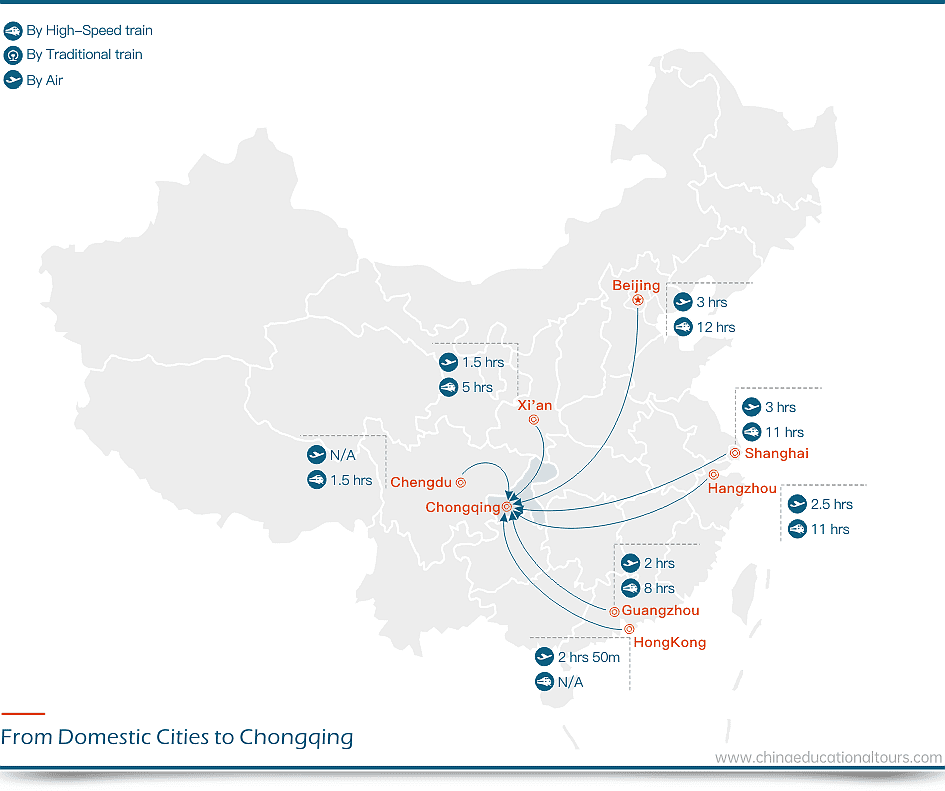 Gourmet Food in Chongqing
Chongqing Hot Pot (火锅)
When you are walking on the streets in Chongqing, you will find that hot pot restaurants are everywhere. Chongqing hot pot soup is quite spicy, and the main ingredients are red chili oil, beef fat, chili bean paste and Sichuan peppercorns. Chongqing Hot Pot has a long history, as it is not only a local delicacy, but also representative of Chongqing's food culture. There are many food options for a hot pot which, of course, is one of the main reasons that people choose hot pot.
Spicy Hot Pot (Malatang) (麻辣烫)
Originating from Leshan city, Sichuan Province, Malatang is a common type of Chinese street food. It's quite popular in big cities, especially in Chongqing because Chongqing is not far from Sichuan Province. The key ingredient is the Mala (hot and spicy) sauce. You can see lots of Sichuan peppercorns which make the sauce really hot. But it's different from hot pot, as people use a wooden or bamboo stick to skewer the food. Please keep the sticks, as the price might be charged by counting the number of empty sticks.
Fish Filets in Hot Chili Oil (Sichuan boiled fish) (水煮鱼)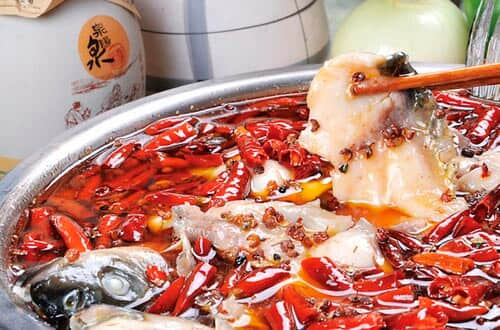 Sichuan boiled fish is one of the most popular dishes in Sichuan Cuisine but it originated from Chongqing city. The main ingredients are grass carp, bean sprouts, Sichuan peppercorns and chili. The peppercorns are the key as they are much more numbing and with a bit more floral/herbal flavor than their red counterparts. It's quite popular with western tourists as well, as the thick slices of fish have no bones at all.
Mao Xue Wang (毛血旺)
Mao Xue Wang is another dish which originated from Chongqing but is quite popular all over China. It is made of duck blood curd, tripe, pork, ham, chicken gizzards, green peppercorns, and other organ parts simmered in a broth that is made of peppercorn and chili. It may not be considered acceptable by western tourists so easily. But you can find many restaurants in Chongqing which specialize in this popular local dish.
Souvenir and Shopping
Jiangjin Rice Candy (江津米花糖)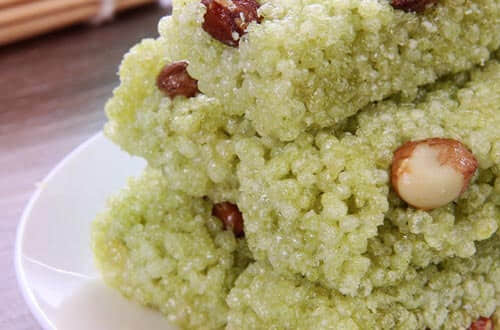 Jiangjin Rice Candy
Rice candy is a traditional snack in China. The Jiangjin rice candy originated in 1910. It's one of the most popular snacks in Chongqing. The main ingredients are glutinous rice, walnut kernels, peanut kernels, sesame seeds, sugar and oil. The fired glutinous rice is quite crispy. The crystal sugar, sweet taste and crunchy sound make it quite popular not only for kids, but also for seniors.
Hechuan Sliced Walnut Cake (合川桃片)
Hechuan is a district of Chongqing city. The Sliced Walnut Cake is a traditional snack of this area. It was first founded in 1840, and has a history of more than 100 years. The key ingredients are glutinous rice, walnut kernels, sugar and rose honey. The cake is quite thin, white, sweet and soft when you put it into your mouth.
Ciqikou Chen's Fried Dough Twist (磁器口陈麻花)
Ciqikou is the ancient town of Chongqing City. The Fried Dough Twist is a famous local snack in this town. Mahua is made of two or three strands of dough twisted together and fried with peanut oil. The surface of mahua is shiny and golden brown. It's very crispy. It originated from the end of the Qing Dynasty, about 100 years ago. You will be surprised that it has at least 8 flavors. They include sweet, salty, honey, scallion oil, sea sedge, and hot and spicy. The most welcomed flavor for local people is hot and spicy.
Fuling Pickles (涪陵榨菜)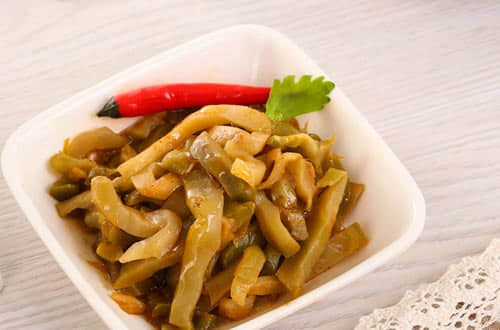 Fuling Pickles
Fuling is another district of Chongqing city. It is China's leading producer of pickled mustard tubers. Fuling pickles have been exported to more than 50 countries. It is said that the Fuling mustard tubers, sweet and sour German red cabbage and French cornichon are world's 'top three pickles'. You can always find that Chinese people eat it with breakfast porridge in the morning. The other options are stir-fried with meat to make a delicious dish for lunch and dinner, or simply added to soups for a little extra flavor.