Situated at the foot of Cang Mountain, the spring rises to fill a square-shaped pool and is a beautiful color. It's well known from the classical movie 'Five Golden Flowers', and it is always quite fascinating to see the thousands of butterflies that are breeding in this Butterfly World.
Quick Facts
Chinese name: 蝴蝶泉 Hú Dié Quán
Constructed: unknown
Suggested time: 1-2 hours
Ticket: 60 yuan per person (including round way shuttle bus tickets)
Address: one kilometer from Zhoucheng North (at the foot of the Yunnong Peak), Dali City
Open hours: 9:00 – 18:00
Best time to visit: March to May (good time to see the scenery)
How to get there: take the medium bus at the west gate of Dali Ancient City or on Boai Road (40 minutes), or take the shuttle bus from Xiaguan
Highlights of the spring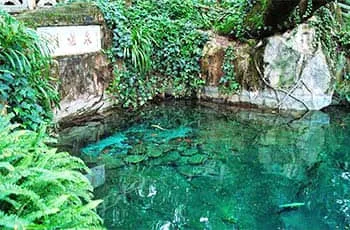 Springs
Springs
The water of Butterfly Spring soaks up through the layer of sand at the bottom of the pool. The water is filtered by the sand, and so is particularly clear as it is collected in the pool without any pollution. In springtime, the spring water gushing up out of the source was collected by the park managers into three ponds of water and people enjoy watching the process. The largest pond is about 10 acres. From the original single pool, Butterfly Spring has now become four pools. This is the most eye-catching landscape in the beautiful Butterfly Spring Park.
Butterflies
Tourists come to here especially to see the butterflies from March to May. Butterfly Spring boasts a great many kinds of butterflies. Some are as big as the palm of your hand, and the smallest is the size of a bee. The acacia trees hang in colorful profusion over the spring. The newly built Butterfly Pavilion south of the spring truly represents the ecology and the wide variety of butterflies. You can also learn about butterfly culture in here as it provides visitors with precious documents to understand the wonders of Butterfly Spring.
Tips: The vast numbers of butterflies are barely distinguishable from the flowers as the whole tree pulsates with every color of the rainbow. This spectacular sight has given rise to a local festival when the Bai people gather at the tree on April 15th for the 'Butterfly Meet'.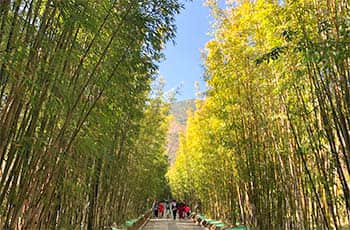 Lush Trees
Lush Trees
Behind the Butterfly Spring are the pine forest, the cypress forest, the palm forest, the tea tree forest, the rhododendrons, the bamboo forest, and the unique aromatic tree species such as the acacia tree, the sour tree and the yellow wood. In the late spring and early summer, the old trees blossom like colorful butterflies. The fragrance attracts even more butterflies. At that time, the butterflies fly in clusters, hanging from the branches down to the spring. You can see thousands of butterflies dancing together, like a colorful ribbon.