Dali City, located in the west of Yunnan Province, China, is the capital of the Dali Bai Autonomous Prefecture. Dali City is located in the Erhai Plain on the Yunnan-Guizhou Plateau. It is the capital of the ancient Nanzhao Kingdom and the Dali Kingdom. It was the political, economic and cultural center of ancient Yunnan and has lasted more than 500 years. Dali is located on the low latitude plateau which is dominated by the low latitude plateau monsoon climate. The weather is mild all year round and the wet and dry seasons are quite distinct. With its beautiful scenery and pleasant climate. It is known as one of the most desirable areas for human habitation. 'Cang Mountain Snow' and 'Erhai Moon', 'Shangguan Blossom' and 'Xiaguan Breeze', together make up the most classical impression of Dali and the reasons why countless Chinese and foreign tourists visit Dali every year.
Basic Facts
English Name: Dali
Chinese Name: 大理(Dà Lǐ)
Government: Autonomous Prefecture
Location: Southwest China(100°23'E,25°60'N)
Area code & Zip Code:
Area Code:0872;Zip Code: 532901
Airports:Dali Airport
Railway Stations: Dali Station
Suburban Districts: Xiaguan, Dali, Fengyi
Population: about 3.57 million
Best time to go
The weather in Dali is mild all year round. There is no severe cold or heat in Dali, and the seasons are not very distinct. March to May and September to November are the best times to travel to Dali. During these times, the temperature is at its most agreeable. Many festivals and events of the Bai people are also concentrated in these periods, such as the "March Street", the most popular business activity in Dali. From September to November, Dali has the most colorful scenery and autumn colors, making it a good time for photographers to travel there.
What to see
1. Dali Ancient City: It's a historical and beautiful town. The local people enjoy sunshine almost every day and have a peaceful, comfortable life. Their lifestyle makes tourists from other places jealous. The weather is also warm and mild. Foreign Street and Renmin Road are good hangout spots at night. There are a lot of fantastic bars and tiny cafes. Some of them have impromptu performances by resident singers or tourists who enjoy singing.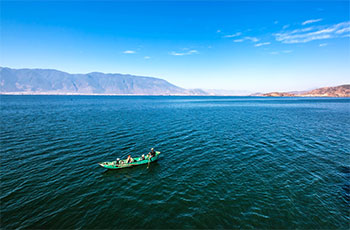 2. Erhai Lake: The name means 'sea shaped like an ear', in Chinese and it is one of the most famous attractions in Dali. The most famous tourist site along the east Erhai Lake is Shuanglang. Here you can enjoy the best lake view. The sun shines through the clouds and refracts on the lake water, creating 'the light from the lake god'. With Cang Mountain as the background in this view, it would be the best shot you want to take. It's a good place for photographers.
3. Three Pagodas: The 'Three Pagodas' spot is made up of three ancient independent pagodas forming a symmetrical triangle. The unique design made this tower group become the symbol for the Bai culture of Dali. It's also the most magnificent tower group in the south of China. The Three Pagodas, the distant Cang Mountain, and Erhai Lake embellish the historical charm of the ancient city of Dali. Although they have experienced hundreds of years of severe wind, rain erosions and several earthquakes, they are still intact and standing tall.
4. Cang Mountain: The mountain is located on the west of Erhai Lake with great scenery. The highest peak is Malong Peak. The snow on the mountain is the best of the Four Famous Scenes (wind, flowers, snow and moon) in Dali. The weather in the mountains is unpredictable, and there are beautiful clouds such as 'Wangfuyun' and 'Jade Belt Cloud'. Climbing to the peak of Cang Mountain, you can look out over the beautiful Erhai Lake and Dali scenes.
Natural Landscape
| | | |
| --- | --- | --- |
| Nanzhao Culture Island | Butterfly Spring | Erhai Lake Park |
| Qingbi River | Jade island | Shuanglang Town |
Cultural attractions
| | | |
| --- | --- | --- |
| Dali Demi-Gods and Semi-Devils Film Studio | Shaxi Ancient Town | Shizhongshan Grottoes |
| Xizhou Village | Dali Zhusheng Temple | Dali Municipal Museum |
How far is Dali from Major Cities
Form Domestic cities to Dali
| | | | |
| --- | --- | --- | --- |
| Cities | Distance from Dali (km) | By Air to Dali | By High-Speed Railway to Dali |
| Beijing | 2910.8 | 3hrs 10m | No direct High- Speed train. Traditional rain about 18 hours 35 minutes. |
| Shanghai | 2666.3 | 3hrs 5m | No direct High-Speed train. Traditional rain about 29 hours 45 minutes. |
| Guangzhou | 1656.2 | 2hrs 20m | 12hrs 3m |
| Shenzhen | 1656.2 | No direct flight | No direct High-Speed train. Traditional rain about 11hours 54 minutes. |
| Hangzhou | 2793.9 | 4hrs 10m | No direct High-Speed train. Traditional rain about 15 hours 18 minutes. |
| Nanjing | 2402.9 | 2hrs 50m | No direct High-Speed train. Traditional rain about 23 hours 8 minutes |
| Hong Kong | 1850.6 | No direct flight. | No direct High- Speed train. |
| Xian | 1718.9 | 2hrs 35m | No direct High-Speed train. Traditional rain about 7 hours 14minutes. |
| Wuhan | 1880.5 | 2hrs 20m | No direct High-Speed train. Traditional rain about 11 hours 14 minutes |
| Tianjin | 2887.3 | 4hrs 25m | No direct High-Speed train. Traditional rain about 29 hours 44 minutes. |
| Lhasa | 1908 | No direct flight | 5hrs |
How to get there
Dali (Huangcaoba) Airport is the only airport in Dali. Taking trains is also a convenient way to travel to Dali.
Gourmet Food in Dali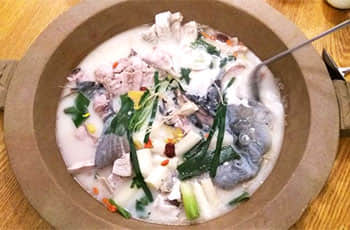 1. Casserole Fish: The casserole fish is a very famous dish in Dali. The Dali casserole fish is cooked in the casserole produced in Xiangyun town. The chef always chooses bowfish, yellow shellfish or squid caught in the Erhai Lake as the main ingredients. A large pad of leaf is always placed in the bottom of the dish. This course is very fresh and delicious.
2. Eight-bowls Course: This is a traditional set menu for the Dali Bai people to treat guests. There are generally eight dishes such as red yeast meat, steamed fish, thousand layers meat, fungus tofu, crispy meat with bamboo shoots, water fans, golden silk beans, and lily meatballs. Plus, a platter and shrimp soup. You can taste sour, sweet, and spicy from these dishes and they are just like what life gives to you.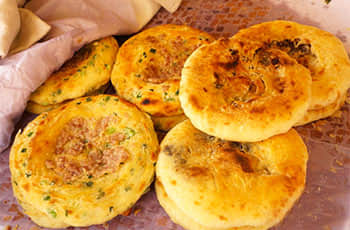 3. Xizhou Baba: This is a traditional Dali Bai pastry, which can be made with salty or sweet flavor. Wheat flour is the main ingredient, then the dough is baked with oil for several minutes until it becomes crispy. It's easy to carry out for travelers, and cheap to buy.
4. Three Courses Tea: This tea is commonly drunk as part of a ceremony involving three servings. The first cup of tea tastes bitter and is called 'Xianglei'; the second is sweeter and is always boiled with walnuts and brown sugar; while the third cup has added seasoning like peppers for a more fragrant, lingering aftertaste. Some people like to drink the third cup with dairy fans. You can taste first bitter, then sweet and finally the unnamed taste. They are just like what life gives to you.
Souvenir and Shopping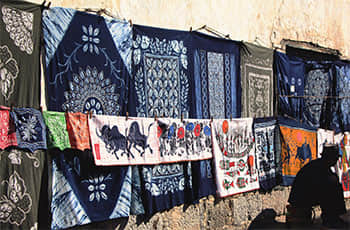 1. Dali Tie-dye: Tie-dye, also known as twisting dye and smashing dye, is a textile art that is loved by Chinese people. The colors of tie-dyed products are gorgeous and unique. They are always in a simple and natural style. Visitors who like tie-dye can go to the ethnic specialty stores. The price depends on the size and quality of the tie-dye, ranging from a few yuan to tens of yuan.
2. Marble products: You can get marble in many parts of the world, but it is said to be the most beautiful and well developed in Dali. In Chinese, marble means the stone of Dali. The Bai artists have made full use of the delicate colors of marble. They have created many delicate stationery items, utensils, pendants, and screens made from marble. They are popular among domestic and foreign tourists. Tourists like to go to the South Gate of the ancient city and the marble products store on Fuxing Road for souvenirs made of marble.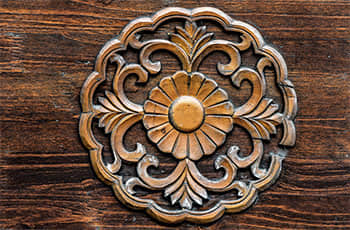 3. Jianchuan Woodcarvings: Jianchuan woodcarvings are produced in Jianchuan County, Dali Prefecture. After absorbing the culture and production techniques of the Han and other ethnic groups, the Bai people gradually formed unique and exquisite wood carving skills. Woodcarvings are mainly used for house decoration. The most favored designs are woodcarvings inlaid marble furniture. It is simple and elegant, rich in national characteristics.
4. Silverware: Miao minority silver ornaments are all handmade by silversmiths. The silverware made by the Miao is always simple and natural, full of nostalgic charm. The excellence of the craftsmanship makes the Miao silver ornaments the perfect souvenirs. Silver ornament design is in a wilder style in the West, and in a soft and delicate style in the East. The silver ornaments are of various patterns and styles, but they are all with the Miao features.