The town is located in the northeast of Dali City, bordering on Erhai in the west, and connecting with the town of Wase in the south. Looking far away from the 19th peak of Cang Mountain, it is the essence of the scenery of Cang Mountain. Jinsuo brocade and the 'Shuang dao Shuang qu' are surrounded by the elegant and rich Bai nationality towns. It constitutes a beautiful natural picture of harmony between humans and nature. It is the most suitable place to live in. There is a saying: 'Dali scenery is in the Cang and Erhai, Cang and Erhai scenery is in Shuanglang '.
Quick Facts
Chinese name: 双廊镇 Shuāng láng zhèn
Suggested time: at least 1 day
Ticket: free
Address: Eryuan Town, Dali City
Open hours: all day
Best time to visit: Spring
How to get there:
1. Take the shuttle bus from Xiaguan Coach Station, North Coach Station or the east road outside Dali Ancient City;
2. hire a private car from Dali Ancient City (40 minutes' drive, 100-150 Yuan per car for one way);
3. Take the ferry from Xiaguan Erhai station to the Nanzhao Fengqing Island (no access to the bank in Shuanglang)
Highlights of the town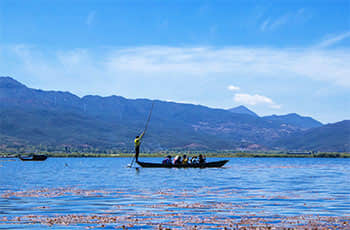 Erhai Cruise
Erhai Cruise
There are many large luxury cruise ships. You may get to see some performances of the Bai ethnic group on the boat, and there will be more passengers as well. Private small cruise ships in the local area are also available. You can experience local fishing in the lake, and enjoy the breeze. It will be a memorable experience.
Tips: there are 3 docks open for tourists.
Cormorant Hunting Show
The Bai fishermen go fishing with cormorants in the lake. In the Xi Village of Xizhou Town, there is an Osprey domestication base. You can watch the Osprey fishing on a wooden boat, and listen to the Bai ladies singing, all while boating in the lake.
Tiny Islands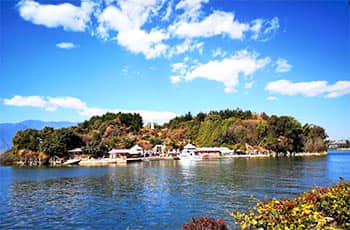 Nanzhao Fengqing Island
There are many small islands in Erhai Lake, which are very intriguing. Among them, Nanzhao Fengqing Island is the most famous one. The natural scenery is very beautiful on it and it is a perfect place to watch the sunset. Yuji Island is a very nice island as well. It is also the best place to watch the scenery of Erhai Lake. There is also Yang Liping's (a Chinese celebrity) private mansion. Don't miss the island tour!
Tips: Nanzhao Fengqing Island is located in the south of Yuji Island. It takes 5 minutes to get to the island from the cruise terminal at the southern end of Shuanglang Town. The Erhai Lake Cruise also stops at this island.
Sunset
Here is the bluest sky, the cleanest lake and the freshest air. The sunset here is also particularly attractive. In the evening, ride to the waterside, find a viewing platform, or simply find a bar to sit in and wait for the gentleness of the sunset.