Top 9 Guangzhou Delicacies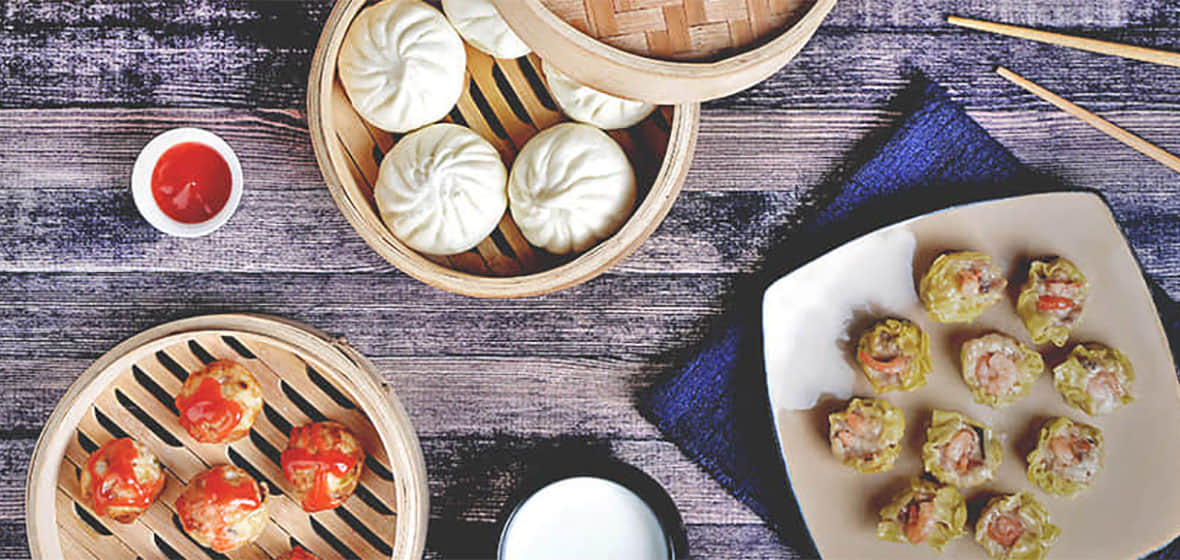 Cantonese people enjoy "walking and eating", so you may find lots of people gathered at food stalls on the streets. In addition to delicacies you can try morning tea, and you can find a great variety of special snacks.
Sweet delicacies:
1. Double skin milk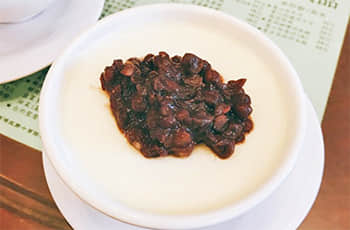 Guangzhou's double-skin milk is a sweet, fragrant pudding, with a smooth lower layer of milk. It tastes a bit like jelly, and it has a long aftertaste. This tasty food is easy to prepare, and as it is favored by many, it is considered one of the "Chinese snacks".
Characteristics: It is smooth and refreshing.
Recommendation: Gugang Grandma's milk with ginger juice (Punanzhi Street shop)
Address: Pazhou Street, Haizhu District, Guangzhou
2. Tangshui (Sugar Water)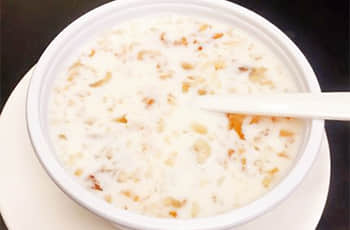 Sugar water is a general term for traditional desserts in Guangzhou. It is also part of the eating habits of Cantonese people. People usually have a bowl of sugar water after a meal or before going to bed. It has nourishing effect. In general, it can be made with or without milk. The former mainly includes double-skin milk, milk with ginger juice and milk paste with egg yolk. The latter includes red bean paste, mung bean paste and sesame paste. Tourists can choose a few to enjoy.
Characteristics: sweet and delicate.
Recommendation:Brother Macau Hot Pot
Address: Shop No. 335, 3/F, Winter Plaza of GT LAND PLAZA, No. 85 Huacheng Avenue, Zhujiang New Town (opposite to the restaurant), Guangzhou
Salty and spicy delicacies
1. Beef Offal in Stock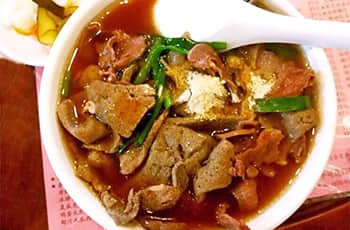 Beef Offal in Stock is one of the traditional Han Chinese snacks in Guangzhou. The ingredients usually include beef hearts, beef livers and beef kidneys. Burn the offal in a pot and put it into a soup. Add Cantonese pickle and the leeks for serving. It is good for your spleen and stomach, and strengthens your body.
Characteristics: the soup is delicious and the haam syun is refreshing.
Recommendation: Mr. Beef's Offal Soup
Address: No. 3, Back Street of Jinhua Temple, at the intersection of Xihua Road and Jinhuazhi Street (near Jinping Building)
2. Laifen Noodles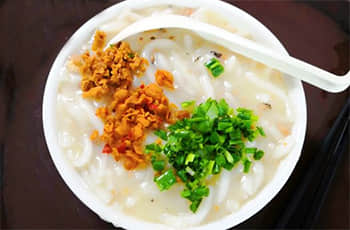 This is a long powder strip made of sticky rice flour and hot water. Thick rice syrup is made with fried lard, shrimp and mushroom. Then it is dressed with Huangtang Toucai (a kind of vegetable growing in Huangtou village in Guangdong), lardstearin, chopped spicy radish and scallions. Stir them to enjoy the dish.
Characteristics: the noodle is smooth and the soup is delicious.
Recommendation: Lao Xiguan Laifen (Wenming Road Shop)
Address: No. 216 Wenming Road (near Zhongshan Library), Yuexiu District, Guangzhou
3. Cantonese rice roll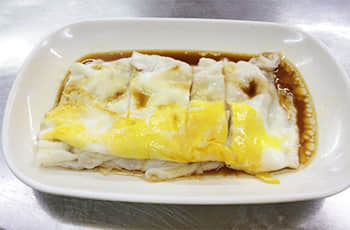 Rice roll is a must-have snack for tea houses in Canton. As white as snow and very thin, it is a little bit chewy and is really an unforgettable experience. It is rich in protein, with trace elements and vitamins. It is typically good for children and adolescents with malnutrition.
Characteristics: it is delicious, and delicately smooth.
Recommendation: Chen Tian Ji (Branch at Lane 3, 15th Road)
Address: The second eatery, Lane 3, 15th Road, Baohua Road, Liwan District, Guangzhou. of Baohua Road (the opposite side of Hong Kong Luk Fook Jewellery)
4. Champion Porridge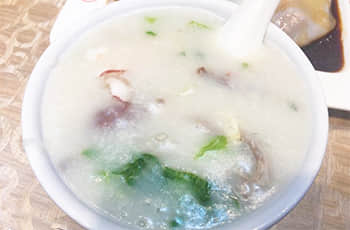 This is one of the renowned Cantonese dishes. The offal therein shares the pronunciation of becoming a champion in Chinese. This is the omen that everyone would like to have. Many Cantonese parents buy the porridge for their kids and hope that they can have good marks at school.
Characteristics: the rice is thick and it has great aftertaste.
Recommendation: Yin Ji Chang Fen (Shangjiu Road).
Address: No. 79 Shangjiu Road (close to Guangfu Road), Liwan District, Guangzhou
5. Radish and beef offal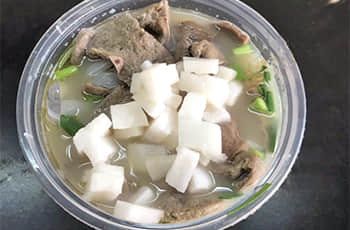 Radish and beef offal is a traditional Cantonese snack. The renowned Xiguan delicacy can date its history to 200 years ago. Ingredients used are quite rich, including beef offal, large intestine, rice roll, cattle lung, tendon, liver, heart, beef meat, kidney, bladder, and tripe. They are made with pepper, anise, fennel and other seasoning. It is very appetizing.
Characteristics: it is crisp and smooth and the soup is delicious.
Recommendation: Grandma Beef Offal
Address: In the Luju Market, Fangcun Avenue, Liwan District, Guangzhou (close to Exit B, Fangcun Station on Guangzhou Metro Line 1)
6. Wonton noodles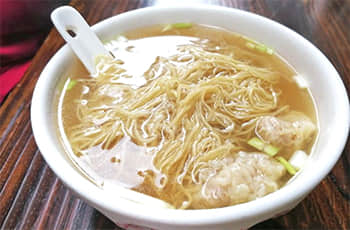 Wonton noodles are one of the specialties in Guangdong and an integral part of Guangdong's food culture. Wonton stuffing includes shrimps and pork. It is very smooth because Zhusheng noodle is usually used as the main ingredient. It is made with duck eggs and flour without water and is pressed with bamboo during the mixing. Please refer to the documentary "A Bit of China" to learn more about this noodle.
Characteristics:
it has the thin skin, tender stuffing and delicious soup.
Recommendation:
Nanxin Milk & Dessert Expert
Address:
No. 47,10th Road, Dishifu Road, Liwan District, Guangzhou (close to Baohua Road)
7. Roast Pork Bun (Cha Siu Bao)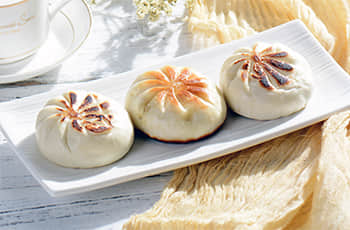 Cha Siu Bao is one of the four most popular foods of Guangzhou-style morning tea. A good pork roast bun should be made with pork and neither too fat nor too lean. The steamed wrap should skin easily while the released stuffing gives off a pleasant aroma.
Characteristics: it has a thin wrap and tastes delicious.
Recommendation: Tao Tao Ju Branch (Dishifu Road)
Address: No. 20, Dishifu Road, Baohua Road, Liwan District, Guangzhou
Have a question?
OR
Are you eager to begin your Chinese cultural journey?
Drop us a line and we will promptly connect you with our leading China expert!