One of the four major ancient towns in Guizhou Province, Qingyan is located in the southern suburb of Guiyang. Its history dates back to 1378 CE and it was once a military fortress. There are many well designed constructions with Ming and Qing styles and they are made by incomparable craftsmanship. Temples, pavilions, carved beams and painted rafters are all part of this great legacy. There were many literati in the ancient town, such as Zhou Yuheng and the Top Civil Servant from Guizhou in the whole of Chinese ancient history. There are historical sites such as the location of the Qingyan Church Incident, Zhao Yijiong's Former Residence, Ping Gang (a founder of the Republic of China), and the site of Long March.
Quick Facts
Chinese name: 青岩古镇 qīng yán gǔ zhèn
Estimated visit duration: 4-5 hours
Ticket: RMB 10 per person / RMB 80 per person (ticket package)
Address: Qingyan Ancient Town, Huaxi District, Guiyang, Guizhou Province
Open hours: 24 hours
The best time to visit: from May to November
How to get there: Take Guiyang-Huishui Bus from Guiyang Coach Hub and get off at Qingyan. Take Bus No. 210 from Huaguoyuan Wetland Park and get off at Qingyan Station.
Highlights of the Town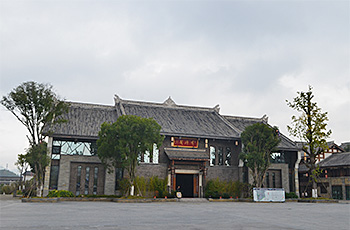 Qingyan Ancient Town has a profound historical background. You can get a bird's eye view of the town when climbing up onto a hillside on the side of town. The town is not all on flat ground, but it was built on a rugged hillside. Looking down through the town, a three-dimensional beauty unfolds, and people are readily impressed with the beauty of its uneven shape. In addition to the numerous temples in Qingyan Ancient Town, one can find a Christian church and a Catholic church. Many religions live together in harmony, adding to the character of the town.
Woodcarving in Elephant Trunk Shape
Woodcarving in elephant trunk shape is very common for local folk houses. Most of the carved trunks are used for supporting architraves and people think that powerful elephant trunks can bear whole house.
Stone Memorial Archway
There used to be eight archways in the town. Now only three remain: Madame Liu at Zhou's Family outside the South Gate, Madame Zhao's Longevity in the South Gate, and Madame Zhao Caizhang the Centenarian outside the North Gate. The structures of these three arches are basically the same. The Qing style archways are all four-column three-stories with the dimensions of 9.5m x 9 m.
Double-eave Roofed/Xuanshan Style Residential House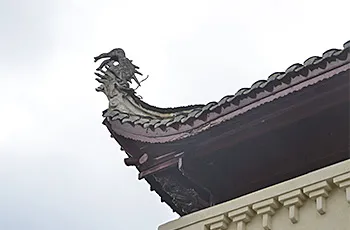 It is both of human touch and commercial convenience. Upon first look, they may appear to be quite the same as any Ming and Qing style structure, but characteristics and regional color are well kept therein. Upon closer examination, the double eaves are the eyebrows and eyelashes, eyelashes for eye protection and eyebrows for decoration. This bionic solution shows wisdom and innovation.
Waist Door (the door between the two halls)
Qingyan dwellings are usually equipped with a waist door , for which both the foyer and the door handle have a delicate mechanism. Many people use a peach, tiger, or ox horn shaped decoration for their foyers for blessing. As for the handles, they can be made into the gourd shape, a pomegranate shape, an auspicious cloud shape or jade ruyi (scepter) shape. The door bolts, or the Knocking Hammer are usually carved with Heaven or Earth of Eight Diagrams, or peony or sunflowers. The lintels have patterns such as peaches, pomegranates, auspicious clouds, jade ruyi, or dragon and phoenix. They are known as the "door dragon".
Window Carving
Carvings of pomegranates, gourds and sunflowers on foyers, door bolts and lintels means "more offspring and blessing". They are all good luck wishes. Jade Ruyi, peony, auspicious clouds, dragons, and phoenix are all mascots in traditional culture, which have long been favored. Qingyan window carvings have Chinese characters such as Fu (blessing), Lu (wealth) and Shou (longevity). Farming, learning, fishing and woodcutting are the usual subjects. Dragons, phoenixes, lions, and elephants are commonly carved animals.
Bei (back) Street
The characteristic stone alley that has lasted over several hundred years has an almost mysterious feel. Here you can sense the time and space from the old era. The street is surrounded by stone walls, and the tranquil, narrow street follows the ups and downs of the hills. It is considered ideal for photography. Lots of attractions can be found along Bei Street.
Zhuangyuan Mansion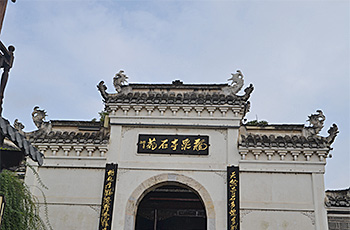 This is the former residence of the first top national civil servant examination winner, Zhao Yijiong. It is located at No. 1 Zhuangyuan Street. It has a junction with North Street. Its southern part is call Xiayuan Street. The road sign makes it easy to find. A couplet on the front gate reads "Qinhe Puzhi, Lunyu Chuanjia", informing about the host's attitude towards life: realizing a tranquil life with musical instruments and cranes as companions, and cultivating offspring with nice classics such as The Analects of Confucius. The mansion with two identical inner yards faces north, and has a gabled roof. It covers an area of 700 m2.
Wanshou (Longevity) Palace
It is located at No. 3 West Street, adjacent to Ciyun Temple. It was built during Emperor Kangxi's reign and was renovated in 1789 during the reign of Emperor Jiaqing. Before being transformed into a Taoist Temple, it was a hall for merchants from the whole country. There is a main hall, wing halls, wing rooms and an opera theater. They face the west and cover a total area of over 1000 m2. Most of them were destroyed during the "Cultural Revolution" (1966-1976). What can be seen were mostly reconstructed later. The most attractive structure is the theater building, for its exquisite wood carvings. On the wooden lintel of the right part of the theater, there are a group of high relief figures, telling the historic stories of Hongmen Banquet, Ambush and Embattled, etc. between the Qin and Han Dynasties.