Guiyang, the capital of Guizhou Province, is also known as 'Zhu' (bamboo that can be made into a musical instrument) and JinZhu. It enjoys the alias of 'Forest City'. As the city is located south of Gui Mountain, it is called Guiyang (the Yang of a mountain means the south side of the mountain in terms of Fengshui). It is actually the center of administration, economy, culture, and scientific research for Guizhou, and also serves as the telecommunication center, industrial base, and trade and tourism service center. As a critical city in southwestern China, it also provides ecotourism, and it is one of the railway hubs.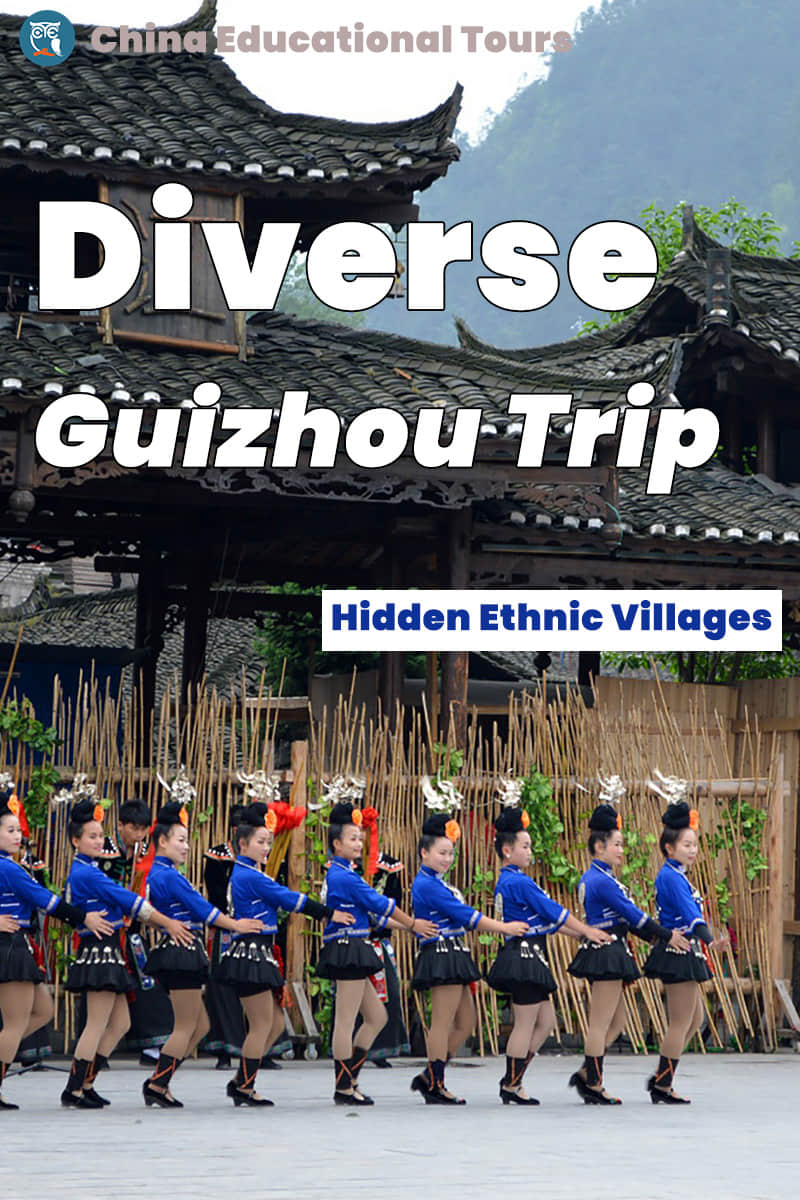 Guiyang boasts a national big data development and exchange cluster, calling center, service outsourcing cluster and data centers. It is the first National Forest City, a pilot city for circular economy based on the national policy, a paradise for escaping the summer heat, and is actually the top city on Top Ten Tourist Cities in China.
Basic Facts
English Name: Guiyang
Chinese Name: 贵阳 GuìYáng
Government: Prefecture-level city, provincial capital
Location: Southwest China (106°42'E26°35'N)
Area code & Zip Code:
Area Code:0851;Zip Code: 550000
Airports:Guiyang Longdongbao International Airport
Railway Stations: Guiyang Station, Guiyang North Station, Guiyang East Station
Suburban Districts: Huaxi District, Baiyun District, Wudang District, Longli District
Population: About 4.86 million
Best time to visit
The best time to visit Guiyang can be between March and October. The climate is good for appreciating the natural scenery and participating in celebration of numerous ethnical minorities' festivals, or the rich people friendly landscape.
What to see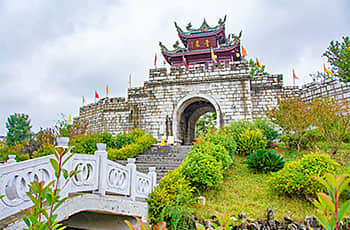 Qingyan Ancient Town
Qingyan (Black Rock) Ancient Town: The town lies in the southern suburb of Guiyang, and is 29km from the urban city. This town can date its history back to 1378 CE, and is one of the most renowned ancient towns in Guizhou Province. It covers an area of 3 km and adheres to the style that was popular in the Ming and Qing Dynasties. There are 9 monasteries, 8 temples, 5 pavilions, 3 caves, 2 clan temples and 1 yard. The culturally related temples add up to well over 30.
Wenchang Pavilion: the pavilion is located in the eastern part of Guiyang city. The town was built in 1596 CE. The construction faces west and its height is 20 meters. The generally gray building has the style that was popular in the Ming Dynasty. There are three roofs for each floor, and there are a total of three floors.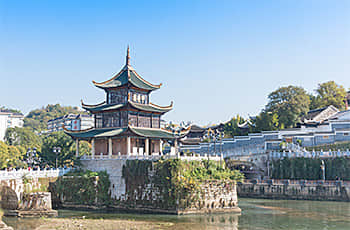 Jiaxiu Building
Jiaxiu Building: Jiaxiu Building scenic area is on the riverbank of Nanming River in Guizhou. It covers an area of 4000 m2. It includes Jiaxiu Building, Fuyu Bridge and Cuiwei Garden. The three-roofed three-storied structure has four dragon heads set on the four corners of the third floor, while the decoration for the second and the ground floors are 'The Boy', and 'The Avalokitesvara', and four dragon tails. It was built in 1598 CE when the Guizhou Governor Jiang Dongzhi and Governor Supervisor Ying Chaoqing decided to a set stone dyke here to fend off floods. Jiaxiu means "First Scholar ". A huge turtle-like rock is the base of the building.
Qianling Park: this is a general park for tourism. The park is located in the northwest of Guiyang, and in it you can find Qianling Mountain, which is the most renowned mountain in southern Guizhou Province. This city park covers an area of 426 ha. and is 1.5km from the center of the city.
Natural Landscape
Tianhe Pool
Nanjiang Grand Canyon
Red Maple Lake
Huaxi National Wetland Park
Shilihe Beach Land Scenic Area
Guiyang Forest Park
Gaopo Miao/Hmu People Town
Historical attractions
| | | |
| --- | --- | --- |
| Jiaxiu Building | History Memorial Hall of Xifeng Concentration Camp | Time Guizhou Town |
| Zhucheng Square | Zhuangyuan Mansion | Cuiwei Garden |
How to get there
Guiyang Longdongbao International Airport connects many metropolitan areas in the country. You can jump onto a plane and land at Guiyang Longdongbao International Airport. Alternatively, travelers can take a train with the destination of either Guiyang Railway Station, North Guiyang Station,orEast Guiyang Station.
| Cities | Distance to Guiyang (km) | By Air to Guiyang | By High-Speed Railway to Guiyang |
| --- | --- | --- | --- |
| Beijing | 2349 | 3hrs 15m | 9hrs |
| Xi'an | 1234 | 2hrs | 8hrs |
| Shanghai | 1897 | 3hrs | 9hrs |
| Chengdu | 993 | 1.5hrs | 4hrs |
| Guangzhou | 1552 | 1hrs 50m | 4.5hrs |
| Kunming | 638 | 1hrs 15m | 2.5hrs |
| Guilin | 382 | No direct flight | 2hrs |
Gourmet Food Recommendations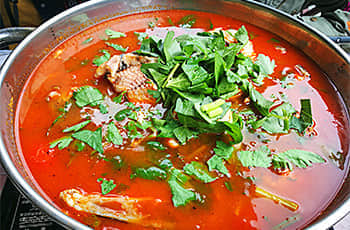 Sour Fish Soup
Spicy Chicken: Spicy Chicken is a Guizhou specialty. First, dice the chicken and marinate the pieces with spices for a while. Stir-fry them in boiling oil quickly and remove them from the frying pot. Put pounded red chili in the frying pan. Drop the chicken back when the red chili is done. The dish can be cooked in a homely way or made into a hot pot. As fried Pepper Chicken can be preserved for a long time, many houses choose to prepare it and enjoy it over a couple of days.
Sour Fish Soup: this is a traditional dish of the Miao nationality. It is often served in a hot pot. In the special sour soup there are tomatoes, garlic, the Chinese wonder herb 'litsea', and fermented chili. The bright color is really tempting. Each restaurant makes sour fish soups with their own twist. Sour soup can also be sold separately for home cooking.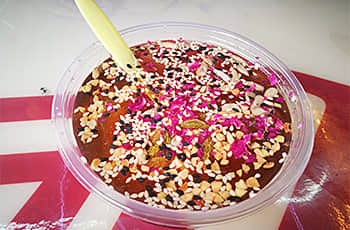 Rose Icy Jelly
Rose Icy Jelly: this is popular in summer in Guiyang. What makes it different from the icy jelly sold in other parts of the country is the rose petal jam in addition to brown sugar water. A handful of sesame is the final dressing. It is sweet and refreshing. Remember to buy some when you are in Guiyang.
Chang Wang (intestines & blood curd) Noodles: this renowned dish is made from large intestine, pig's blood, and egg noodles, as well as a dressing made from marbled pork, bean sprouts, and marinated tofu. Chicken stock and special chili oil also add to the rich flavor.
Huaxi Beef Rice Noodle: Guizhou produces premium yellow cattle, and the beef rice noodle is common in southern China. But Huaxi Beef Rice Noodle is always a unique combination. Huaxi Beef Rice Noodle is made with premium beef and boiled beef bone stock. Sliced marinated beef, braised cubed beef, fermented cabbage, baked chili and rice noodle are all in the soup with nice color and flavor. Usually you will finish the dish by drinking all the soup.
Shopping Recommendations
Tea in Guizhou: Maojian from Duyun, Maofeng from Zunyi, and Yangai are some of the top varieties of tea. The suburb of Guizhou is one of the major places of origin for these teas. Zhaosi Tea shows a uniform shape and a yellowish green color with a refreshing fragrance.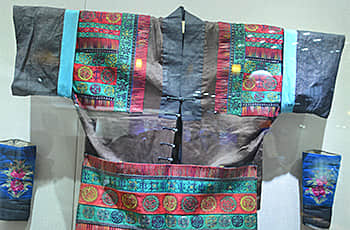 Wax Print Fabric
Qingyan Rose-scented Sugar: The stripe shaped sugar is made from rose petals, brown sugar, glutinous rice, wheat, sesame and walnuts. It is crispy to chew and is very fragrant. The flavor is long lasting and it is inexpensive.
Wax print fabric: this is the hometown for the wax print fabric. Traditional wax printing techniques are combined with modern painting methods to bring forth nationality styled wax printing decoration and artware.
Yuping Bamboo Xiao & Di: The musical instrument is smooth and elegant. The delicate piece is a premium one among the Chinese folk musical instrument category. The Dragon-Phoenix Xiao & Di are the most popular ones. They are a pair. The dragon one has a lower sound and the phoenix gives a relatively higher pitch. The male one produces a louder sound and the female one produces a full sound. They sound like a wonderful combination tone.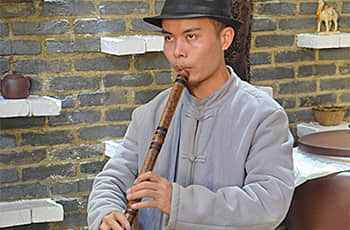 Bamboo Xiao
Huaxi Chili Sauce: The chili peppers grow at the foot of mountains in Huaxi District, Guiyang. Brooks meander through the place. It has a blazing dark red color. Its fragrance is attractive after proper baking. There are numerous chili products in Guizhou, such as fermented chili, baked chili, pounded chili, oily chili, etc. Laoganma that is sold on amazon.com is one of the oily chilies. They are probably good choices for home cooking.
Strange stones: many strange stones born out of special geomorphology accord with aesthetic ideas of the Chinese. There are Guizhou Green Stones, Panjiang Stones, Wujiang Stones, Jiangshuihe Stones, Chinese Painting Stones, and Keichousaurus Fossils.
Recommended Tour (4 Days)
Day 1, Your private guide is ready to pick you up at the airport, in a comfortable A/C vehicle, and you will be transferred to the hotel for a good rest.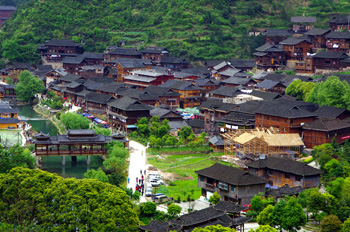 Day 2, Start the day with a big buffet breakfast, drive to Kaili city in 3 hours. Kaili is home to many ethnic groups and the biggest Miao Village. Also the widest and longest Wind & Rain Bridge in the world is located in Kaili. Qingman Miao Village is the first stop, so be ready to be surrounded by Miao people in colorful Miao costumes. After lunch, drive half an hour to Shiqiao Village and learn how local people made paper in the ancient way. Proceed to the route to get to Matanggejia Village, whose residents are the ancestors of Houyi, a mythological Chinese archer. A fulfilling day comes to an end and you can have a good night's sleep.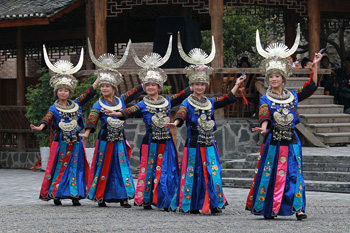 Day 3, Another full day awaits you, so make sure you have enough for breakfast. Drive 30 minutes to Jidao Miao Village, admire the hundred-year-old barn. Lunch will be served in the village, then take another 30 minute ride to Shuidian Miao Village, the starting point of your 40 minutes of hiking towards Paika Miao Village. On route you will pass by numerous Miao buildings and Miao people working in the fields. Say Hi to them and they will say it back to you. Paika Miao people are the only ones to make Lusheng, a reed-pipe wind instrument, in the Leishan area. You will visit a workshop and see how Lusheng are being made. Before going back to Guiyang, stop over at Datang Miao Village to stroll in the ancient village and find the barn above water. Head back to Guiyang hotel, and take a nap on the 4-hour ride.
Day 4, With all the ethnic group knowledge in mind, wave goodbye to Guiyang. Your tour guide will make sure you get to the airport on time to fly to your next destination.

Recommended Hotels in Guizhou
Category
Hotel Name
Hotel Class
Why Recommend
Ranking on Trip Advisor
International Chain
Renaissance Guiyang Hotel
5-star

Rooms are spacious with about 450 sq ft and of modern design
Internet is free and worked flawlessly
Breakfast buffet is richly garnished with Western and Asian food

4
Kempinski Hotel Guiyang
5-star

Walking distance allot of shops and restaurants, bars and clubs
Buffet breakfast is extensive and with a good selection
Tallest building in the city and expect great views from rooms

2
Sheraton Guiyang Hotel
5-star

Located right in the very heart of Guiyang city
Hotel facilities are top notch with well-equipped GYM, health center and nice pool
Staff are courteous & attentive to customers' request

5
Best Value
Pullman Hotel
5-star

Close to train station and airport, also near the shopping centre and snack streets
Rooms are spacious and comfortable, bathrooms are quite large and even have a bathtub
An excellent hotel for a very reasonable price

3
Hotel Novotel Guiyang Downtown
4-star

Right in the middle of Guiyang's buzz, with shops and eateries all around
Friendly and helpful staff speak good English
Clean, comfortable, well-appointed, and has most of the typical amenities found in up-scale urban hotels

8
Shaoxing Hotel
3-star

Good location in the downtown area
Good, spacious and modern rooms
Rooms are very quiet if you ask for one on the backside of the building

123
Boutique
Shangshe Boutique Hotel Guizhou Mudanting
4-star

Beautiful traditional Chinese decorations using lanterns and wood furniture
Hotel staff are nice and kind, ready to help in all ways
Prepare small little gifts on special holidays

11
Recommended Hotels in Kaili
Category
Hotel Name
Hotel Class
Why Recommend
Ranking on Trip Advisor
Best Value
Grand Metropark Heaven-sent Resort
5-star

Rooms are clean and spacious
Great value for money
Newly opened in 2014

N/A
Grand Dragon Hotel (Teng Long Kai Yue)
4-star

Located in a central location and a couple of minutes from the square where you are provided with free entertainment every night and morning
Staff were all extremely polite and friendly and always spoke to you in the lifts and public places
Two cartons of fresh milk delivered to the room in a small basket together with a small card on which is the next day's weather forecast

31
Zongheng Hotel
4-star

Rooms are enormous with an excellent shower, beds are large and comfortable
New hotel very centrally located with many facilities close to hand
5 minutes walking to the Minorities Prefecture museum

1
Jintaiyuan Hotel
3-star

Stable WIFI in rooms
Good and clean rooms
Restaurants are within walking distance

N/A