Old Tunxi Street is right in the middle of downtown Tunxi District, Huangshan City, Anhui Province. It has mountains on its north and water on its south. The best part of this 1272 meter long street is the 5-8 meter wide and 853 meter long section. The buildings in the Anhui architectural styles of the Ming and Qing Dynasties have been established along 1 vertical lane, 3 horizontal lanes as well as 18 branches therein. The fish bone structure is narrow in its western part and wider in its eastern part. The Old Street is where the confluence of Hengjiang River, Shuaishui River and Xin Anjiang River happens. It is like a live Riverside Scene in a Qingming Festival painting. The best preserved ancient street that features the Southern Song, Ming and Qing Dynasties is listed as a national level protection relic. In 2009, Old Tunxi Street, the Imperial Academy (Guozijain) in Bejing and Pingjiang Road in Suzhou were elected as "National Historical and Cultural Streets".
Quick Facts
Chinese name: 屯溪老街 Tún xī lǎo jiē
Renovated in: 1985
Estimated visit duration: 3-4 hours
Tickets: free
Address: Downtown of Tunxi District, Huangshan City, Anhui Province, China Open hours: Monday to Friday.
The best time to visit: all year around
How to get there:
a. Take a taxi after getting out from the railway station. The price should be RMB 8. Or take the bus No. 21 and get off at Yuzhong Huayuan (Garden) Stop. Or take the bus No. 12 and get off at Ermalu (literally 'the second road'). The Old Street is within walking distance.
b. Take the bus No.3 or No. 8 in Tunxi District and get off at Yuzhong Huayuan Stop. The Old Street is within walking distance. Cross the Pedestrian crossing at Yuzhong Huayuan Stop and reach the Trade Town of Old Tunxi Street. Walk on until you see the memorial archway of the Street.
Highlights Of Tunxi Old Street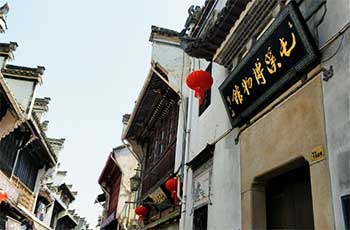 Tunxi Museum
Tunxi Museum
Tunxi Museum is at No. 168 of the Street. It covers an area of 700 sq meters. Collections include items such as furniture of the Ming and Qing Dynasties, porcelain, jade ware, bronze ware, calligraphy materials and Hui Style brick engraving (for architectural outer wall decoration). It is a comprehensive local museum. Top collections include Inkstone from She (pronunciation as in Sherley) County (where top inkstones are produced in China) and Fahua glazed ceramic pillows.
Post Office In Old Street
The antique building is in the center of Old Street, where scenic postcards with stamps can be found. Visitors can also send souvenirs to friends using the service.
Wancui House
Wancui House
The house is a very rare private ancient architecture museum, where Hui Style dwellings, gardens, houses and shops can be found. Massive antique collections as well as 500 current celebrities' calligraphy and paintings and 900 pieces of inkstones are a record of cultural history. Tips: RMB 50 for each visitor.
Confucianist Scholar Dai Zhen Museum
This museum is a two-story building from the Qing Dynasty, covering an area of 420 m2. Manuscripts, imperial decrees from Emperor Qianlong, Shiku Quanshu (the Complete Library in Four Sections) as co-compiled by Dai Zhen, works by Dai Zhen and tens of thousands of ancient codes and records collected are presented. Elegant and simple Qing Dynasty furniture is showcased in the museum. Paintings showing Da Zhen's life provide a general idea of his scholarly career that sought after the truth.