Welcome to Huangshan
Huangshan city, known as the cradle of Hui culture and Hui merchants, is located in Anhui province. The city got its name from Mount Huangshan, the most spectacular mountain under heaven. Apart from the natural wonders of Mount Huangshan and Mount Qiyun, distinctive Hui style villages are also must-see highlights to attract tourists from home and abroad.
Huangshan Facts
English Name:

Huangshan

Chinese name: 黄山Huángshān
Location: Southeast China
Population (city):about 1.4 million
Language: Mandarin
Zip code: 245000
Tel code: +86 (0559)
Time zone: China standard (UTC+8)
International Airports: Huangshan Tunxi International Airport (TXN)
Railway Stations: Huangshanbei Railway Station, Huangshan Station
Best Time to go Huangshan City
Huangshan city is good for sightseeing all year round. For tourists whose main focus is on Mount Huangshan, warmer weather during mid-March to mid-November makes a comfortable tour. However the little crowd, fantastic views of cloud seas and rimes in winters are bonuses as well.


Data Period
Jan
Feb
Mar
Apr
May
Jun
Jul
Aug
Sep
Oct
Nov
Dec
Mean Maximum
°C
7
8.4
14
20
25
29
32
32
27
22
16
9.7
Temperature
ºF
45
47
56
68
78
84
90
90
81
72
61
49.46
Mean Minimum
°C
-2
0
4.4
10
16
20
25
24
19
13
6.1
-0.1
Temperature
ºF
29
32
40
51
60
69
76
76
66
55
43
31.82
Rainfall Amount
mm
29
48
69
87
96
159
188
124
95
60
56
25
Days with Rain
days
7
9
11
12
10
11
13
11
10
8
8
6
* denotes number of days with at least 1.0 mm of rainfall
Top 5 Things to do in Huangshan City
1. Explore the Splendor of the Yellow Mountains
Mount Huangshan is renowned for its jagged peaks, ancient pine trees, breathtaking 'cloud sea', and splendid sunrise and sunset. Climbing Yellow Mountain might test your stamina, but the stunning scenery will be your reward. Visitors can ride the cable car up and down Yellow Mountain, embrace the bird sounds in the forest, inhale the fresh air and all beauties of nature. Changeable weather makes the mountain like a fairyland in the clouds.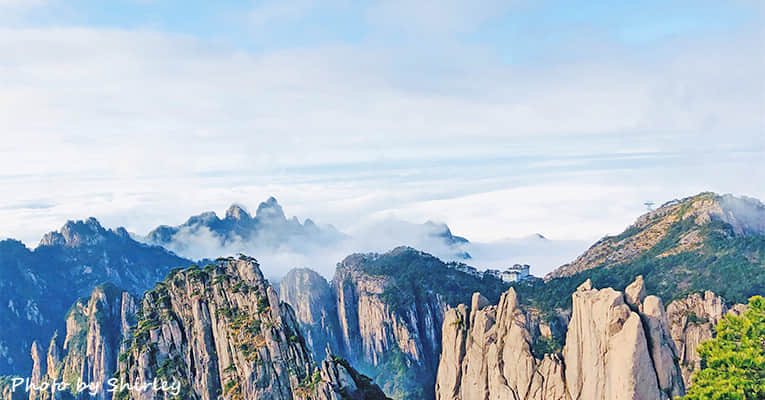 Notes for tourists sightseeing the Yellow Mountains
Overnight stay on the Mountain is necessary if there is a need to see both sunset and sunrise. Even so, with the changeable weather in mountains we can't promise it.
Pack light for the overnight on the Mountain, suitcases can be kept at hotels in Huangshan city for free.
Raincoats rather than umbrellas should be prepared for spring tours, just in case.
Temperatures can be dramatically different on the mountains during daytime and nighttime (that's why cloud seas are formed!); hotels offer down coats for free in each room, but bringing your own sweaters or wind-proof coats is recommended.
Cable cars are available, but still you need to walk on stairs to reach each and every highlight on the Mountain. Expect one to two hours of walking, so make sure you wear comfortable sneakers for the tour.
2. Wander along the Tunxi Ancient Street
Strolling along the alley of Tunxi Old Street, you can visit a vast selection of shops, as well as restaurants serving local food, such as Huangshan Pancake, Huimo Crisp, and dried bean curd. Most of the buildings in this street are old Anhui-style architecture, with gray tiles, white walls, and house-head double eaves on the roofs. It is also a perfect place for souvenir shopping, such as paint-brushes, inks, ink-stone, and other Chinese handcrafts.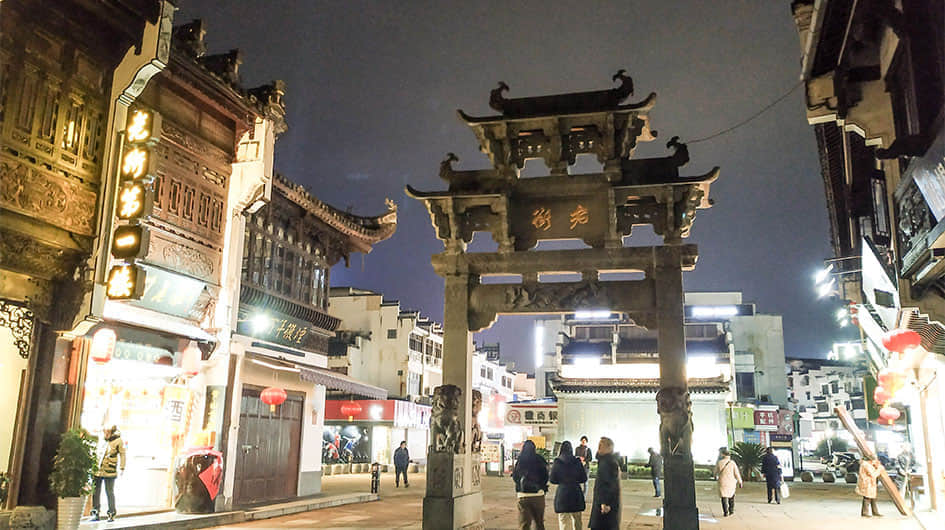 Take a walk to Tunxi Ancient Street
3. Visit Chinese Ink-painting Villages
In Xidi Village, Hongcun Village, and Chengkan Village, you can explore the ancient culture and arts, which is like going to a large open-air museum to see traditional architecture. Tranquil water in the village offers a mirrored reflection of the surrounding scenery, ancient houses, stone bridges, and, in the background, a line of rugged blue, misty mountains. No wonder it is called a living Chinese painting!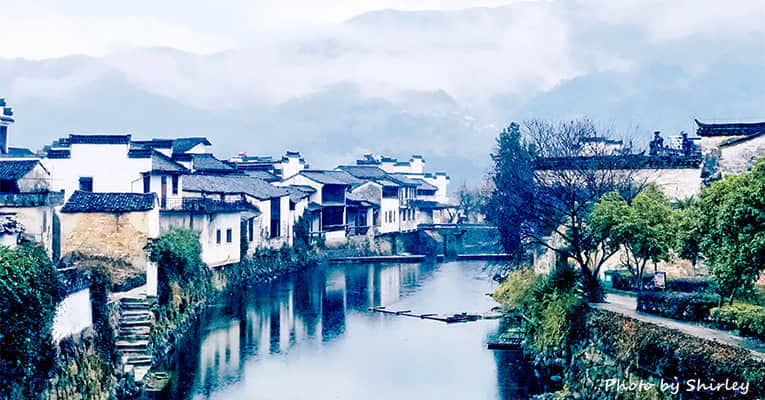 Chengkan Village
4. Doing farm work and tasting Huangshan Cuisine
When you visit a rustic village in Huangshan, you will see why it is honored as the open-air museum of Chinese Ancient Ancestral Halls. As well as visiting the antique buildings, you can call on a local family to help them to do some farm work, and harvest vegetables in a private field for cooking meals.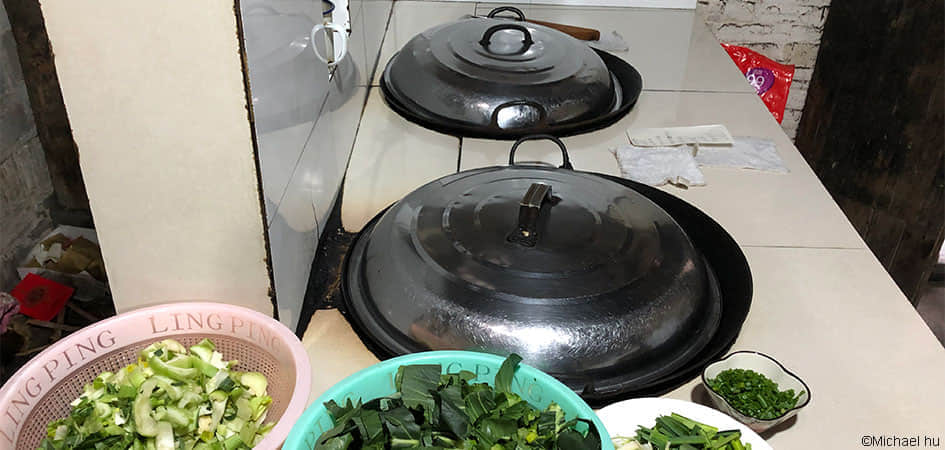 Farm work & cooking meals
5. Drinking Huangshan Maofeng Tea
Huangshan Maofeng Tea is a famous green tea which has been grown in the Mt. Huangshan region for more than 300 years. The best teas are picked in the early spring. Only the new tea buds and the leaf next to the bud are picked. After making and brewing, it will send out a fresh fragrance like an orchid. Taste Maofeng tea to experience the tranquility of brewing tea, the relaxation and refreshment.
What to see in Huangshan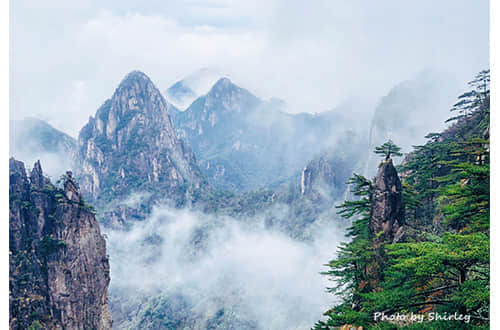 The general name for a mountain range of 72 named peaks, with Lotus Peak at an elevation of 1864 meters being the highest peak. Mount Huangshan is famous for its odd-shaped pines and granite rocks, cloud seas and snow views. It was listed by UNESCO as a World Heritage site in 1990, and it is the ultimate destination for poets, painters and photographers.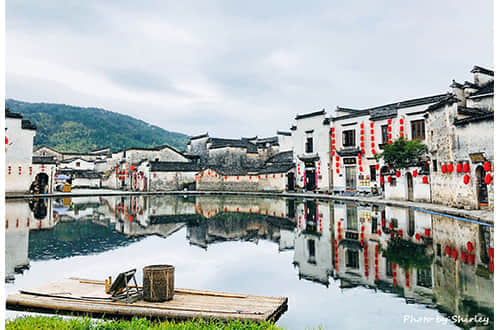 Located at the foot of Mount Huangshan, Hongcun Village is a distinctive ancient village where a large amount of Qing and Ming style buildings could be found. It was listed as a World Heritage Site along with other similar villages in the area in 2000. One of the distinctions of Hongcun Village is its water supply system; another is its layout in the shape of an ox. Scenes from the film Crouching Tiger, Hidden Dragon were captured in Hongcun Village.
Our Huangshan Trips
Huangshan Transportation
Taxi
Taxis are affordable and safe in Huangshan. The base rate is about 7 RMB for the first 2.5km, and then 2RMB for every extra kilometer. A night surcharge is effective from 22:00 to 06:00. All taxis have clearly displayed meters.
A great way to hail taxis nowadays is through a taxi-hailing app. The most popular, and arguably the best one, is the Apple backed app "Didi Chuxing", simply called "Didi".
Bus
Buses in Huangshan charge only 1-2 RMB. Usually, buses with air-conditioning charge 2RMB per person. All buses require a self-service ticket, and operation time is often from 06:10 to 21:30.
Transportation to Nearby Scenic Areas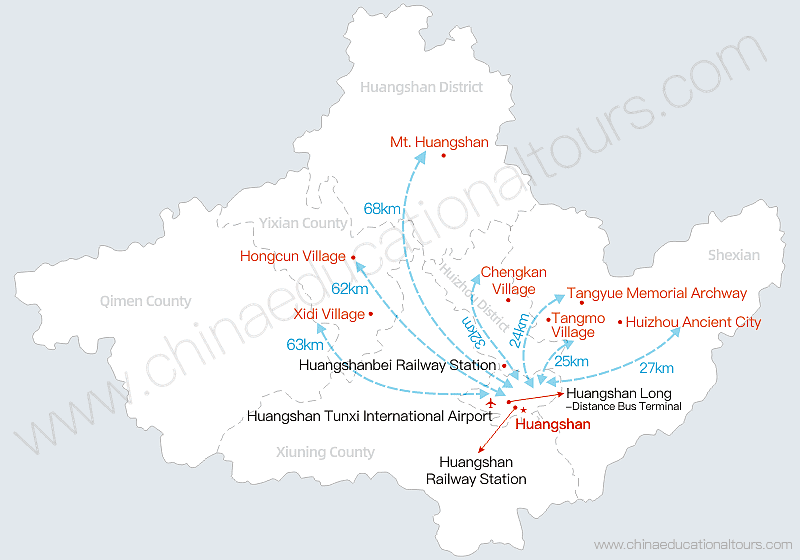 Huangshan Long-Distance Bus Terminal
Location: No. 31, Qiyun Road, Tunxi District. Bus 1, 8, 21, and 202 and get off at Qiche Station on arrival. In the bus terminal, there are buses Lv 1(旅1)from Tunxi District to Hongcun Village, en route to Xidi Village, or from 08:00 to 16:00, leaving at 1-hour intervals, it costs 15-20RMB. Bus Lv 2 (旅2) is from Tunxi to Yuliangba, en route to Tangmo Village, Tangyue Memorial Archway and Huizhou Ancient City, starting from 08:00 to 16:00, leaving at 2-hour intervals, 12:00 excepted. Bus Lv 3 (旅3) to Chengkan Village leaves at 1-hour intervals, except for 12:00.
The Bus to Mt. Huangshan starts from 06:30 to 17:30, leaving at 20min intervals.
How Far is Huangshan from Major Cities
| Cities | Distance to Huangshan (km) | By Air to Huangshan | By High-Speed Railway to Huangshan |
| --- | --- | --- | --- |
| Beijing | about 1370 | 2hrs | 5.5-6.5hrs |
| Xi'an | about 1238 | 2hrs | 7.5-8hrs |
| Shanghai | about 405 | No direct flight | 2.5-3.5hrs |
| Hangzhou | about 220 | No direct flight | 1.5-2hrs |
| Chengdu | about 1650 | 2.5hrs | 10hrs50min |
| Guangzhou | about 1108 | 2hrs | 7hrs |
| Guilin | about 1246 | 1hr45min | No direct train |
What to Eat in Huangshan
Soy Braised Mandarin Fish (Chou Guiyu)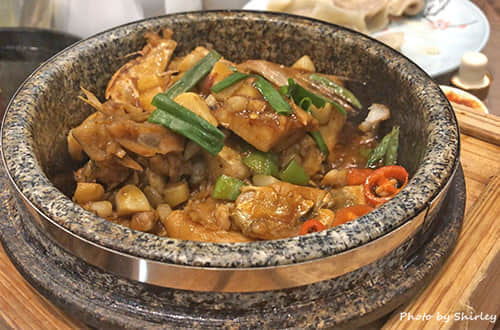 Soy Braised Mandarin Fish, one of the signature dishes of Anhui Cuisine, has more than 200 years' history. After being fermented, Mandarin Fish can keep its original fresh and tender flavor. With more than 20 ingredients preserved in this cuisine, the fermented Mandarin Fish dish is a flavor bomb, but not particularly smelly at all.
Hairy Tofu (Mao Tofu)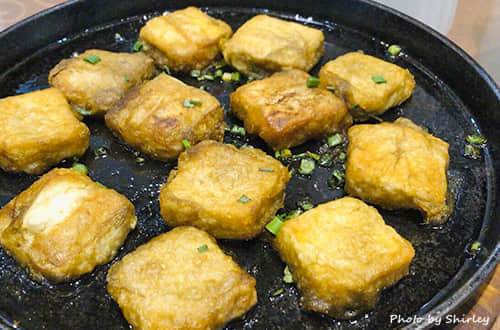 The material of fermented Tofu looks like something hairy and gray, and actually the "hair" is hyphae, or filaments of fungus. After months undergoing a complex process, the tofu develops a dense and creamy texture. Local people usually fry both sides of it until the color becomes golden yellow, and then it is cooked with a special soybean sauce. Eaten with chili paste, it tastes like a salty and a heavy blue cheese, and the favor will be a unique challenge to your taste buds.
Yipin Pot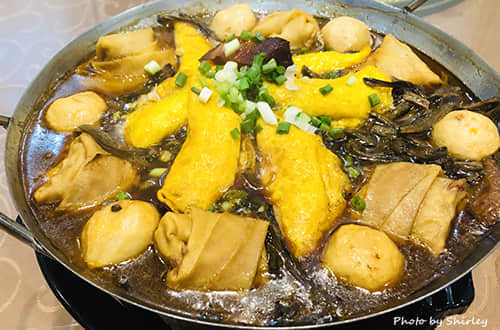 Yipin Pot is a typical hotpot of Anhui Cuisine. Unlike the Sichuan-style hotpot, it is delicately cooked. Dried bamboo shoots and winter melon are put on the bottom of the pot, fresh meat is put onto the second layer, fried bean curd and tofu products on the third, meatballs and egg dumplings on the fourth and then mushrooms are dotted on the top center. Then all these things are simmered in water and dressed with seasoning. This dish is famous for its country flavor and the various food being placed exquisitely in that order.
Huimo Crisp
Huimo Crisp is an authentic snack in Huangshan, and looks like Huizhou ink. Its main ingredient is black sesame. The sweet flavor and rich aroma of sesame as a traditional dessert are popular with local people.
Top Items to take back Home
Hui Ink Sticks
Hui Ink Sticks are one of the "Four Treasures of a Scholar" which are, namely, brush pen, ink-stick, paper, and ink-stone. Calligraphy written with Hui Ink can be preserved for decades of time without fading out. With fine qualities and exquisite decorated painting, the Hui ink-sticks have an aesthetic beauty and collectible value.
HuiZhou style incense pendant with Chinese Herbs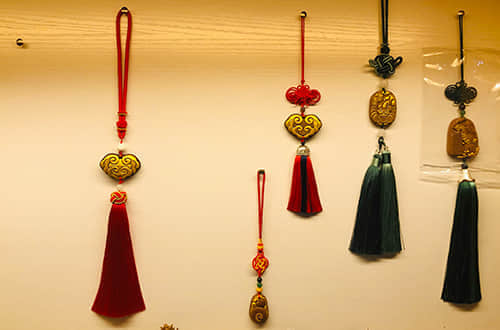 An incense pendant is one of the traditional Chinese incense forms. Wearing it often is not only very helpful in terms of sleep and immune system improvement, but it is also a nice ornament. It is a wonderful souvenir of your Huangshan trip. You also can experience how to make it by yourself. That will be your unforgettable memory during your Huangshan trip.
Huangshan Pancake
Huangshan Pancakes are a traditional cuisine in Anhui Province. Its multi-layer and crispy feeling crust with white sesame, and stuffing made of fat meat and dried vegetables. The taste is fragrant, crisp and a little savory. This dessert can be preserved for a long time because of the making process.
Huangshan Maofeng Tea
Huangshan Maofeng Tea is a supreme green tea produced in the south-eastern part of Anhui Province of China. The tea is grown at the foot of Mt. Huangshan, famous for picking tea leaves, delicate drying and purely manual making. Drinking the tea will be good for your health.
Recommended Hotels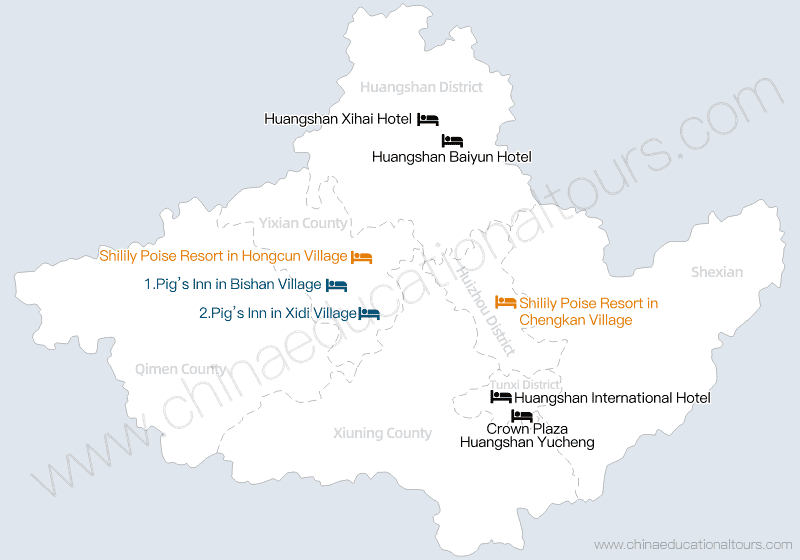 The location of the top hotels in Huangshan
Category
Hotel Name
Hotel Class
Why Recommend
Ranking on Trip Advisor
Hotels on Mount Huangshan
Xihai Hotel
5-star

Clean room with a great view
Close to cable car
Best place to catch sunrise or even sunset

4
Beihai Hotel
4-star

Good heating in room
Plenty of options for breakfast
Fast check-in and check-out

41
Paiyunlou Hotel
3-star

Very near to Yungu Cable Car
Clean rooms and nice food
Helpful and friendly Staff

38
International Chain
Crowne Plaza Huangshan Yucheng
5-star

Conveniently located in Huanshan with connection to the airport
Good sized rooms, gym and pool are available
Free wifi in non-smoking rooms

1
Best Value
Huangshan International Hotel
4-star

Spacious, clean and comfortable rooms
15 min lazy walk beside the river bank to Tunxi Old street
Very good value for money

17
Huangshan Parrion Hotel
4-star

Spacious rooms and with full facilities
Great views of the river and Tunxi skyline
Friendly and helpful staff

9
Xin an Country Villa Hotel
3-star

Large rooms
Nice restaurant nearby
Excellent service

69
Boutique
Pig's Inn
4-star

Ancient house sitting in the fields of vegetables and rice paddies
Wonderful meals with fresh organic vegetables picked by local farmers
Two showers- one inside the other outside open-air in a small cobbled private courtyard

5
Huangshan International Hotel – Elegant Deluxe
This hotel has nice lobby and helpful reception staff. With its great location, this hotel is not too far from Tunxi Old Street and a short distance from the bus station. It has large and comfortable rooms with adequate facilities, and free Wi-Fi is offered to guests, along with a 24 hour front desk, room service and baggage storage.
Address: No. 31 Huashan Road, Tunxi District, Tunxi District, Huangshan
Crown Plaza Huangshan Yucheng
Crowne Plaza Huangshan Yucheng is a 15-minute drive from Huangshan Tunxi International Airport and 2km from Huangshan Train Station. An indoor pool, a well-equipped fitness center, and pampering spa treatments are available. Cozy and spacious rooms with soft carpeted floors and en-suite bathrooms equipped with a bathtub and shower are offered.
Address: No.1 Huizhou Avenue, Tunxi District, Huangshan
Huangshan Xihai Hotel
The hotel is located on Huangshan Mountain, and visitors need to ride the cable car and hike for about 1.5hr to get there. It is a very convenient location to admire the sunrise over Danxia Peak. Even on the mountain, Xihai Hotel offers well-equipped facilities and comfortable accommodation. There is a small shop in the lobby to buy water and snacks. Visitors can enjoy the buffet in the hotel. They also offer heavy coats in the room in case of a sudden change of weather. The foot massage service in the hotel is available for an extra fee.
Address: Xihai Parkland, Tangkou Zhen, Huangshan
Huangshan Baiyun Hotel – Perfect location Comfortable
The Baiyun Hotel is located in the Tianhai Scenic Area of Huangshan, where it is convenient to ride the Xihai ground rail cable car, and only 500m to the peak of "Bright Top" to admire the sunrise or sunset. The hotel's Three-star Main building and Four-star new buildings offer various choices of rooms including 8-bed dorm rooms. Besides the dorm rooms, other rooms all provide free Chinese and western breakfasts.
Address: Tianhai Scenic Area, Huangshan
Tips:
1. Most hotel restaurants on Mt. Huangshan offer buffets such as breakfast and lunch 80-90RMB, dinner 140-160RMB, and set meals for about 70RMB.
2. The price on the Mountain is generally more expensive than the average, because all of the goods from rice to water and building materials for the hotels are carried by porters.
3. During winter time, some scenic spots on the mountain are closed, including Xihai Grand Canyon, Lotus Peak, Celestial Capital Peak, Lion Peak, and Purple Clouds Peak.
4. In winter, when it is snowy and icy, the stone steps on the mountain will be very slippery, antiskid hiking shoes or nonslip overshoes should be prepared.
Shilily Poise Resort – Fashionable Deluxe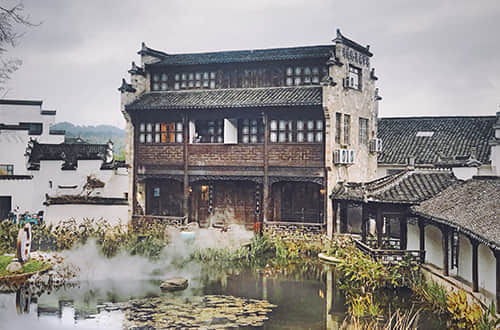 Shilily boasts a good location to access attractions and take advantage of the surrounding environment. With ancient Huizhou-style architecture outside but bright colors and modern decoration of the rooms, each of which has windows so guests can enjoy the picturesque scenery. A full-service spa, outdoor pool, and free WiFi are provided.
Address: No. 32, Baolun Road, Chengkan Village, Huangshan No. 12, Hongcun, Yixian, Huangshan.
Pig's Inn – Ancient-style Comfortable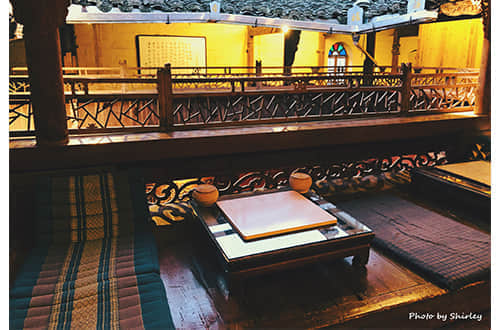 Pig's Inn is a brand of hotel. The whole house takes the style of an ancient Chinese wooden building. It's a cozy and rustic place to provide an experience like an idle pig. The friendly staff will be helpful in this delicious home. At night, guests can have a comfortable stay in its bar.
Address: Bishan Village, Biyang Town, Yixian County, Huangshan Xidi Village, Ren Rangli , Yixian County, Huangshan