Quick Facts
Chinese Name: 唐模 táng mó
Building time: in Tang Dynasty
Duration: 2-3 hours
Entrance fee: RMB 70 per person and RMB 40 per student and senior citizen. Kids under 1.2 m get in free.
Opening hours: 7:30-17:30
Address: Tangmo Village, Qiankou Town, Huizhou District, Huangshan City, Anhui Province, China
Best time to visit: all year around
How to get there: Director coaches from Huangshan Scenic Spot Bus Station to Tangmo are scheduled with little runs. Try to take the Coach to She County (not that funny pronunciation, as in Sherley). Ask Mr. driver to drop you down at the "transfer to Tangmo". Ask for a ride sharing or hire a taxi to go there.
Highlights of Tangmo Village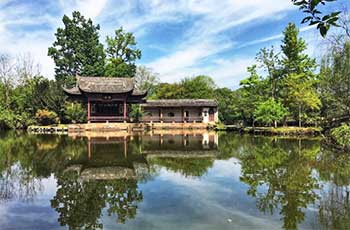 Tangan Garden
1. Tangan Garden
Tangan Garden is the main part of the gardens. It was constructed in the early Qing Dynasty. The pavilions and other waterside buildings (in Chinese: Tingtai Shuixie) are a replica of the west Lake in Hangzhou City. Therefore, it is called Mini West Lake (perhaps it is not the visitors' first time to hear a scene is named after some extremely special scenery in China). Sandalwood (called Tan in China) and Bauhinia are grown in clusters in Tangan Garden. A beautiful brook meanders through the garden. Pavilions and guest halls are set around the lake for tourists. It provides a place for them to relax.
2. Shadi Pavilion
Shadi Pavilion shows eight angles from any perspective and its nickname is Bajiao (octangular) Pavilion. Shadi Pavilion was built in the time of Emperor Kangxi is listed as a provincial level cultural relic. The three-layered pavilion has a middle octagon and an ambulatory on the upper layer. For the geomantic art employed in the structure, ordinary people will shrug and only inform that it is more abstruse than Fengshui.
3.Water Street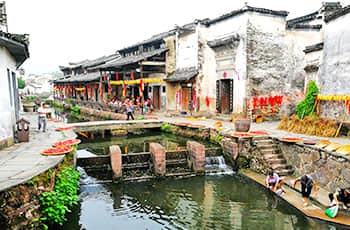 Water Street in Tangmo Village
Water Street of Tang Mo is 1100 meters long. Hui Style dwellings and communities line the street. Grocery stores and oil mills offer daily necessities. Apricot colored banners are flying in the wind, showing tourists that they are already in a water town in the picturesque Jiangnan Region (prosperous lower reaches of the Yangtze River, or the 'Venice of China'). The river bank is constructed with red rocks and the road is paved with Chayuan stones. An over-40-meter long shelter corridor is built on the north bank along the street. A Meirenkao (seat for the beauty) is set near the brook behind the corridor for tourists to have a rest. They say Meirenkao will help people stay young.
4.Mirror Pavilion
Mirror Pavilion marks the center of the garden. The delicate building is surrounded by water. Platforms built of stone extend from the Pavilion. The marble inner walls are inscribed with literati and calligraphers' works from history.