Tangyue Memorial Archway is one of the most famous scenic spots in Shexian County, Huangshan City. It is a family monument built by a business family of Anhui Province over 400 years ago. The 7 memorial archways are arranged according to the order of "loyalty, filial piety, chastity, righteousness, chastity, filial piety and loyalty". Each of them records a touching story and is worth carefully appreciating for it exquisite structure and stone carving. Beside the archways stand three ancestral halls. The Bao's ancestral hall is located in the middle, and flanked by Shixiao ancestral hall and Qingyi ancestral hall, which was specially established for respectable women. The 7 archways seem like 7 heavy ancient gates of hundreds of tons, presenting the profound features of feudal society.
Quick Facts
Chinese Name: 棠樾牌坊群 Táng Yuè Pái Fāng Qún
Building time: Ming and Qing Dynasty
Duration: 2-4 hours
Entrance fee: RMB 80 including Bao's Garden
Opening hours: 7:30—17:30
Address: Tangyue Village, Zhengcun Town, Shexian County
Best time to visit: All year round
Bus lines: Take regular passenger coach (every 20 min per coach) from Tunxi District, where the municipal government of Huangshan City is located, get off at the intersection of Zhengcun Town, and then transfer to Bus No.4 to the scenic spot. Take Bus No.4 to the scenic spot in the direction of Shexian County.
Architectural features:
Tangyue Memorial Archways, 3 built in the Ming Dynasty and 4 in the Qing Dynasty, are arranged in the order of "loyalty, filial piety, chastity, righteousness" from the entrance to the village. Each of them reaches to the sky with majestic splendor.
The structure and layout strictly conform to axial symmetry, bringing a sense of steadiness and stressing the visual focus. The farmland around the archways has been reserved forever with no other buildings surrounding them. Seen from a distance, the 7 archways seem to "spring up" from the farmland, thus appearing particularly prominent. The archways are located at the entrance to the Tangyue Village, surrounded by farmland, trees, ponds, rivers and artificial environment (such as ancient bridges). The complete external environment of the Village reflects the principles of adapting to local conditions and harmonizing development between human and nature abided by the site selection and construction of ancient villages.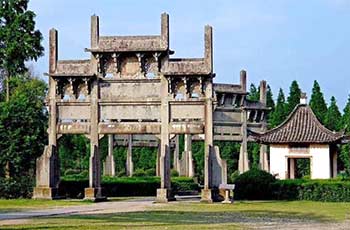 Tangyue Memorial Archway
It is a representative work of the architectural art in the Ming and Qing Dynasties. Despite undergoing centuries of construction, the architectural style of each archway is integrated into one harmonious whole. Instead of using wooden structure as usual, these archways are mostly made of stone, with high-quality bluestone of Shexian County as the main part. Such blue stone archways are solid and gigantic. Without using a nail or rivet, the archways can survive hundreds of years due to the ingenious combination of stones.
Cultural features:
Each of the archways has the function of moral education. All of them help to spread the Confucian concepts of loyalty, filial piety, chastity and benevolence by recording the family or individual history.
Each archway records a touching story, which not only reminds the Hui people of the honor of their ancestors, but also inspires them to inherit their spirits generation by generation. The stones record the geographic and cultural features of an era.
However in Chinese ancient times, persecuted by the feudal concept of chastity, a great number of virtuous women and chaste ladies emerged. There are still over 100 well-preserved archways of chastity. Tangyue honorific archways are representative ones. They are really saints who defended their spiritual belief with words and deeds.
Travel Tips:
An archway is a kind of building established for military exploit, scholarly honor, benevolent rule and the Confucian concepts of loyalty, filial piety, chastity and righteousness in the feudal society. Archways are also used as gates to some Taoist temples or Buddhist temples, or signs of place names, known as Pailou. It is a kind of memorial building with door openings to advocate feudal ethics, merits and virtues. Archways are also affiliated buildings of ancestral halls, demonstrating the noble virtues of ancestors and great achievements with the function of ancestor worship.