Tiger Leaping Gorge, one of the deepest gorges in China, is famous for its seemingly never ending twists, turns, bends and steps. Tiger Leaping Gorge is divided into Upper Trail, Middle Trail, Lower Trail, and the High Road Hiking Path, among which, the hiking route which combines the High Road Hiking Path and the Middle Trail are praised as one of the most classic hiking routes in the world.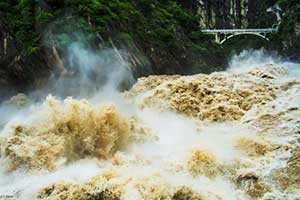 Tiger Leaping Gorge is 96 kilometers away from Shangri-La and 80 kilometers from Lijiang. 17 meters in length, the gorge has Jade Dragon Snow Mountain with an altitude of 5,596 meters to the south and Haba Snow Mountain with an altitude of 5,396 meters to the north, which are connected by a river only 30 to 60 meters in width. The upper mouth of Tiger Leaping Gorge has an altitude of 1,800 meters while the lower one is 1,630 meters. The mountain tops are about 2,500 to 3,000 meters above the water lever. The running water drops seven times in a roll within a short distance of 216 meters. All these factors make the gorge look spectacular.
Quick Facts
Chinese name: 虎跳峡 Hǔ Tiào Xiá
Duration: 2-3 days
Visitors are advised to schedule a 2 to 3 day hiking in Tiger Leaping Gorge so as to better appreciate the beauty of it.
Entrance fee: RMB 65
Opening hours: 9:00-16:30
Best time to visit: May, October and November.

You can not only go hiking in Tiger Leaping Gorge, but also enjoy the beautiful scenery of Jade Dragon Snow Mountain during these months. It is dangerous to hike from June to September when the rainy season begins. The mountain may be closed to the public in December when the temperature starts to get comparatively low. Since the temperature difference between day and night at Tiger Leaping Gorge is very big, visitors are advised to protect yourselves against the cold.

Address: Tiger Leaping Gorge Town, Shangri-La County, Diqing City, Yunnan Province.
How to get there: Regular buses in Lijiang Passenger Station and Shangri-La Bus Station will take you to Tiger Leaping Gorge along the highway for 2-3 hours.
Recommended Hiking Tour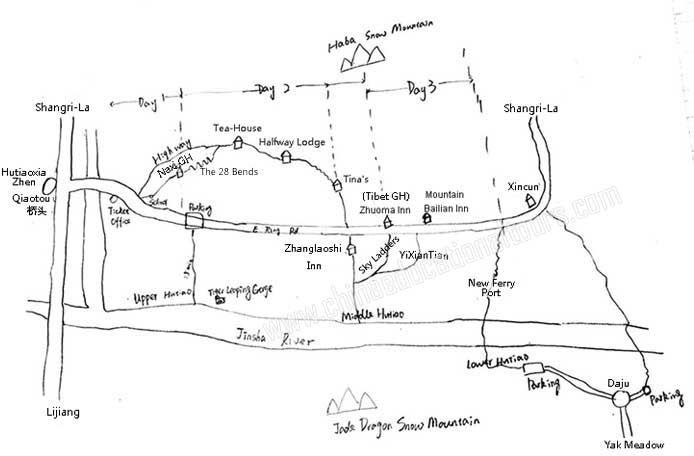 Day 1: Take bus from Lijiang -> Qiaotou ->the Upper Gorge, Overnight at Naxi Family Guesthouse

Day 2: Eat a proper breakfast to build yourself up before you start hiking along the 28 Bends of the Tiger Leaping Gorge (the most difficult part of the hiking with steep slopes and multiple bends) -> eat lunch at Halfway Lodge where you can use the restroom, "Toilet With A View" as it faces the Jade Dragon Snow Mountain -> Guanyin Waterfall -> rest at Tina's Guest House where you can either buy a ticket back to Lijiang or Shangri-La, or stay for a night. If it is still early, you can choose to take a walk forward to Tibet Guest House for a night.

Day 3: You can head back to Lijiang today -> the Middle Gorge -> Sky ladder, a near-vertical ladder which charges RMB10 for climbing -> Walnut Garden -> you can either choose to pass the river at the new ferry (the old one will do, but the new one has a better view) or buy the ticket back to Lijiang at Tina's -> head to the parking lot and get back to Lijiang

Travel Tips for hiking
1. Take some snacks like beef jerky, chocolates and nuts with you to recharge yourself along the way, but don't take too many as you can buy some in the stores along your hiking.
2. Avoid hiking in rainy season which is very dangerous. Make sure you are prepared with outfits for humid weather as the weather is unstable in Tiger Leaping Gorge. May, October and November are the best months for hiking here.
3. No need to worry about getting lost as there are red and yellow arrows directing to certain hotels, and blue signals leading the way for you.