10 Easy China Hiking Trails for Beginners

Hiking benefits both your body and mind. The physical benefits of hiking include: building stronger muscles and bones, improving your sense of balance, improving your heart health, and decreasing the risk of certain respiratory problems. Being in nature can boost your mood and improve your mental health. Spending quality time in the great outdoors reduces stress, calms anxiety, and can lead to a lower risk of depression.
Hiking is also a wonderful way to immerse yourself in the Chinese culture and local people's daily life. With 5000 years of history and 9.6 million sq km (3.7 million sq miles) of area, China has a lot to offer in terms of sightseeing. We have ancient man-made projects, forest parks, ancient villages and ethnic minority cultures. You can combine them with an easy hike during your trip to China.
If you want to experience the stunning natural beauty of China first-hand, there's no better way than to set off on two feet and go exploring. You can travel at your own pace during a hike rather than rushing from one place to another.
Hikes in China vary from easy strolls through the forest to challenging mountain treks. There are also towering cliffs and a few glaciers for the experienced mountaineers. In this article, we focus on the hiking trails that are for beginners. We recommend hiking trails that are close to or in a tour attraction so you don't need to travel a long way just for a short hike.
So if you have a senior citizen or young kids in tow, or just want to take it easy, here are the top hiking routes that we recommend.
1. Hiking the Great Wall, from Jinshanling to West of Simatai
Location: Beijing
Distance: 6 km (3.75 miles) one way
Best for: Hikers looking for unrestored section of the Great Wall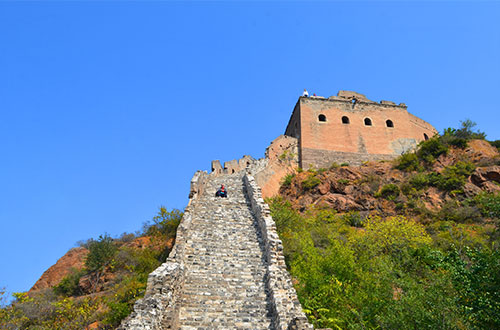 You couldn't come to China without seeing the Great Wall of China, a definite bucket list item for all travelers to China.
Some of the most accessible sections near Beijing include Badaling, Mutianyu, Juyongguan, Jinshanling and Simatai (Read more on Sections of the Great Wall in Beijing: A Quick Comparison). Badaling, Juyongguan and Mutianyu are the easiest sections of the Great Wall to get to. Technically, you can hike on all the Great wall sections. But the highlight is the part from Jinshanling to the west of Simatai. Jinshanling is one of the best preserved parts of the Great Wall with many of its original features still intact. Since it is a little out of Beijing, there are less tourist groups. They are unrestored sections and offer amazing views of the wall snaking across the mountain peaks, and plenty of watchtowers (twenty-three in total). The hiking is about six kilometers and will take 3 to 3.5 hours.
The hike offers varied terrain. There will be a little bit of climbing at some points, and walking over loose gravel, as well as through parts that have been completely restored. There will also be some uphill and downhill as well. Make sure to wear comfortable shoes!
2. Hiking from Ancient Zhuang Village to Ping'an Village
Location: Guilin
Distance: 3km (1.8miles) one way
Best for: Hikers looking for rice terraces and ethnic minority groups.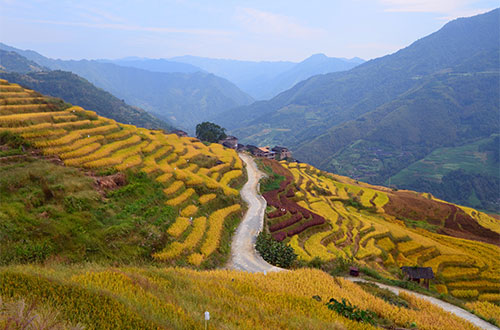 The rice terraces at Longji near Guilin, also known as Dragon's Backbone, date back to over 650 years ago. These beautiful, lush lands were first put together in the 13th century and kept being constructed until the 20th Century. They offer some of the most spectacular scenery in China. The villages in the area were inhabited by Zhuang and Yao ethnic minority groups. The ancient Zhuang village has the largest collection of Zhuang Diaojiaolou in China. Diaojiaolou are traditional three-story wooden houses that have been built on large stilts in order to protect the inhabitants from insects and snakes, although styles of Diaojiaolou vary between the different ethnic minorities. The Diaojiaolou in Ancient Zhuang village are some of the oldest in the country and some even date back over 100 years. We'll start our hiking from Ancient Zhuang village, and hike all the way to Ping'an village. The trail is pretty good. There are stone pathways and the route is not steep. You'll find terrace fields and forests along the route.
3. Zhangjiajie Golden Whip Stream Hiking
Location: Zhangjiajie
Distance: 7.5km (4.6miles) one way
Best for: Hikers looking for nature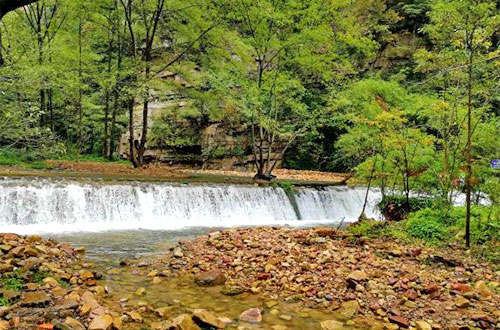 Situated in the northwestern part of Hunan Province, Zhangjiajie National Forest Park is one of China's most breathtaking natural scenic areas. It is a massive park with an area of 260 sq km (100 sq miles). The park is known for its huge sandstone pillars formed by many years of water erosion; there are a total of 3103 pillars which stand over 300 meters high. Zhangjiajie even inspired the floating mountain for the 2009 film Avatar and 4 other Chinese films.
Golden Whip Stream is the most popular scenic area of Zhangjiajie National Forest Park's ground level. The stream extends 7.5 km from north to south, winding across mountains and valleys, and it is the best place for tourists to have an amazing experience of hiking. A paved trail takes visitors along a tranquil stream for the course's entire duration. If you hike from north to south, you'll finish your hike at Huangshizhai, and you can take a cable up to the top to Huangshizhai Mountain where you can have a good view of almost half of the peaks in the park.
4. Hiking from Zhaoxing to Tang'an
Location: Zhaoxing
Distance: 8km (5 miles) round trip
Best for: Hikers looking for ethnic minority group cultures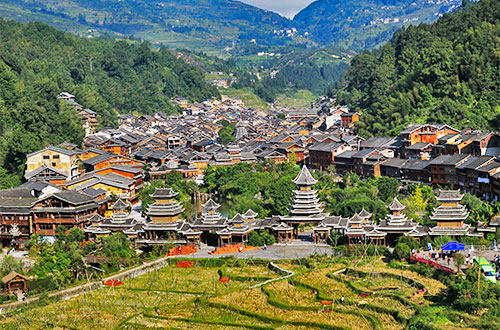 This hiking trail connects two beautiful Dong villages. It is about 4km long. You'll hike through rice fields and vegetable fields. You can even go down to participate in catching the fish or planting the paddy if the time is right!
As the biggest settlement of the Dong people, Zhaoxing is one of the best places to experience the lifestyle of this ethnic group, which is one of the officially recognized ethnic groups of China. Two of the most important architectural examples for the Dong people are drum towers and sheltered bridge (also known as Wind and Rain Bridge). The drum towers are a fundamental feature of every Dong village, and it is possible to find several of them in the same village. A Drum Tower represents the center of the village and the community. Zhaoxing has five Drum Towers. Each tower is specially named in order to promote a certain virtue of Confucianism. The first tower is called "Ren", which means "benevolence". The second is called "Yi", meaning "righteousness". The third is named "Li", meaning "courtesy". The fourth is called "Zhi", meaning "wisdom", and the fifth is named "Xin", meaning "faithfulness". There are also numerous sheltered bridges in the village, which are located on the Nanjiang River that runs through Zhaoxing.
Tang' An village is a well-preserved Dong village. People here lead a very simple life in their traditional way with full enthusiasm. The whole village is called Dong Ecological Living Museum.
5. Li River banks Hiking from Yangdi to Xingping.
Location: Guilin
Distance: 22km (13.75 miles) one way
Best for: Hikers looking for karst peaks and countryside life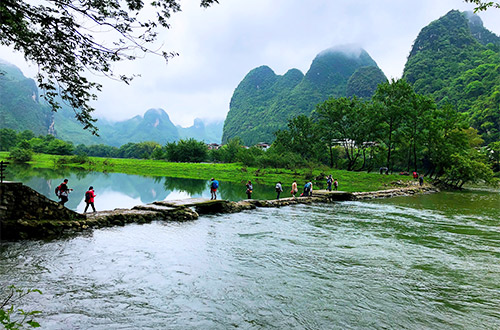 Like the Great Wall in Beijing, the Li River is a must see attraction for travelers to Guilin. Tens of thousands of karst mountains surround the river making it like a Chinese painting.
Seeing the famed Li River can be done in three ways: on a raft, on a cruise, or on foot. Hiking is a great option for the fit, adventurous traveler. The trek from Yangdi to Xingping, about 22 kilometers, takes four to five hours. The trail is pretty straightforward and never strays too far from the river. You can travel at your own pace. Follow the trail through bamboo groves, treading between golden rice fields (in early autumn), and (if time permits) climbing the Xianggong Hill to have a panoramic view of the Li River, which is highly recommended by photography enthusiasts, and even enjoy the countryside sunset in the evening. This is how to fully appreciate the beauty of the Li River.
6. Hiking along Yulong River from Yulong Bridge to Jiuxian Village
Location: Yangshuo
Distance: 6km (3.7 miles) one way
Best for: Hikers looking for ancient bridges and local villages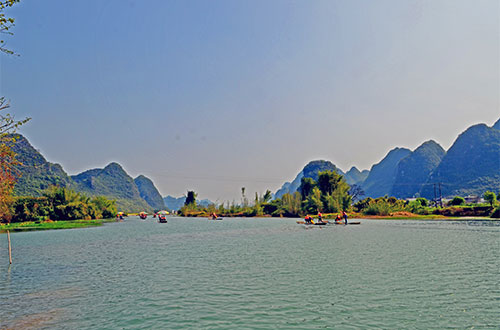 The Yulong River in Yangshuo is a small tributary of the larger Li River.The scenery along Yulong River is breathtaking. It moves at a slow pace and you are often graced with incredible views as everything from the smallest flower to the largest mountain is reflected in its glassy surface. You can choose to take a bamboo raft to cruise down the river. But if you want travel at your own pace, we recommend that you go hiking along the river.
The most popular starting point is at the 600-year-old Dragon Bridge (Yulong Bridge), then hike along the river, where you'll hike on the paved road, and after 6km we'll reach Jiuxian Village. It is a quiet ancient village, where you'll find ancient buildings. You can have lunch at the Secret Garden Hotel which is an old house turned boutique hotel.
7. Hiking Yudai Road (Jade Belt) on Cangshan Mountain
Location: Dali
Distance: 11km (6.8 miles) one way
Best for: Hikers looking for nature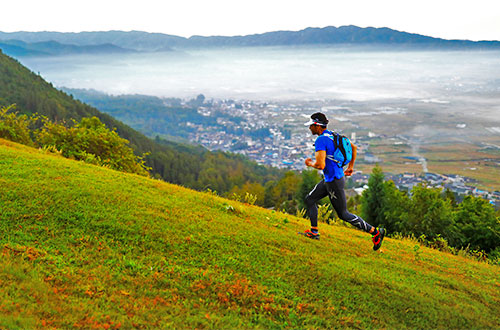 The Cang Mountains (Cangshan) are a mountain range west of Dali City. Their snow-capped peaks, flowing clouds, murmuring brooks, diverse flora, and historical temples make them one of the most famous attractions in Dali. It is a great place to enjoy a bird's eye view of Erhai Lake and Dali Ancient Town. Cable car and hiking are both great ways to enjoy the scenery of the mountains. The Yudai Road (Jade Belt Road) was created for visitors to enjoy the mountain. It is half way up the mountain, and it is mostly flat and completely paved. The total length is 18km (11.2miles); we'll just hike the section from Gantong cableway to Zhonghe Temple Ropeway, about 11km (6.8 miles). You'll have a beautiful and easy hike on a smooth surface with excellent views of the Erhai lake. You'll find pretty waterfalls, alpine flowers, birds and even squirrels on the way.
8. Hiking from Xidi Village (Yuanyang Valley) to Hongcun Village (Qishuhu Reservoir)
Location: Huangshan/Tunxi (Yellow Mountains)
Distance: 8.2km (5.1 miles) one way
Best for: Hikers looking for ancient villages and countryside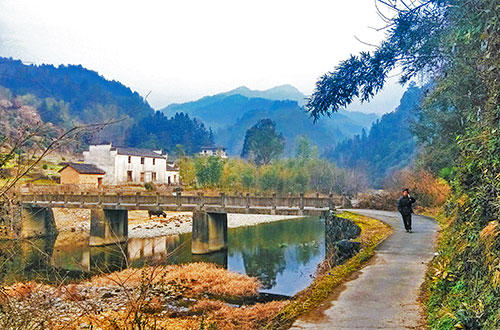 Xidi Village and Hongcun, located at the foot of Huangshan Mountain in Anhui Province, have been listed as a UNESCO World Heritage Site for their eminent representation of traditional Anhui-style architecture. Each year these villages attract hundreds of thousands of visitors from all over the world. But most visitors don't know that there is an ancient trail that links those two villages. It was a prosperous trading route for local merchants from the 10th century to the late 20th century. With urbanization during the last decades, many local villagers migrated to the city and that has made the route into a sightseeing trail for visitors. The trail is relatively flat and well paved. On this hike, you will venture deep into the countryside. You'll be surrounded by stunning forests and charming streams. If you do the hiking in June or early July, you may find raspberries and wild kiwi fruit along the way.
9. Yunxi Zhujing Scenic Resort
Location: Hangzhou
Distance: 3km (1.8miles) one way
Best for: Hikers looking to get away from the city noise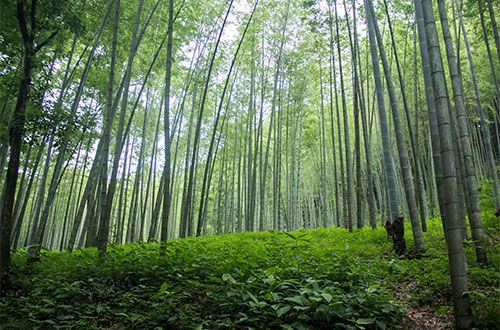 Hangzhou, which hosted the 2016 G20 summit, was once anointed the "finest and most splendid city in the world" by Marco Polo. Now it is one of China's leading e-commerce centers – one that has played a seminal role in digital development. The beautiful West Lake is located right in the city center. West Lake covers a total area of 6.39 sq km (2.4 sq miles) with lush green hills surrounding its three sides. There are a lot of easy hiking routes around the lake. The best one we recommend is hiking in the Yunxi Zhujing Scenic Resort. It is a peaceful and quiet bamboo forest near West Lake.
The stone path here is mostly level. There are several Chinese garden pavilions along the way. The panoramic views of West Lake and the surrounding hill country are gorgeous.
It is an easy hike, and it will take you about an hour to walk through. There are a lot of bamboo trees which are beautiful. There are also a lot of old trees, including one maple tree which is 1030 years old. It certainly gets you to a peaceful place, away from any hustle and bustle of the city. From the resort, you can hike to the nearby Meijiawu Tea Plantation; the plantation is one of the four famous growing areas for Longjing tea (Dragon Well Tea), a very famous green tea.
10. Wannian Temple to Qingyin Pavilion
Location: Emei Mountain
Distance: 3.5km (2.1 miles) one way
Best for: Hikers looking for nature and Buddhist culture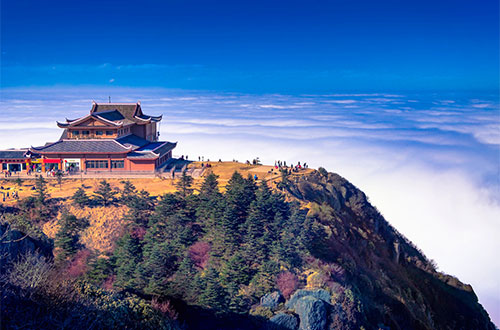 Emei Shan or Mt. Emei is 3,099m tall (10,167 feet) and is the highest of the Four Sacred Buddhist Mountains of China. At one time, the mountain was home to over one hundred Buddhist monasteries. Today, more than 30 are still active. Mt. Emei is also notable for its exceptionally diverse vegetation, ranging from subtropical to subalpine pine forests. Some of the trees there are more than 1,000 years old. It was listed as a UNESCO World Natural and Cultural Heritage site in 1996. For avid hikers, they choose to hike all the way up to the top, totaling 58km (36.25miles). That is too ambitious for most visitors, and so we recommend that you do a short hike from Wannian temple to Qingyin Pavilion then to Wuxiangang Parking Lot. It is about 3.5 km (2.1 miles), and will take you about 1.5 hrs. We'll take a shuttle bus and then a cable car to Wannian Temple (Ten Thousand Year Temple) , which is the oldest temple on the mountain, then we'll hike down to Qingyin Pavilion, then to Wuxiangang Parking Lot. En route you'll visit Bailong Temple (White Dragon Temple) and Doulongba (Fighting Dragon Dam).
While you could do most the above hiking on your own, for places like Zhangjiajie National Park and Mt. Emei, we strongly recommend that you join a tour group or hire a tour guide. They are very large, with various shuttle bus stops and cable car stations, and you'll easily get lost if you travel on your own.