Being the same age as Suzhou City, Luzhi Town prides itself on its ancient culture, including places of interest, old bridges, streets and dwellings, and a 1300-year old maidenhair tree. Surrounded by water, Luzhi Town is also known as an Island of Five Lakes with Yangcheng Lake to its north, Dianshan Lake and Chenghu Lake to the south, and Jinji Lake and Dushu Lake to the west.
In the town, you can not only visit a time-honored brand, Wansheng Rice Store, but also feast your eyes on a number of old bridges. Home to 41 bridges of the 72 and a half bridges built here in the Song, Yuan and Ming Dynasties, Luzhi Town is considered a museum of Chinese old bridges.
Quick Facts
Chinese name: 甪直Lù Zhí
Duration: 1 day
Entrance fee: RMB 60
Opening hours: 8: 00-17: 30
Best time to visit: All year round
Address: Xiaoshi Road, Wuzhong District, Suzhou City, Jiangsu Province
How to get there:Take bus No.518, 52 or 18 downtown in Suzhou City.
Highlights of Luzhi Town
Wansheng Rice Store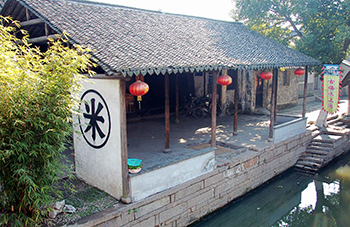 Wansheng Rice Store
Wansheng Rice Store is a time-honored brand in Luzhi Town. The rice store was second to none when it opened for business in the early years of the Republic of China. The Wansheng Rice Store we see today was rebuilt in 1998 on the east bank of Nanshi River, more than a hundred meters from the original site, as part of the Luzhi government's effort to develop tourism here. The rebuilt Wansheng Rice Store is a reflection of many rice stores south of the Yangtze River in the early years of the Republic of China. Under the eaves of the four-pillared store, a shop sign written in gold paint reads 'Wansheng Rice Store'. Inside the store there is a counter for rice buying and selling, and here is a hanging sign that reads, 'thousands of merchants draw together like clouds'.
Behind the store is a spacious courtyard leading to Leisi Hall, which is a museum of water town farm tools where ancient farm tools used in rice cultivation and instruments used in grain processing are on display. The original rice store, called Wanchengheng Rice Store, was operated jointly by the wealthy families of Shen and Fan in the town. Having nearly a hundred warehouses for the storage of rice, the large-scale rice store is one of the grain distribution centers of Luzhi Town and more than 10 neighbor towns. The front of the store is for the buying and selling of rice while the back of it is made up of workshops and warehouses which are for processing and storage.
Why Wansheng Rice Store? It's interesting that the rice store which the famous Chinese writer, Ye Shengtao, once wrote about, criticizing it for buying rice from farmers at a price so low that they had a hard time making a living, is exactly the place which shows the farm tools used in weighing grain and farming, and demonstrates the farming procedures from ploughing and sowing to harvest, and the farm tools involved. Having the opportunity to see many farm tools which can hardly be seen elsewhere, visitors can not only gain knowledge of farm tools but also understand the hard work of farmers.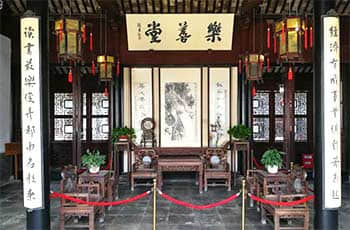 Shen's Mansion
2.Shen's Mansion
Built in 1873, the 130-year-old Shen's mansion is the former residence of educator Shen Bohan. Though the floor area of the mansion is 3,500 square meters, only the west part of 720 square meters is open to the public. In Yizhang Hall at the mansion, official hats and bridal sedan chairs are carefully placed, which shows the results of Luzhi Town's effort to protect cultural relics. It used to be a tea house where Shen's family met with visitors and now it serves as an exhibition hall displaying women's clothing and accessories in the Wu area.
Why Shen's Mansion? Shen's Mansion is the former residence of the noble Shen family in Luzhi Town. Only one fifth of the mansion is open to the public. The mansion is full of the distinctive features of the area south of the Yangtze River. The scenery inside is so diverse that it's said to change with every step you make.
3.Jiangnan Culture Park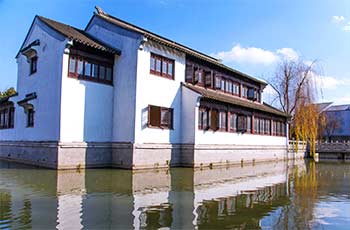 Jiangnan Culture Park
Covering an area of 150 Mu (about 24.7 acres), Jiangnan Culture Park in Luzhi Town is a classical garden with the distinctive features of a water town south of the Yangtze River which combines leisure, entertainment and tourism. By focusing on promoting the town's cultural value and providing a new cultural experience, Luzhi Town adds local characteristics to diverse and multi-level tourism resources, and so builds a platform which displays its essence.
In the culture park there are scenic spots like Luzhi Water Town Women's Clothes and Accessories Museum, Luzhi Town Historical relics Museum, Fuli Street of the flourishing Tang Dynasty, Fuli Academy, Leisure Water Street, Performing Arts Workshop, Central Garden Area, Ancient Performance Stage and so on.
Why Jiangnan Culture Park? Jiangnan Culture Park is a place worth a visit in Luzhi Town. The park not only has beautiful scenery, but also presents performances of opera on the Ancient Performance Stage for free from time to time.
4. Chenghu Lake Relics
In 1974, Chenghu Lake Relics were found by the Nanjing Museum and Culture Management Committee. The relics discovered related to a long time span from primitive cultural relics and Geometric pottery relics to cultural relics from the Han to the Song dynasties. Among the relics uncovered were also thousands of wells, where a great number of primitive cultural relics were found, which were mainly water containers, including water pots featuring animals like chickens, birds, and pigs, and turtle-shaped water pots, painted pieces of pottery, lacquered pieces of pottery and so on, giving a glimpse of ancient Chinese civilization.
Why Chenghu Lake Relics? For archaeology fans, this spot shouldn't be missed.