Suzhou - Gardens & Water Towns
Suzhou, known as the Venice of the East, boasts many gardens, canals and bridges. It is one of the oldest cities in China with a history of more than 2,500 years. During this long history, wealthy families in Suzhou built beautiful gardens for entertainment. The gardens are not huge in size but their skillfully changing views from different angles make the gardens full of surprises. Suzhou gardens were World Heritage listed by UNESCO in 1997. It is a nice escape or add-on from Shanghai if your travel plan allows.
Best time to visit Suzhou
The many lakes, rivers and canals in Suzhou keep the city humid in winter, so traveling from April to October is warmer and more comfortable. Flower fairs since February and freshwater fish in Fall are bonuses to enjoy.
Month
Jan
Feb
Mar
Apr
May
Jun
Jul
Aug
Sep
Oct
Nov
Dec
Annual
Mean Maximum Temperature ℃(℉)
8
9
13
19
24
27
32
32
27
22
17
11
20
46
48
55
66
74
81
89
89
81
72
62
51
68
Mean Minimum Temperature℃(℉)
1
2
5
11
16
20
25
25
21
15
9
2
12
33
35
41
51
60
69
77
77
69
59
48
36
54
Rainfall amount ㎜(inch)
39
59
81
102
115
152
128
133
156
61
51
35
1111
2
2
3
4
5
6
5
5
6
2
2
1
44
Days with Rain(≥ 0.1 mm)
6
7
9
10
10
10
9
8
9
6
5
5
94
Mean Monthly Sunshine Duration hrs
136
119
140
153
174
162
233
242
162
161
150
149
1980
What to see: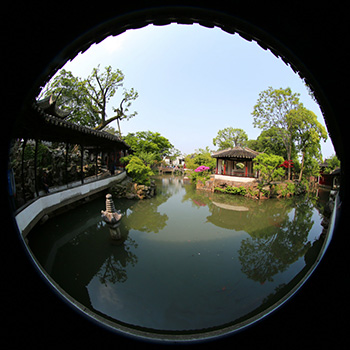 The Humble Administrator's Garden, built in the early 16th century, is one of the four most famous gardens along with the Beijing Summer Palace, the Chengde Summer Palace and the Lingering Garden in Suzhou. It is the biggest classical garden in Suzhou and is divided into east, middle and west sections, with each section having its distinctive features to explore.
The Lion Forest Garden, sitting next to the Humble Administrator's Garden, is a small but unique garden with rocks from Taihu Lake. The name is from its lion shaped rocks but is also related to Buddhism. The rocks are stacked and arranged to form tunnels to trail through, under and over like a maze.
The Master-of-Nets Garden, the smallest but the most exquisite garden in Suzhou, is famous for skillfully using space to locate architecture and gardens. Its east section consists of residential buildings while the west section is gardens to admire.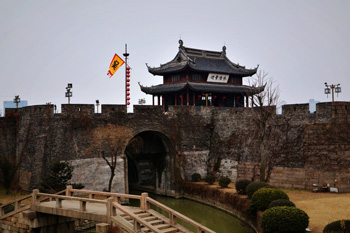 Panmen Gate, situated at the east-west corner of Suzhou by the old canal, is the only available water and land gate in China. Highlights in the Panmen Gate scenic attraction include Panmen Gate, Ruiguang Pagoda (built in 241) and Wumen Bridge (the biggest single-spanned arch bridge over Beijing-Hangzhou Canal).
Tongli Water Town, one of the six ancient towns, was firstly built in the Song Dynasty. It is about 30 minutes from Suzhou, and the net-like water system divides Tongli into seven islands, while 49 well functioned bridges connect all islands together. Each house sits by the river and wooden boats are used for transportation. A boat ride is included for your experience.
Recommended Tour (3 Days)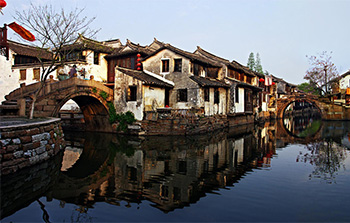 Day 1, When you step out of the railway station, you will find your tour guide waiting for you holding your name at the exit. The comfortable A/C vehicle will take you through the city towards your hotel.
Day 2, Today's focus is the representatives of Suzhou classical gardens. The Humble Administrator's Garden starts the day, with two hours to appreciate the settings in this largest garden in Suzhou, then a stop by Lion's Forest for a fun maze experience. After lunch visit the Master-of-Nets Garden and see how the garden owner designed the garden by making full use of space. A cultural show is available at night, offering different types of musical demonstrations. Or you can take a leisurely night walk on Pingjiang Road to see the old city or take a sip in a local cafe.
Day 3, After breakfast, visit Panmen Gate to witness the only water and land gate in China, proceed to Tongli Water Town and feel the charm of the Eastern Venice by taking a river cruise. After lunch you will be transferred to the railway station for your following destination.
How to get there
Note: There are no airports in Suzhou, bullet trains are the most used vehicle to connect main cities.
| Cities | Distance to Suzhou (km) | By Air to Suzhou | By High-Speed Railway to Suzhou |
| --- | --- | --- | --- |
| Beijing | 1158 | No direct flight | 6hrs |
| Xi'an | 1302 | No direct flight | 8hrs |
| Shanghai | 105 | No direct flight | 30m |
| Chengdu | 1869 | No direct flight | 12hrs |
| Guangzhou | 1409 | No direct flight | No direct High-Speed train. Traditional train about 22 hours |
| Hangzhou | 106 | No direct flight | 1.5-2hrs |
| Guilin | 1507 | No direct flight | No direct High-Speed train. Traditional train about 25 hours |
Recommended Hotels
Category
Hotel Name
Hotel Class
Why Recommend
Ranking on Trip Advisor
International Chain
Shangri-La Hotel Suzhou
5-star

Very clean and quiet rooms, sound proof
High standards in-house restaurants serving SE Asian food
Room service is topnotch

5
Crowne Plaza Hotel Suzhou
5-star

Spacious bedrooms and bathrooms
Unique look as a large luxury boat
Sweet and professional staff

2
Renaissance Suzhou Hotel
5-star

Fast, efficient and pleasant check-in
Walking distance to many good restaurants and shops
Rooms are very nice and comfortable with truly excellent beds

3
Best Value
Pan Pacific Suzhou
5-star

Hotel building alone is beautiful and filled with artefacts
Very good equipped room and bathroom with free wifi
Located in Panmen Scenic Area, free access to the garden behind hotel

12
Holiday Inn Jasmine
4-star

Centrally located,near malls, restaurants and shops
Staff are very friendly and helpful and speak good English
Nice room with a view of the canal and ShanTang street

32
Garden Hotel (Liuyuan Road) - Lingering Garden
3-star

Great breakfast with a lot of variety
Walking distance to Lingering Garden and entrance of old town Suzhou (and a Starbucks)
Clean and spacious rooms

54
Boutique
Regalia Resort & Spa Ligongdi
4-star

Beautiful views of Jinji Lake from rooms and in-house restaurant
Rooms are well appointed with comfortable beds and the L'Occitaine toiletries are nice surprises
Very friendly Staff speaking good English, willing to accommodate different needs

45