Having a history of more than 2,500 years, Tiger Hill is 34.3 meters above sea level, and covers an area of 0.19 square kilometers. Tiger Hill was formed with Jurassic volcanic rocks, among which are the Thousand People Rock, Sword-Testing Rock and rocks in Sword Pound which are considered rhyolites. Jurassic volcanic rocks are also distributed around the quaternary alluvium of the plains to the east, north and west of Tiger Hill.
Tiger Hill is reputed to be the top scenic spot and No. 1 mountain in Wuzhong District of Suzhou. The famous poet of the Song Dynasty, Su Dongpo, once wrote that you'll regret it if you come to Suzhou without visiting Tiger Hill.
Quick Facts
Chinese name: 虎丘Hǔ Qiū
Duration: 1-2 hours
Opening hours: 9: 00-17: 00 (Visitors are not allowed to enter the museum after 16: 00). Closed on Mondays.
Entrance fee: Peak season (April, May, July, August, September and October): RMB 80; Low season (January, February, March, June, November, December): RMB 60.
Opening hours: 7:30-17:30
Best time to visit: All year round
Address: No.8 Shanmennei Street, Huqiu District, Suzhou City
How to get there:Take bus No.1, 2, 949 and 146 and get off at Tiger Hill Station.
Highlights of Tiger Hill
1.Sword Pond
Sword Pond, with its extraordinary scenery, is the major scenic spot on Tiger Hill. It is really rare to find such cliffs and gullies among the hills south of the Yangtze River as you do here behind this delicate pool known as Sword Pond. Inscribed on the cliff are four Chinese characters written by Yan Zhenqin, a famous calligrapher, which read 'Sword Pond of Tiger Hill'. Legend has it that there are numerous treasures buried in Sword Pond, attracting many kings here for treasure hunting, and yet nothing has ever been found, leaving the pond an eternal mystery.
2. Yunyan Pagoda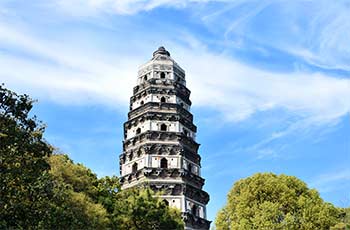 Yunyan Pagoda
Yunyan Pagoda, also known as Tiger Hill Pagoda, was first built in 601 AD (the first year of Renshou under the reign of Emperor Suiwen) as a wooden Pagoda, and was later destroyed. The construction of the existing Tiger Hill was started in 959 AD (the sixth year of Xiande of the later Zhou Dynasty), and was finished in 961 AD (the second year of Jianlong of the Northern Song Dynasty), more than 200 years earlier than the Leaning Tower of Pisa in Italy. In the Ming Dynasty, the pagoda was found to have tilted to the northwest by 2゜40' as the center of its body is 2.3 meters away from that of its foundation. Therefore it is called the Leaning tower of Pisa in China, and the second leaning tower in the world, which has become one of its major characteristics that attract visitors to take pictures there. Yunyan Pagoda can only be appreciated from the outside. Visitors are not allowed to enter.
3. Flower Fairs and Temple Fairs
Every year during the Spring Festival and from late March to May, Tiger Hill has its flower fairs, and in September and October, the autumn temple fair. During the fairs, famous flowers and plants from home and aboard are on display, the scene will be elaborately decorated, and wonderful performances will be presented, making it the best time to visit Tiger Hill.
4. Wedding Dress Street
After visiting Tiger Hill, if you are interested in wedding dresses, you can stroll around the wedding dress street near Tiger Hill scenic spot. Providing services as the manufacture and wholesale of wedding dresses, the street is a fantastic place for brides-to-be to rummage through wedding dresses of various novel styles and high cost-effectiveness. And don't forget to add Tianci Wedding Dress Plaza newly built in front of the entrance of the Tiger Hill scenic spot to your list if you want to embark on a journey of wedding dresses.