The galloping Yellow River runs more than 5,464 kilometers and crosses nine provinces in the country. It is the mother river that has been nourishing not only the people living in the north, but all of Chinese civilization for thousands of years. The river, and its connection with the people, has been well documented in literature, and poems and songs have expressed strong feelings about the Yellow River, encompassing every emotion from endless love to hate. The Chinese nation moves forward with the river through endless disputes and shared experiences. They endured together the thorns and vicissitudes of life.
The Yellow River has been a key image in Chinese poetry throughout history. Trying to capture the river's domineering and soul stirring power, Li Bai wrote, "Do you not see the Yellow River come from the sky, rushing into the sea and ne'er come back?" Wang Zhihuan wrote "Where a yellow river climbs to the white clouds, near the one city-wall among ten-thousand foot Mountains." "The sun beyond the mountains glows; The Yellow River seawards flows." He also wrote another poem about the loftiness and majesty of the Yellow River.
1. On the Guanque (Stork) Tower —- By Wang Zhihuan (688-742)
《登鹳雀楼》王之涣
dēng guàn què lóu- Wáng zhī huàn
白日依山尽,黄河入海流。
bái rì yī shān jǐn,huánghé rù hǎiliú
欲穷千里目,更上一层楼。
Yù qióng qiānlǐ mù, gèng shàng yī céng lóu
English Translation:
On the Stork Tower
The sun beyond the mountains glows; The Yellow River seawards flows.
You can enjoy a grander sight, By climbing to a greater height.
(Translated by Prof. Xu Yuanchong)
Guanque (stork) Tower stands on the east bank of the Yellow River where the famous waterway runs through Yongji, a county-level city in North China's Shanxi province. It is known as one of the four great towers of ancient China along with Yellow Crane Tower in Wuhan city, Yueyang Tower in Yueyang city, and Tengwang Pavilion in Nanchang city.
After seeing the great view of the mountain and the river, the poet desires to see as far as he can. The last two lines indicate that the poet wishes to climb higher in the Stork Tower so as to see more and achieve more. The poem shows that the poet is broad-minded, with visionary ambition to reach the goal through hard work. He looks far ahead and aims high.
The poem was written by Chinese poet Wang Zhihuan during the glorious age of the Tang Dynasty (618-907). In modern times, Chinese people love to use these lines to encourage young people to work harder to have a better life, or to describe relationships in which cooperation among countries is vivid and broad like the panoramic scene pictured in the first line, while enhancing mutual development with a farsighted view.
2. Bringing in the Wine (Excerpt) by Li Bai (701-762)
《将进酒》-李白
jiāng jìn jiǔ -lǐ bái
君不见黄河之水天上来,奔流到海不复回。
jūn bú jiàn huáng hé zhī shuǐ tiān shàng lái ,bēn liú dào hǎi bú fù huí
君不见高堂明镜悲白发,朝如青丝暮成雪。
jun bú jiàn gāo táng míng jìng bēi bái fā ,cháo rú qīng sī mù chéng xuě 。
人生得意须尽欢,莫使金樽空对月。
rén shēng dé yì xū jìn huān ,mò shǐ jīn zūn kōng duì yuè 。
天生我材必有用,千金散尽还复来。
tiān shēng wǒ cái bì yǒu yòng ,qiān jīn sàn jìn hái fù lái 。
English Translation:
Do you not see the Yellow River come from the sky, rushing into the sea and ne'er come back?
Do you not see the mirrors bright in chambers high, Grieve o'er your snow-white hair though once it was silk-black?
When hopes are won, Oh! Drink your fill in high delight, and never leave your wine-cup empty in moonlight.
Heaven has made us talents; we're not made in vain. A thousand gold coins spent, more will turn up again.
(Translated by Prof. Xu Yuanchong)
Born in China in 701, Li Bai (Li Po) is regarded as a pivotal figure in the Chinese poetry of the mid-Tang dynasty, which is often referred to as the Golden Age of China. During his lifetime, Bai wrote over 1,000 poems, many of which celebrate wine, song and friendship. In the above poem, Bai justifies his love of wine, urging people not to be ashamed about enjoying the nectar of the gods.
3. Sent As an Envoy to a Strategic Border Stronghold by Wang Wei (701-761)
《使至塞上》-王维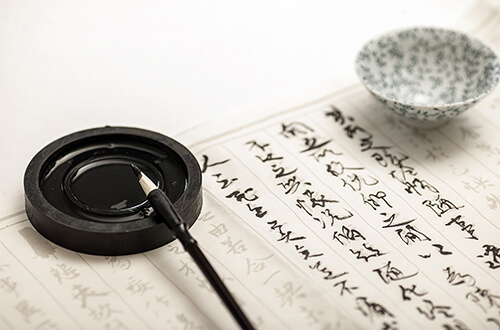 shǐ zhì sāi shàng -wáng wéi
单车欲问边, 属国过居延。
dān chē yù wèn biān , shǔ guó guò jū yán 。
征蓬出汉塞, 归雁入胡天。
zhēng péng chū hàn sāi , guī yàn rù hú tiān 。
大漠孤烟直, 长河落日圆。
dà mò gū yān zhí , zhǎng hé luò rì yuán 。
萧关逢候骑, 都护在燕然。
xiāo guān féng hòu qí , dōu hù zài yàn rán 。
English Translation:
A single carriage goes to the frontier; An envoy crosses northwest mountains high.
Like tumbleweed I leave the fortress drear; As wild geese I come under Tartarian sky.
In boundless desert lonely smokes rise straight; Over endless river (Yellow River) the sun sinks round.
I meet a cavalier at the camp gate; in northern fort the general will be found.
(Translated by Prof. Xu Yuanchong)
In 737 the poet was sent as an envoy to the frontier and he wrote this poem on his way, the Yellow River and desert is believed to be the nowadays Shapotou Desert in Ningxia Hui Autonomous Region. This was regarded as a frontier poem which described the scenery of the frontier of west China. There were continuous wars during the Tang dynasty (618-907). Social values encouraging intellectuals to the frontline emerged as well. These intellectuals composed countless numbers of poems about the frontiers, giving birth to the School of Frontier Poetry (biān sài shī pài 边塞诗派). The themes of frontier poetry (biān sài shī 边塞诗) cover three major aspects: 1) frontier wars, life in the army, conflicts between generals and officers, grief from separation, and death. 2) scenery and frontier nature. 3) life of the residents of frontier areas, love, sympathy and friendship, etc.
4. Song of Liangzhou/ Out to the Frontier by Wang Zhihuan (688-742)
凉州词-王之涣
liáng zhōu cí -wáng zhī huàn
黄河远上白云间,一片孤城万仞山。
huáng hé yuǎn shàng bái yún jiān ,yī piàn gū chéng wàn rèn shān 。
羌笛何须怨杨柳,春风不度玉门关。
Ascends the Yellow River, to afar where white clouds amass;
Forlorn, here lies a fortress, by the towering mountain mass.
O why, to the Tune of the Willow, must pipers ever bemoan?
Ah the genial winds of springtime cross not the Yumen Pass.
Translated by Andrew W.F. Wong (Huang Hongfa)
This is also a frontier poem. The setting for the poem is Yumenguan (Jade Gate Pass), so named because of the jade caravans that passed through the opening in the wall. The pass was located on the ancient Silk Road near Dunhuang. Yumen Pass marked the western extent of Chinese control. It represented the border between China and Tibet during the Tang Dynasty (618-907CE). Wang wrote this poem in Princess Jincheng's honor. In 710, the Princess Jincheng, adopted daughter to the Emperor Zhongzong, passed through Yumen Gate on her way to marry the Tibetan king. She would never return to her home in China.
5. Lang Tao Sha: "Waves Scouring Sands" by Liu Yuxi (772-842)
《浪淘沙》-刘禹锡
làng táo shā -liú yǔ xī
九曲黄河万里沙,浪淘风簸自天涯。
jiǔ qǔ huáng hé wàn lǐ shā ,làng táo fēng bò zì tiān yá 。
如今直上银河去,同到牵牛织女家。
rú jīn zhí shàng yín hé qù ,tóng dào qiān niú zhī nǚ jiā 。
English Translation:
Lang Tao Sha: "Waves Scouring Sands"
With many turns the Yellow River flows with sands from afar;
Coming from the sky's edge, the wind-blown rolling waves never stay.
In my search for the source, I journey straight up the Milky Way,
And end up in the homes of the Herd Boy and Weaver Girl Stars.
-Translated by Frank C Yue
Liu Yuxi was a high official and a government reformist during the late Tang dynasty (618-907CE). At court, the reformists were opposed by supporters of the crown prince and by palace eunuchs. When the emperor died and the heir apparent ascended the throne in 805, the reformists were demoted and banished to provincial posts. As one of eight noted reformists, Liu Yuxi was sent into exile to become military adjutant at Langzhou, modern Changde near Zhangjiajie, Hunan Province, where he spent ten years before being recalled to the capital in 815. He composed 9 poems that bear the same title "Lang Tao Sha", and this poem is the first of the 9 poems. He was very optimistic even in exile. He even imagined being a guest in the home of Herd Boy and Weaver Girl. The Herd Boy and Weaver Girl is a romantic Chinese folk tale. The story tells of the romance between Zhinü (Weaver Girl) and Niulang (Herd Boy).
6. Two Verses on the Yellow River by Du Fu (712-770)
黄河二首 杜甫
huáng hé èr shǒu dù fǔ
黄河北岸海西军,椎鼓鸣钟天下闻。
huáng hé běi àn hǎi xī jun ,zhuī gǔ míng zhōng tiān xià wén 。
铁马长鸣不知数,胡人高鼻动成群。
tiě mǎ zhǎng míng bú zhī shù ,hú rén gāo bí dòng chéng qún 。
黄河西岸是吾蜀,欲须供给家无粟。
huáng hé xī àn shì wú shǔ ,yù xū gòng gěi jiā wú sù 。
愿驱众庶戴君王,混一车书弃金玉。
yuàn qū zhòng shù dài jūn wáng ,hún yī chē shū qì jīn yù 。
English translation:
Two Verses on the Yellow River by Du Fu
On the north bank of the Yellow River, west of the sea, is an army, Hammered drums and sounded bells are heard beneath the sky.
The armored horses cry out loud, I cannot tell their number, the high-nosed tribes of Hu are moving in great numbers.
On the western bank of the Yellow River lies my own Sichuan, I yearn to do my duty and provide for my home, without millet.
I wish I could expel the horde in honor of my king, And for one book or chariot I'd abandon gold and jade.
Du Fu (Tu Fu) is one of the greatest poets of the Tang dynasty. He is known as a poet-historian for his portrayal of the social and political disorders of his time and is also noted for his artistry and craftsmanship. Corruption and nepotism at the Tang court prompted a rebellion, led by the general, An Lushan, against the capital city of Chang-an (An Lushan Rebellion 755-762). The Tang Empire was fatally shaken and a prolonged era of internal strife brought the Tang dynastic rule to an end in 907.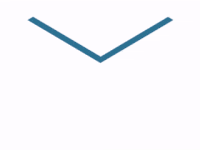 Have a question? Or can't wait to immerse yourself in the engaging journey of Chinese culture? Send us a message! Our top China specialist is ready to assist and connect with you without delay!